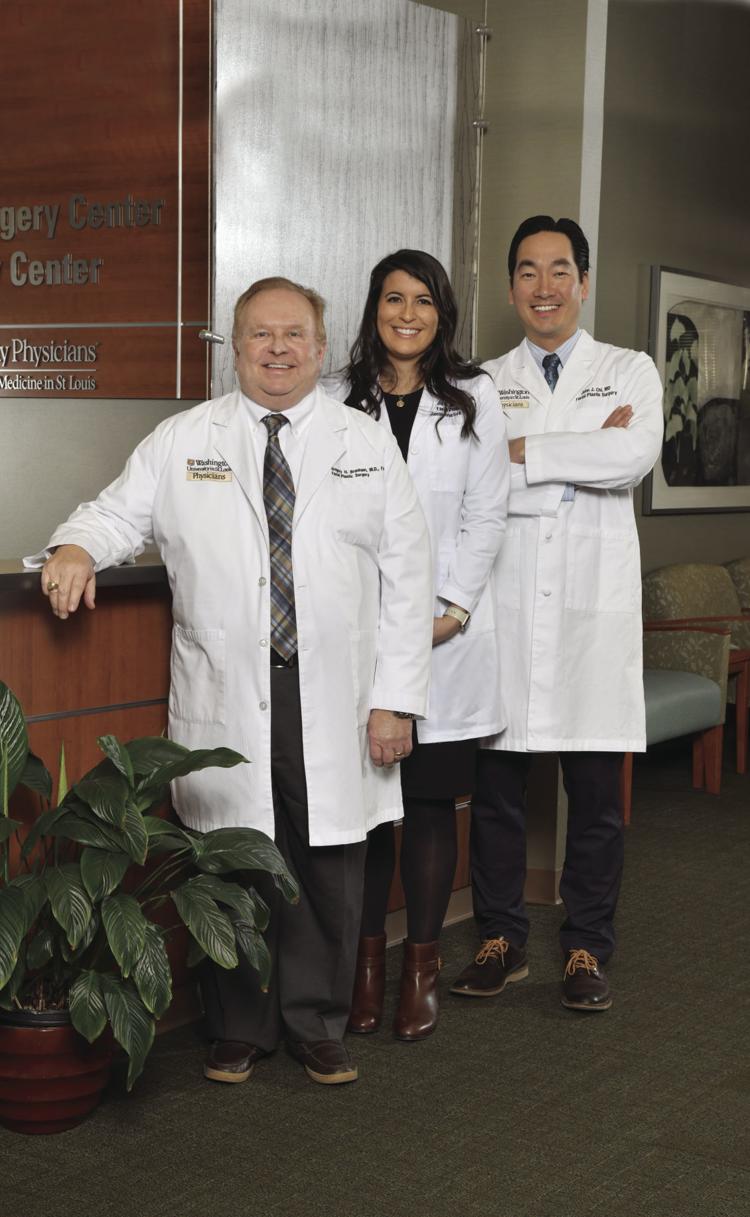 How do you feel when you look in the mirror? Hopefully, you are greeting someone you love and appreciate. Somedays, though, your reflection may show a shadow of the person you remember. Aging is a natural process but, thanks to advancements in cosmetic medicine available at Washington University Facial Plastic Surgery Center, you can revitalize your appearance.
"We try to make the entire experience positive and patient-centered," describes Dr. John Chi. "The patient's particular preferences drive the consultation. Any procedure or treatment performed in-office is physician directed and administered. All physicians in our practice are fellowship trained in facial plastic and reconstructive surgery."
Each cosmetic consultation occurs with a physician and lasts an average of 30 to 45 minutes to assess and evaluate the patient's concerns. "There's never a cookie-cutter format for every patient," notes Dr. Gregory Branham. "There are a lot of factors, such as sun exposure, genetics and previous treatments a patient has had."
Most commonly, people in their fourth decade or older come in for treatment. "As patients age, we generally treat the eye area first," says Dr. Emily Spataro. "With advanced aging, more people come in with jawline, wrinkling or neck issues. It's unique for every patient, which is why we tailor the consultation to the individual."
Some procedures, such as Botox, injectable fillers, chemical peels or laser resurfacing, can be done in-office and may be ideal for younger clientele. "As a person ages, office-based procedures can offer improvement but may not be as effective," details Spataro. "As we age, we lose volume in the face, which you can add back through fat transfers done in-office or through surgical procedures. Some patients accrue more subcutaneous fat underneath their chin, where we can liposuction."
From a brow lift to addressing extra skin and fatty tissue in the eyelids, eye rejuvenation can be coupled with procedures that add volume to your face. Of course, the true path to retaining your youth is in being kind to yourself.
"Skincare is something people should do on a regular basis as a lot of aging prevention starts with the skin," advises Branham. "Developing a skin routine, keeping out of the sun and wearing sunscreen is all part of a continuum we want patients to hopefully start prior to procedures and continue with after."
Chi agrees. "A lot of people view skin as the body's largest organ – and it is often overlooked," he adds. "Whether you go for surgery or treatment or not, skincare is one of the best things you can do, in addition to proper nutrition and getting adequate sleep, to maintaining your youthfulness and securing the quality of your skin."
Washington University Facial Plastic Surgery Center, 1020 N. Mason Road, Suite 205, Creve Coeur, 314-996-3880, facialplasticsurgery.wustl.edu