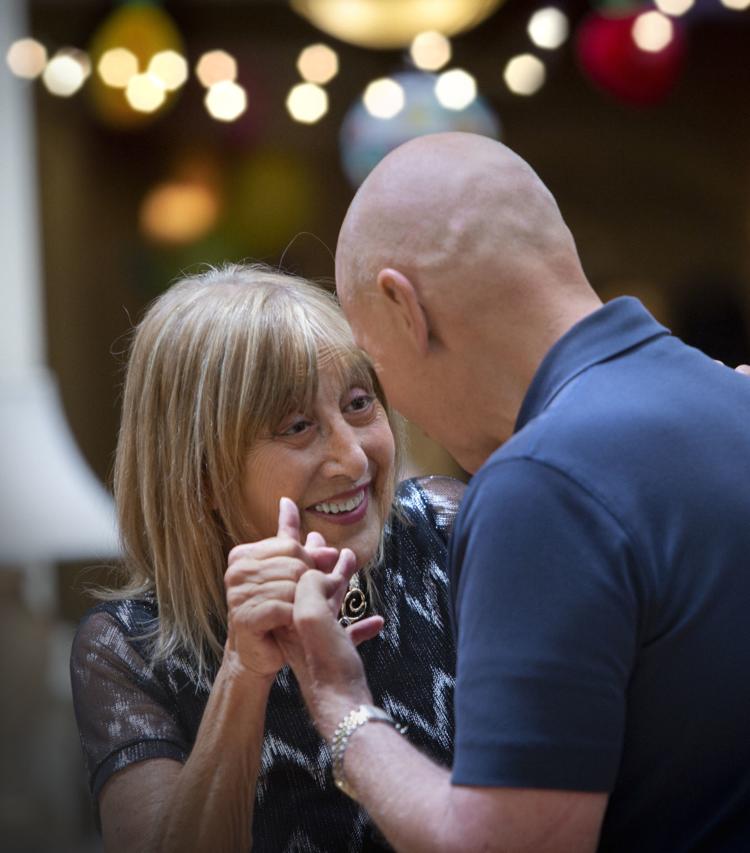 Meeting new people can still induce jitters, no matter your age. But, sometimes all it takes is a little music to ease the tension and allow new friendships to form. At least that was the case for Ken Alexander. In January, Alexander and his partner of 26 years, Jerry Calcaterra, moved from a condominium in St. Louis into their new apartment at The Gatesworth.
Beyond wanting to find a community where they could flexibly age in place, the pair sought a more active social environment. "Your social network changes when you're no longer working," shares Alexander. "We were becoming more and more cloistered in our condo." Since joining The Gatesworth community, however, Alexander and Calcaterra have kept plenty busy, frequenting the myriad book groups, lectures and musical concerts on offer to residents.
Several months ago, the pair attended their first Spring Fling dance, where Alexander let loose and cut a rug. "I'm not the best dancer the world," he humbly states, "but I'm sure willing to try!" Alexander's dancing shoes hardly had time to gather dust as he and Calcaterra also attended The Gatesworth's recent June dance. And, once again, Alexander found dancing to be an ideal icebreaker. "The music, and the willingness to dance, really freed people from their cares," he proclaims. "It was a fun evening, and a great way to meet a variety of people!"
Fellow resident Vita von der Lancken couldn't agree more. After several months of traveling back and forth between St. Louis and her native Argentina, von der Lancken took a leap and moved permanently to the states – and into an apartment at The Gatesworth – to be nearer to her children and grandchildren.
Since arriving at The Gatesworth, von der Lancken says she "has never been busier." She maintains an active exercise regimen that includes swimming, group classes and a once-weekly personal training session. She also spearheaded the formation of the Spanish Table, a group of Spanish speakers who meet monthly to practice their language skills over lunch. The Spanish Table joins the French Table, a similar group for Francophiles, as one of the community's many activities devoted to culture.
Like other residents, von der Lancken saw the June dance as an opportunity to meet more of the diverse, vibrant people who call The Gatesworth home. Sipping a flute of champagne while the jazz band played in the atrium, she initially watched from the sidelines. "Then, I was taken by surprise," she shares. "A gentleman asked me to dance, and it was like a little flame." Pretty soon, almost 90 percent of the attendees were dancing alongside von der Lancken and her new dance partner. "It was an experience I wouldn't have even imagined in a hundred years," she raves.
Ted Weiner, on the other hand, could well imagine the scene. Weiner and his wife, Doris, have lived at The Gatesworth since 2009. For him, the June dance brought back fond memories of when he was a student at Soldan High School in the 1940s. On Tuesday nights, Weiner and his friends would head downtown to the famed Tune Town Ballroom to dance the jitterbug and catch bands like the Glenn Miller Orchestra play. Although he never encountered his future wife, also a St. Louis native, at the dancehall, music and dance would occupy a special place in their nearly 63-year love story.
"On our second date, we went to a jazz club on DeBaliviere Avenue," he recalls. "Marion Miller played 'The Nearness of You,' [a 1938 tune popularized by the Glenn Miller Orchestra]." They married a short five months later, and the song has remained their song ever since.
For the Weiners, life at The Gatesworth brings experiences both old and new, ones that stir memories and others that create them. For several years, the pair supervised the community's Welcoming Committee, reaching out to new residents and inviting them for coffee or lunch. Though the Weiners have since passed this baton, Ted Weiner remains the head of the Fraud Squad, a group that educates seniors about potential security risks and scams.
With Doris Weiner by his side, Ted Weiner has everything he could need at The Gatesworth. "Our philosophy is that it's a great day if we wake up in the morning together," he declares. "And, all we have to do is walk out of our apartment, and there are so many activities to enjoy here."
The Gatesworth has likewise become home for von der Lancken. "What is home?," she muses. "Home is being surrounded by people that care about me."
If home is indeed a feeling, then The Gatesworth's residents have certainly found it.
The Gatesworth, One McKnight Place, St. Louis, 314-993-0111, thegatesworth.com