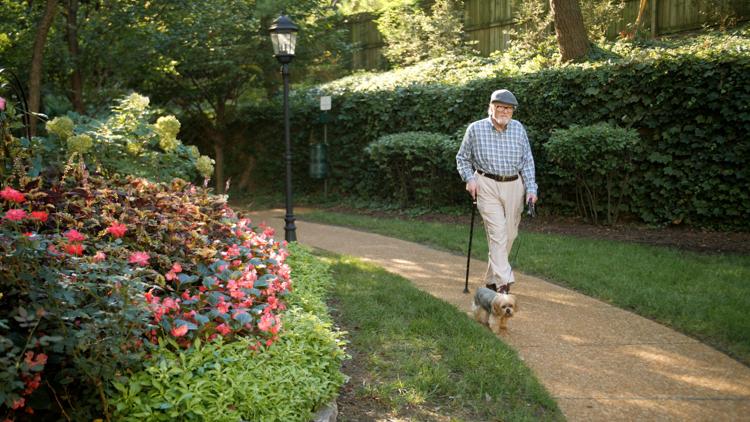 "April showers bring May flowers," the adage goes, but residents at The Gatesworth need not wait for the rain to enjoy their time outside to the fullest. Set on 12 acres, the retirement community has a staff working tirelessly to prepare the grounds for the spring months.
Gatesworth executive director Carrie Montrey speaks proudly of the community's outdoor atmosphere, noting that the four heavily landscaped courtyards offer two ponds, a putting green, extensive walking paths, outdoor dining and "a fabulous party pavilion." Beginning in May, The Gatesworth Walking Club will hit the paths, led by one of their fitness instructors. Residents who enjoy hitting the links will also enjoy the community's annual putting contests, which will start up again soon.
"We are very excited about a major renovation to one of our original courtyards that will include a gorgeous travertine patio with fountain and comfortable seating," Montrey says. "Our party pavilion offers residents an outdoor space overlooking the reflecting pond, where they can host birthday parties, anniversary celebrations or any party of their choosing. The Gatesworth provides on-site catering for these events from our award-winning kitchen."
Louis Mills, who's been a Gatesworth resident for almost nine years, looks forward to the return of warmer weather – though he is outside in any conditions to make sure his companion, Sophie, gets the exercise she needs.
"I have a small dog named Sophie, and we walk around the grounds at least three times a day," he says. "When the weather is really nice, we may go six times a day. I really enjoy the grounds. They're perfect for dog walking."
Lately, Mills and his Yorkshire terrier mix pup have been watching the installation of the aforementioned patio on the eastern courtyard, which is being installed after an older gazebo was taken out.
"They've opened up the whole area and put a fountain in," he says. "It's going to be marvelous. Sophie and I have been watching the construction from start to finish. The grounds crew does a marvelous job of keeping the grounds attractive."
Montrey says maintaining beautiful grounds is important to The Gatesworth's staff because of their ongoing mission to create a more homelike atmosphere for their residents.
"Most residents have moved from their own private homes, where they maintained beautiful gardens and grounds of their own," she says. "We want to offer the same lush and inviting outdoor space for their new home at The Gatesworth."
Their ongoing efforts have not gone unnoticed, either. Montrey says many residents comment that they have their very own botanical garden right here on The Gatesworth's campus.
"The scope and variety of the vegetation and mature trees is unparalleled," she says. "I love so many of the outdoor areas, but one of my favorites is the large natural pond that is surrounded by beautiful mugho pines and a towering willow tree."
As St. Louis continues to unfold and bloom in the spring temperatures, The Gatesworth landscaping and outdoor ambiance will certainly follow.
"The grounds are gorgeous and just going to get better," Mills muses.
The Gatesworth, One McKnight Place, St. Louis, 314-993-0111, thegatesworth.com