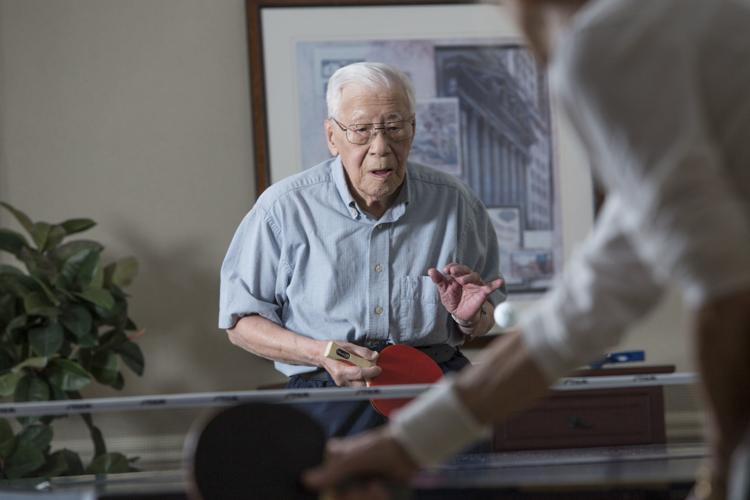 The Gatesworth isn't your average retirement community. Far from it, in fact, with robust programming, stellar dining options and, most importantly, staff that gets to know you. Look no further than behind the kitchen doors for proof.
"With other establishments, processed food is the norm," says chef Brian Hardy. "We bring things in and do the work ourselves. We use fundamental techniques to maintain the best part of the food, its nutrients."
From adding herbs, aromatics, garlic and vegetables to a low-sodium brining liquid for meat flavoring, to peeling and blanching all vegetables in-house, each menu item is made flavorful and remains good for you.
"Almost every individual who trains with us is a graduate from a culinary program, has gone through an apprenticeship or has even competed worldwide," Hardy states. "The service staff understands the special intricacies of our residents. It's instinctive, an almost effortless everyday action for them, and a vital part of what we do."
That attentiveness to the people they serve goes deeper than surface-level, as Hardy describes. "The best thing about the job is the residents," he shares. "Some of my favorite people in the world live here. You don't get that kind of affection or emotional response elsewhere. When you serve the same people, you build wonderful relationships that are meaningful in your life."
For resident Carol Max, that commitment to the clientele has made a noticeable improvement in her life. "Everything is made-to-order here," she says. "We have a wonderful chef. Whatever you want, he gets on the menu. His staff watches over your needs and keeps everything healthy. You can select from three menus in any of the three dining rooms."
She also finds the exercise programs enticing, and for her, the water classes are the real draw. "Each class has qualified instructors who pay attention to your needs," Max details. "We have a heated saltwater pool that is delightful to be in and a wonderful spa. There's all kinds of ways to be active here."
Hardy details how the level of care given to each resident stems from a sense of all belonging together, a sentiment he experienced firsthand upon winning the title of St. Louis Chef of the Year in 2010.
"Co-owner Bob Leonard brought close to 60 people from The Gatesworth," he remembers. "I was blown away to have everybody there, along with my family, to support and celebrate me. We've had six Junior Chefs of the Year from The Gatesworth in the last decade. It's always a big celebration. These relationships go beyond the job, like an extension of your family."
The connection between staff and residents keeps each person thriving at The Gatesworth. It seems they may have captured that elusive notion of feeling "forever young."
The Gatesworth, One McKnight Place, 314-993-0111, thegatesworth.com