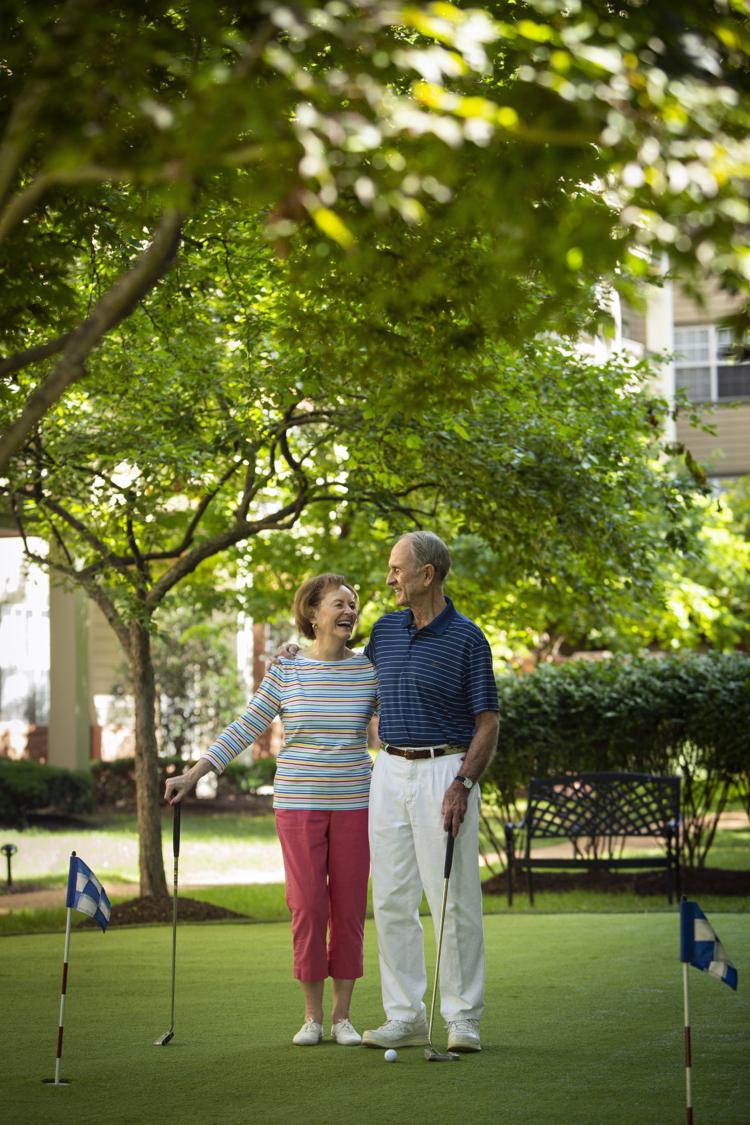 On occasion, Nancy Schapiro enjoys a doubleheader – not of baseball games or movies, but rather fitness classes.
Schapiro has found numerous ways to stay active since moving into an apartment at The Gatesworth nearly 2 ½ years ago. During the week, she regularly takes group classes, sometimes even challenging herself by attending two separate sessions within a single day. "I take them every day that they are offered!," she says proudly. And on the weekends, she catches up on cable news programs while logging miles on the treadmill in the community's top-of-the-line fitness center, which is outfitted with Keiser equipment specially designed for seniors.
"From its inception and opening in 1988, The Gatesworth's philosophy has been to provide an environment where active seniors are invigorated both mentally and physically," maintains Kathy Davis, resident program director.
At The Gatesworth, residents can choose from a wide variety of instructor-led fitness classes that target balance, endurance and strength. Offered five days a week, classes range from line dancing to water aerobics and water ballet, held in the community's indoor saltwater pool. The Gatesworth also marries mental and physical fitness through offerings like chair yoga, meditation and a twice-weekly adapted Tai Chi class, which counts Schapiro as a devotee.
For William Richter, who joined The Gatesworth community with his wife this past winter, developing and sticking to a fitness regimen has become crucial to recovery. After undergoing cardiac bypass surgery last October, Richter spent four months in rehab at Barnes-Jewish West County Hospital. Once his stint was complete, he sought to continue the exercises that he had learned on his own, and The Gatesworth's well-equipped fitness center has allowed him to do just that.
"They have a very nice fitness center here," says Richter. "I've been able to put together a routine that tracks my rehab program quite well." Three times a week, Richter hops on the NuStep cross trainer to work his upper and lower body, then moves on to free weights and freestanding balance exercises, before winding down with stretches.
For seniors living at The Gatesworth, however, staying active doesn't necessarily mean staying indoors. The community's picturesque grounds offer walking paths that are perfect for a casual stroll or for more serious exertion.
In addition to participating in fitness classes, Schapiro also goes for daily walks around The Gatesworth campus, soaking up the scenic surroundings and breathing in the restorative fresh air.
"I don't drive any longer, but it's good to get out for a bit," she says. "Sometimes I walk by myself, or with friends. It's so pretty here. There are lovely flowers planted all around, and two ponds with baby ducks. We all watch out for the baby ducks."
If golf is more your game, then The Gatesworth's putting green is the ideal spot to spend an afternoon. An avid golfer, until he was sidelined by arthritis in his hand, Richter frequently grabs his putter and joins his wife on the green. He has even taken to entering into The Gatesworth's monthly putting contests, triumphing on his first attempt. "I only won by a stroke!," he quips.
Because The Gatesworth cares equally about residents' mental engagement, the community also runs a host of programs, like its weekly current events discussion group, designed to stimulate ideas and conversation. Residents interested in more global affairs can join The Questers, a rotating group of area university professors and academics who lead hour-long symposia about pressing international issues.
"What's most gratifying about these two offerings is the stimulation our residents bring to the meetings," shares Davis. "The academics frequently comment that the questions and observations from The Gatesworth's lecture audience are as challenging as any university classroom!"
Davis sees the same level of enthusiasm during the community's St. Louis Icon Series, themed luncheons spotlighting notable members or experts from the city's myriad arts, cultural and educational institutions. "The love of learning amongst our residents is apparent," she affirms.
"That's really why I came here," says Shapiro of The Gatesworth's programming. "After my husband died, I became kind of isolated in my house. But there are so many activities."
"People can be as active as they want here," Richter adds. And that's the beauty of independent living at The Gatesworth: the freedom to live as you wish, on your own terms.
The Gatesworth, 1 McKnight Place, located at Delmar and I-170, 314-993-0111, thegatesworth.com