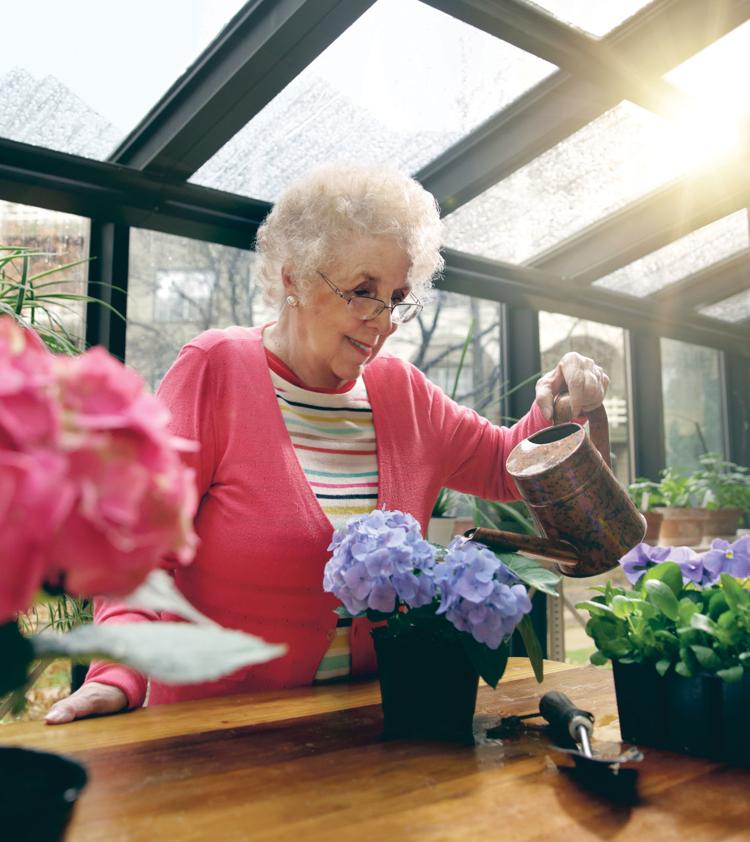 This spring at The Gatesworth, dogwood, star magnolia and redbud trees are budding while daffodils and tulips are blooming, bathing the senior living community in a quiet beauty.
Assistant executive director Carrie Montrey describes the importance of maintaining a pristine landscape for residents: "We want to create our own botanical gardens," she says. "We have a full-time groundskeeping staff to take care of special touches, and a landscape company that trims bushes and cuts the grass. We also have one designated person who looks after every detail."
The Gatesworth offers an outside pavilion to host celebrations, from birthdays to anniversaries to special events. It features a covered area, a kitchen and catering options. The community also promotes outdoor activities for its residents.
"We have a walking club, led by one of our fitness instructors," Montrey explains. "It's a six-week session, where residents walk through the courtyards and do stretches. They can develop a camaraderie while getting fresh air." She notes people are already opening patio doors and planning for their personal planters by asking about the types of annuals The Gatesworth will provide.
The reflection pond, where ducks often congregate, and two outdoor dining areas, with full menus, also provide scenic escapes. "Here at The Gatesworth, there's a great attention to detail,'" resident Ken Alexander says. He hopes to achieve the same kind of sanctuary outside his place on campus, and is working with staff at The Gatesworth to undertake the exciting project.
"I have basic principles I intend to implement," Alexander shares. "One is to understand what grows where and to be willing to move plants and flowers, if needed. You can't insist on them growing in a certain spot. I also like companion colors and massive color because it makes a bigger impact, as well as planting in odd numbers to create a more appealing layout."
When asked what he envisions for the communal space, Alexander explains all the things he's taking into consideration. "I want the resident garden to feel like a part of the courtyard for everyone. I like lily of the valley, fern and astilbe flowers. My favorite of the newest flowers are a hydrangea called 'ruby slippers' and the ever-blooming azalea."
Alexander admires The Gatesworth's modern approach to landscaping, adding upgrades where it can and treating the grounds year-round. He isn't the only resident to take notice either.
"I'm from Fort Worth, Texas, where my dad had about an acre of land," resident Sarah Evans describes. "He was looking to create a ranch, by planting more trees and adding beds to make it look beautiful. I grew up learning that was the way a property should look."
Evans especially appreciates the greenhouse at The Gatesworth, which is soon expecting new furniture to make it even more inviting. She has learned a few tips from her own experiences with gardening. "Try to maintain the most comfortable surrounding for your plants to grow up happy," she says. "Then, watch them grow or bloom. Make another pretty spot in the world."
The Gatesworth has definitely done just that.
The Gatesworth, One McKnight Place, St. Louis, 314-993-0111, thegatesworth.com