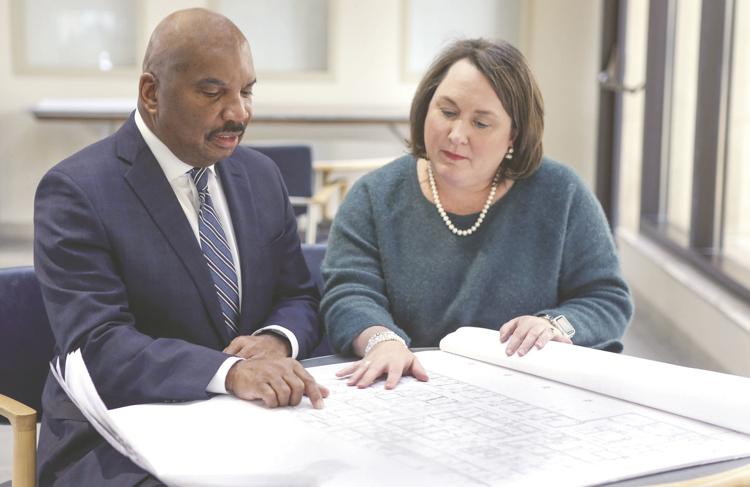 The vast network of SSM Health has transformed medicine in the Midwest. And its latest initiative, furthered by SSM Health Foundation – St. Louis, promises to introduce the St. Louis area to the future of medicine.
"Five years ago, Saint Louis University and SSM Health entered into a historic agreement to advance healthcare for the St. Louis metropolitan area," states Dr. Robert Wilmott, VP for Medical Affairs and the dean of the university's School of Medicine. "One of the goals was to construct a state-of-the art hospital – a healing environment where patients receive exceptional care, tomorrow's physicians receive an outstanding education and physician-scientists conduct research to move medicine forward."
Thanks to that fortuitous partnership, the organizations have broken ground on SSM Health Saint Louis University Hospital, with a goal to open doors on September 1.
"Sustained by the SSM Health mission and supported by its values, this new hospital is designed to meet the contemporary needs of patients, their families and the delivery of 21st-century medicine," notes Kelly Baumer, VP of Specialty Services for SSM Health Saint Louis University Hospital. "Our patients have some of the most complex illnesses within the Midwest. Helping bring new technology to their bedsides was a core focus from the beginning."
To that end, the new hospital will increase the space which SLUCare Physician Group functions within, from the existing hospital's square footage of 696,310 to 802,000. This allows for a larger outpatient center and 316 all-private patient rooms, making it easier and more comfortable for patients – and their families – while receiving care. The emergency department will almost triple its current size and Intensive Care Unit rooms will also increase, allowing SLUCare Physician Group to better accommodate the growing healthcare needs of the community.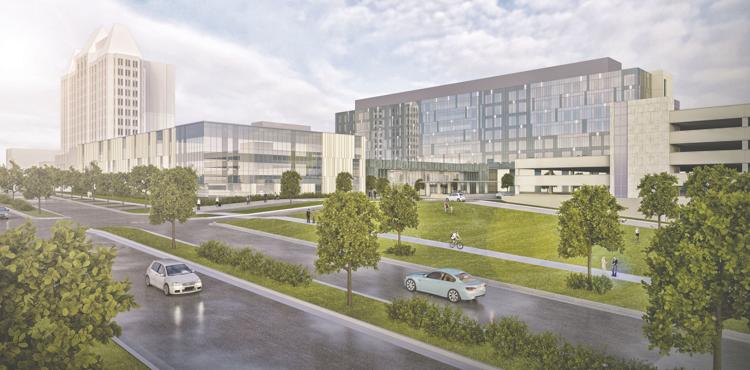 "Last year, SSM Health Saint Louis University Hospital provided more than $80 million in charity care and community benefit, including prevention and wellness programs," describes Steven M. Scott, the president of SSM Health Saint Louis University Hospital. "The physicians and staff offer exceptional, compassionate care to the entire St. Louis region and beyond. We are building a contemporary platform for the delivery of medicine through many design features, efficient and intuitive organization of services, and technological enhancements."
That includes electronic whiteboards in patient rooms that work cohesively with the hospital's electronic medical record, and new radio-frequency identification technology imbedded throughout the facility.
"With the expertise of SLUCare physicians, state-of-the-art technology, healing green spaces and private rooms, the new facility will offer patients from across the region world-class medical care," declares Wilmott. "The new hospital also enhances the educational experience for tomorrow's healthcare providers, who are drawn to Saint Louis University School of Medicine by our mission, and it expands opportunities for research that will lead to breakthrough discoveries [that can] benefit all of humanity."
All of this is made possible through the support of SSM Health Foundation – St. Louis, including helping to fulfill the $550 million capital budget for SSM Health Saint Louis University Hospital. In support of SSM Health's mission – "through our exceptional healthcare services, we reveal the healing presence of God" – the foundation seeks to serve the community's needs by collecting financial contributions to sustain and erect area hospitals and medical services.
"Today, the SSM Health Saint Louis University Hospital campaign has raised $4.8 million for capital and $2 million for programmatic support," says Scott. "The campaign celebrates this success as it enters its public phase, seeking contributions from ministry beneficiaries, friends, neighbors and community."
Financial contributions, achieved in part through corporate and individual giving, included a $2.5 million challenge grant from The Alberici Foundation, as well as from Ameren, Enterprise Holdings Foundation, Guarantee Electrical Company, The J. E. and L. E. Mabee Foundation, Lawrence Group, Mid-America Transplant, Murphy Company and Northstar Management Company – St. Louis.
"The new hospital shows our patients in a new and exciting way our commitment to the St. Louis region," attests Scott. "Strong corporate and individual giving helps us provide the critical Level I trauma services, among others, which our region needs. With additional funding, we would be able to bring in technology that elevates service and advances healthcare even further."
As construction and facility progress continues beyond the September 1 opening, the SSM Health Saint Louis University Hospital Campaign also continues and will end in September 2021. For those who wish to join in the transformational journey of the new SSM Health Saint Louis University Hospital, or who wish to contribute, head online to givetossmhealth.org or call 314-523-8044.
"Hundreds of faculty, leaders and staff from SLUCare and SSM Health came together to imagine the best possible healing environment for our patients, heralding a new era in patient-centered healthcare," says Wilmott. Now, it's your turn to invest in the future of medicine in St. Louis.
SSM Health Foundation – St. Louis, 12312 Olive Blvd., Suite 100, St. Louis,
314-523-8044, givetossmhealth.org