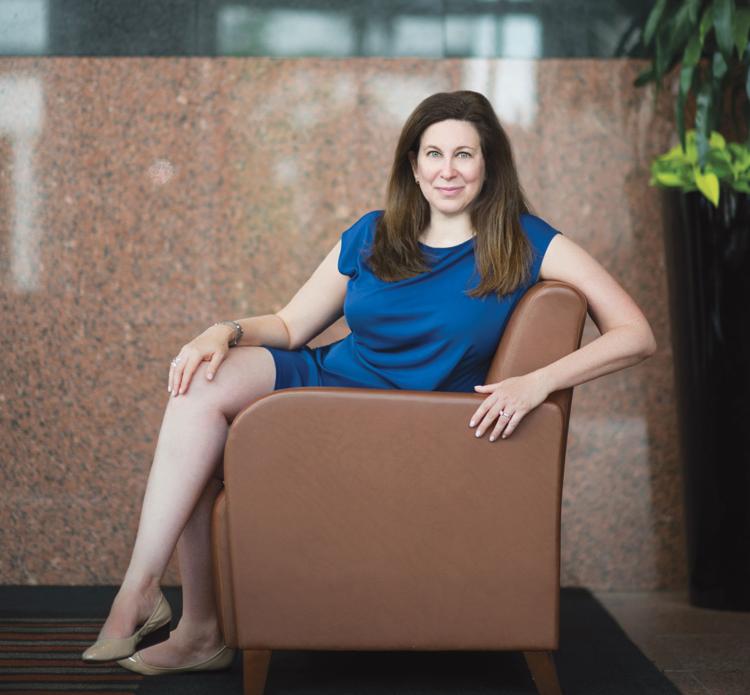 It's not a stretch to say that most people would prefer to be their own boss at work, if given the choice. But, most people don't have the experience, wherewithal or tenacity to do so. Most people aren't Michelle Spirn.
After spending more than two decades practicing family law at St. Louis-area firms, Spirn decided that the time was right to venture out on her own. With a small but committed team that includes associate Alexandra D. Johnson and paralegal Anna Denslow, she officially launched Spirn Family Law, LLC on December 1, 2017.
"I have very strong ideas about the way law should be practiced and decided to start my own firm while I am still energetic and brave enough to take on the challenge, yet also mature enough to feel confident in my business decisions," maintains Spirn. "I thought it was now or never."
The determination that propelled Spirn to establish her own firm is also what has made her such an effective advocate for clients, many of whom are dealing with sensitive situations like prenuptial agreements, divorce, child and spousal support negotiations, and custody arrangements. "Family court actions are emotional, especially when children are involved," acknowledges Spirn. "My job is to stay calm and help my clients focus on their goals. There is no typical family court action and, therefore, no typical outcome. I try my best to prepare my clients to be patient and to trust the process, knowing that I am fighting for them."
During her career, Spirn has learned that this fight doesn't always have to play out in the courtroom. "My firm is well-connected in the legal community," she notes. "This enables us to accomplish a lot informally, which saves our clients time and money. I have found that sometimes the most effective way to move a case forward is simply to call the opposing counsel to see what can be agreed upon."
In addition to working on actions to modify judgments related to custody or financial support, Spirn and her firm are also prepared to challenge rulings on behalf of their clients. The team pursues appeals when, as Spirn explains, '"we believe that the trial court has made an error or misapplied the law."
Because the law is so dynamic, Spirn works diligently to stay current and informed about the legal issues confronting her clients. She maintains an active presence in the field through frequent speaking engagements and memberships to professional organizations, like the American Academy of Matrimonial Lawyers.
For Spirn, family law is ultimately a calling, one that's been reenergized by the formation of her new firm. "I have always found great satisfaction in guiding clients through a very difficult time, and seeing them emerge stronger on the other side," she says. "I smile every day walking in the door and have never looked back!"
Spirn Family Law, LLC, 7700 Bonhomme Ave., Suite 325, 314-451-1700, spirnfamilylaw.com