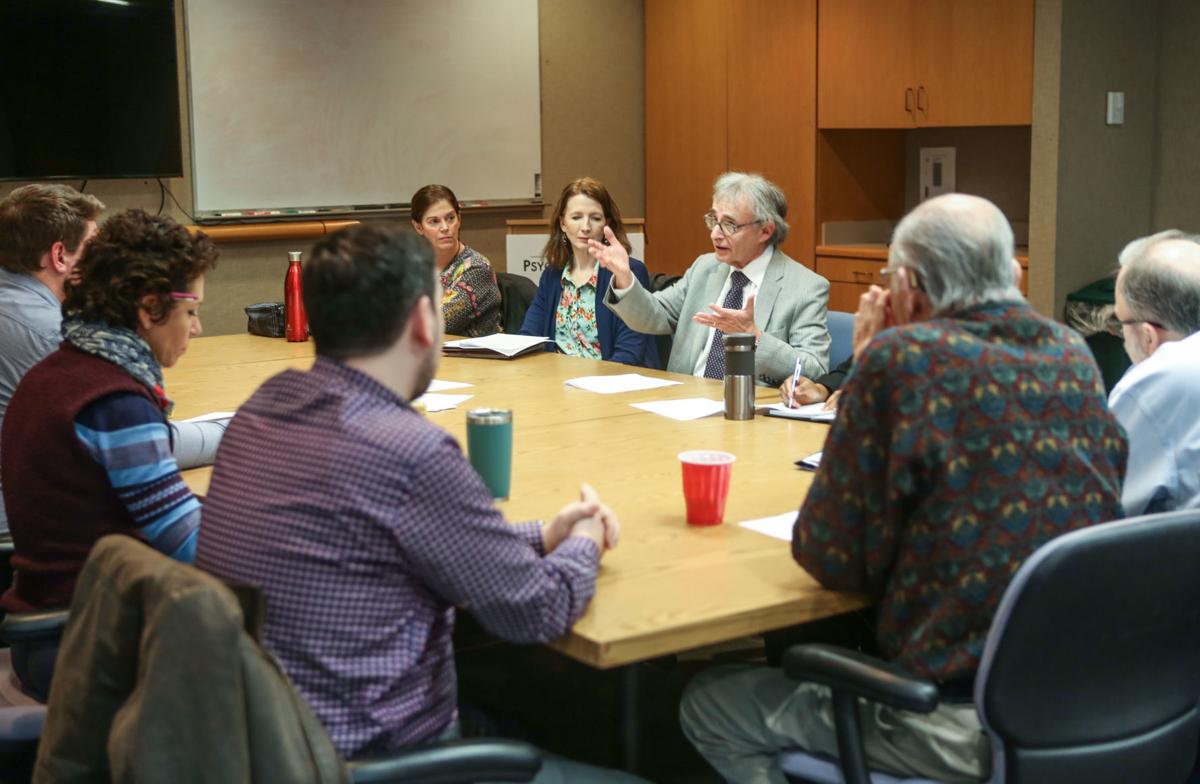 Since its founding in 1956, the St. Louis Psychoanalytic Institute (STLPI) has been driven by its mission to promote mental health through psychoanalytic education, treatment, and building community in the metro area. STLPI provides professional training, community education speakers and resources for anyone looking to better their mental health.
Psychoanalysis is an in-depth talk therapy that aims to explore the unconscious drives for our emotions and behavior. STLPI is the only accredited source for psychoanalytic training in the region, and many of the center's faculty members are also private practice psychoanalysts.
"[Psychoanalysis is] really a working relationship between the therapist and the client," explains board chair Emily Coen. "People who go to these analysts [say] 'I'm getting such a different understanding of who I am.'"
"I think the whole philosophy [of STLPI] is different," expresses first vice chair and secretary, Simone Cummings. "Many of our psychoanalysts have been [therapists] already. They go through 10-plus years of additional training. Their commitment to the field is incredible."
Education
STLPI works to promote mental health and wellbeing through psychoanalytically oriented educational programs, such as the Advanced Psychodynamic Psychotherapy
Program, the Analytic Training Program, and open classes. The organization seeks to train the next generation of mental health professionals and offers lectures and seminars on topics of mental health to those pursuing Continuing Education credits, as well as members of the community interested in learning more.
"We have speakers from across the nation come in with a low fee for the community to come listen and learn about areas of mental health," Coen says. "You don't have to be someone who is taking classes or going into the field – it can just be a niche you're interested in."
Treatment
Coen came to STLPI with a background in social work and was drawn to the organization's efforts to provide access to mental health care for people of all ages. The Herbert S. Schiele Clinic offers high-quality psychoanalytic therapy, diagnosis and referral services for metro area residents, all of which are available at a sliding-scale payment method.
"If you're having difficulty with a child or family member, and you want assistance on how to address these issues," Cummings says, regarding the clinic, "we provide those services for the greater St. Louis community."
Community
The focus on children in the community stood out most to Cummings. "We provide therapy services in [KIPP Public Charter] schools; there's a real emphasis on children," she says. "I'm pleased to be associated with this organization [and] all they're doing to support the region." The organization also partners with Casa de Salud, a healthcare resource for the foreign-born community in the metro area.
STLPI is home to the Betty Golde Smith Library, which is open to the public as well as STLPI associates and provides collaborative workspaces for research and education. The organization's website provides resources and information for students interested in programs, professionals looking for continuing their education, patients seeking treatment and services, and anyone interested in what STLPI has to offer.
"It's an incredible place," Coen confirms. "It makes me proud to see our organization strengthen [St. Louis] in the area of mental health."
St. Louis Psychoanalytic Institute, 8820 Ladue Road, St. Louis, 314-361-7075, stlpi.org | Services at STLPI's new location,7700 Clayton Road, Suite 200, will begin Mon., March 23.
The business news you need
With a weekly newsletter looking back at local history.