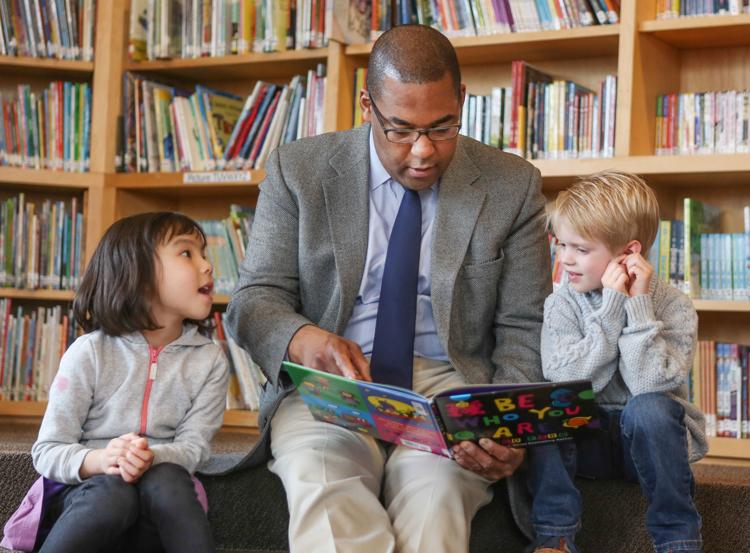 After two school closures in the '60s left families in the Central West End neighborhood with fewer pathways to quality education, parents and neighbors in the community came together to discuss opening a new school founded on diversity and inclusivity. Because of this group's efforts, in 1969, New City School opened with the mission to celebrate students' differences.
"We were founded with a deep appreciation for diversity," explains head of school Alexis Wright. "Part of what our founders realized, years before many institutions did, is that an excellent education has to include the concept of working with an appreciation of the range of people around you. The two really go hand-in-hand."
"I think the combination of the progressive education and diversity sets it apart from other schools," says Betsy Blankenship, former head of admissions and co-chair for the school's 50th anniversary Birthday Bash. "I feel like they've kept to the core of what the founders wanted as they've grown in today's society."
In the 50 years since its founding, New City School has continued to serve families of different ethnic, racial, religious and socioeconomic backgrounds. The independent school takes a hands-on approach to learning and focuses on the theory of multiple intelligences, a concept started in the 1980s that describes a series of different strengths people have when learning.
"I think one of the beauties of our educational program here is the frame of multiple intelligences and the real belief that children come to us with innate strengths in different areas," Wright says.
At New City School, the concept involves pairing a child's strength with an area that challenges them, so that learning the new skill employs the student's existing talents and interests.
"My son was a New City kid, and he had the lead in a class play," Blankenship describes. "Memorizing lines was difficult [until] I would let him practice while moving around. He was a kinetic kid, and putting movement to memorization made it click. It makes learning more meaningful and more fun. It's a win-win for the kids and their education."
Wright adds that the theory of multiple intelligences is geared toward helping children develop social and emotional skills as well as academic. "It ensures that we're focusing not only on math and science and literacy, but [also] on how we are helping children understand themselves and their community."
As a school grounded in diversity and emotional intelligence, it's no wonder that New City School students have gone on to stand out in later grades and that they are comfortable leading and expressing themselves in diverse groups and situations. "What I hear consistently from our alumni and from the schools our graduates go to is that it's the New City kids that raise their hands," Wright says. "They're able to lead themselves and lead the community."
Celebrating 50 years of this success, New City School's Birthday Bash will be held on May 2 at The Fabulous Fox Theatre. "We're honoring our past and looking forward to the future." Blankenship says. "It's going to be a joyous reunion for families from the past and present. We want it to be a celebration of the school."
The event will bring back several school founders and previous administrators, as well as alumni and families that have been involved with the school in a range of ways over the past 50 years. Blankenship encourages attendees to treat the Birthday Bash as a fun, informal celebration. "It won't be fussy or fancy," she says. "It's going to be a big party."
For those interested in supporting New City School, sponsorships and ad placements are available in a commemorative magazine about the history of the school to be given to the attendees of the Birthday Bash. The school is also in the middle of an ongoing campaign for this milestone birthday.
Contributions to the campaign benefit the creation of an all new Innovation Lab and Kitchen in the school. The lab will be an area where students can explore anything from coding to woodworking, while the kitchen will give children a chance to work with materials out of the school's garden.
"[The lab and kitchen] are going to be a place kids can experiment," Wright explains. "Education is about asking questions but also iterating – trying something, experimenting, failing and learning the courage to get back up again."
Funding also serves to help with Variable Tuition, New City School's financial aid program, which is instrumental in helping a socioeconomically diverse array of families be a part of this community, and in supporting the school's faculty through an endowed fund for faculty excellence.
Wright also encourages people to reach out to learn more about the school's history or to schedule a tour. From its roots as a group of intrepid parents in a local church basement, New City School has helped to grow the Central West End neighborhood and enrich the lives of countless families by embracing what makes each of us unique.
New City School, 5209 Waterman Blvd., St. Louis, 314-361-6411, newcityschool.org
---
New City School's 50th Anniversary Birthday Bash
Saturday, May 2
The Fabulous Fox Theatre
Join New City School in celebrating 50 years of commitment to diversity and joyful learning. This birthday party will include cocktails and dinner on the stage, as well as a program commemorating the school's history.
Learn more at newcityschool.org/birthday
The business news you need
With a weekly newsletter looking back at local history.