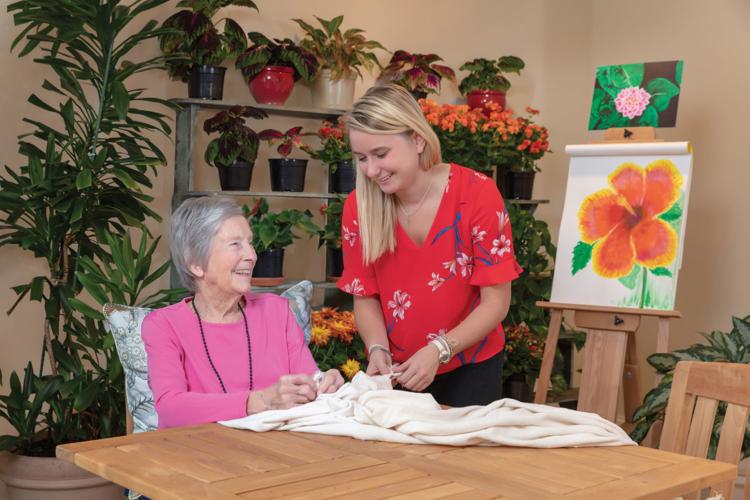 At McKnight Place Assisted Living & Memory Care, community is more than a place. It's a calling. Every day, the expert team at McKnight Place strives to create a warm, welcoming and vibrant environment for residents. Part of that involves having conversations with them, listening to their stories, hearing about their families and discovering their passions.
"I love getting know our residents and learning about their lives prior to coming [here]," declares assistant administrator Laura Ritthamel. She finds inspiration in "creating a meaningful, purposeful life for the residents who live here." Because the staff at McKnight Place are genuinely interested in residents' lives and well-being, they are better able to design an engaging slate of activities that will appeal to their unique and diverse interests.
"Our residents drive the activities that we offer here," explains Ritthamel. "The calendar is as ever-evolving as our residents are, and this allows us to meet – and exceed – their expectations."
The Community Service Club, for instance, is a direct result of resident input. Several months ago, a group of residents approached the staff about wanting to make an impact on the St. Louis community by volunteering their time. Now, between 10 and 15 residents meet every Wednesday morning in the Garden Café to work on a specific project or to plan future activities.
Josie Clark is one of the group's first members. While living in Texas, she frequently volunteered her time at a local hospital. Since moving into McKnight Place nearly a year ago, Clark has been eager to find new ways to give back. "I have helped others my whole life, so [joining the club] only seemed right," she shares. Clark and the rest of the club's members recently gathered to assemble homemade dog toys to benefit an area animal shelter. With winter approaching and temperatures beginning to dip, the group also plans to make tie blankets to warm the homeless.
"It's more than just playing games or Bingo," says Clark of the club. "It's really about making a difference. I need a little assistance, but I can still assist others, too."
McKnight Place offers a host of other opportunities to nourish the mind and body. Arts-and-culture aficionados will certainly appreciate the community's local outings, which include visits to the Missouri Botanical Garden, Missouri History Museum and the Saint Louis Art Museum, plus performances at Powell Symphony Hall and the Opera Theatre of St. Louis.
For residents looking to cultivate a deeper understanding of the arts or simply to exercise their own creativity, McKnight Place offers art and music history classes, as well as expressive art classes.
Venture to the Grand Lounge on a given Thursday and you might encounter resident and pianist Harriet Marks, who shares her talents with the community twice a month. Evening concerts and programs like High Tea and Harp also lend an elegant soundtrack.
Residents who want to put the "active" in "activity" have plenty of health and wellness options from which to choose. The community features numerous paths, perfect for leisurely strolls or more vigorous power walks. Regularly-scheduled group fitness classes like tai chi, ballet for seniors and yoga are also popular ways to keep fit and socialize with fellow community members.
Although McKnight Place's programming schedule is robust, residents are encouraged to participate in as many – or as few – activities as they'd like. At McKnight Place Assisted Living & Memory Care, choice is the order of the day.
McKnight Place Assisted Living & Memory Care, Three McKnight Place, St. Louis, 314-993-3333, mcknightplace.com