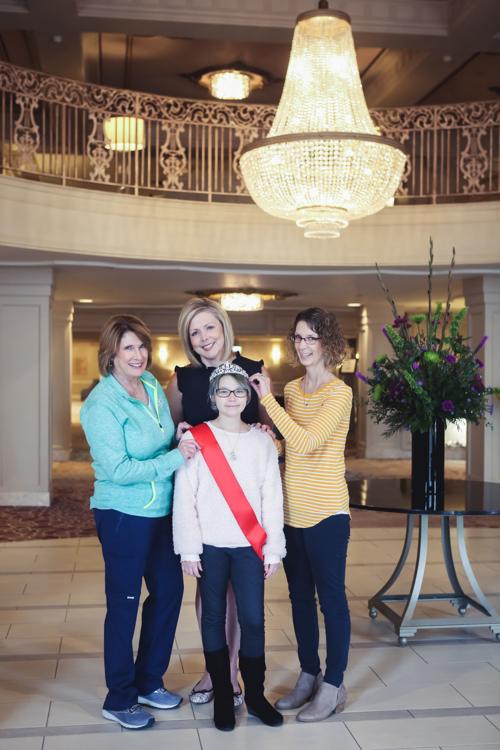 A cancer diagnosis affects more than the person receiving it. It shakes families, even communities. Fortunately, the Leukemia & Lymphoma Society [LLS] is there to reach out with a community of its own, one full of love and support – and, most importantly, resources.
LLS builds its community of support through empowering programs, like Students of the Year. This philanthropic leadership development program guides highly motivated high schoolers through a journey of professional growth. Through a seven-week campaign, these students raise funds in honor of a local survivor – this year, they do it for Emma.
"Emma was starting spring hockey," Joshua Pullam recalls of his daughter's diagnosis. "She was having a hard time keeping up. She was really exhausted and coughing." A visit to the doctor revealed that Emma's lung had collapsed. An immediate visit to the emergency room then led to the revelation that she had cancer.
"She gets knocked down but she keeps getting back up," Pullam says. "That's the type of person she is."
Thanks to Students of the Year, Emma isn't fighting alone. Through the program, candidates raise money in her honor, all while learning to utilize professional skills such as networking, financial planning, project management and public speaking. Each dollar raised counts toward a vote, culminating in a grand finale celebration on April 3 at the Hilton St. Louis Frontenac Hotel, where the team with the most votes is named Student(s) of the Year and receives a scholarship from LLS.
LLS also recognizes the critical role oncology nurses play in a child's care. To honor their incredible work, care and dedication, the organization celebrates the "Pediatric Oncology Nurse of the Year" at the Students of the Year's 2020 grand finale. Each children's hospital has nominated one standout nurse: Karen Imperiale of SSM Health Cardinal Glennon Children's Hospital, Mollie Ring of Mercy Hospital St. Louis and Amy Tucker of St. Louis Children's Hospital.
Since 2017, LLS has seen 46 therapies through FDA approval as it continues to fight for better treatment options and, someday, a cure. The organization's holistic approach delivers valued resources, like co-pay assistance programs, family support groups and patient binders, to alleviate the burdens of those battling cancer and allow them to focus on getting better and returning to a sense of normalcy.
Today, 11-year-old Emma is back in school and competing in her favorite sport. "With all the things Emma has battled, I can't wait to see what's in store for her life," Pullam says. "She's going to be someone great, I know it."
LLS gifts a future to children – and you can too by supporting this cause.
Leukemia & Lymphoma Society – Gateway Chapter, 1972 Innerbelt Business Center, St. Louis, 314-590-2230, lls.org/gateway
---
Students of the Year Grand Finale
April 3 at the Hilton St. Louis
Frontenac Hotel
Tickets are available for $50 a person.