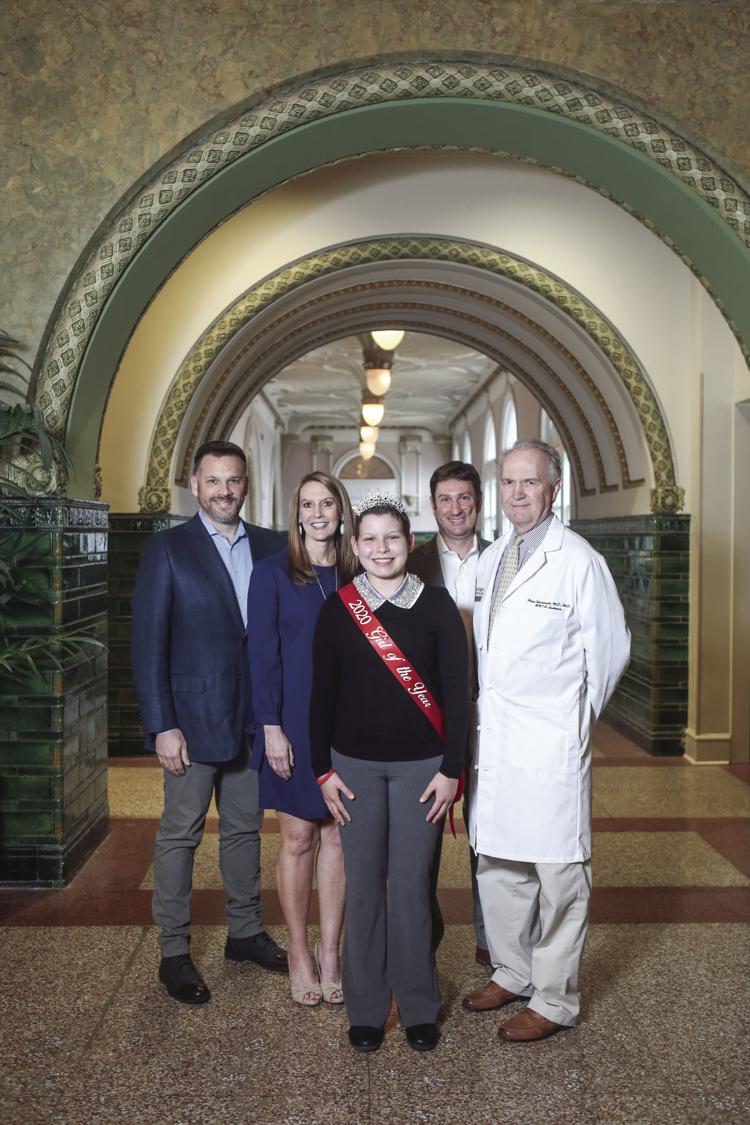 Cancer has some fierce competition; the Leukemia & Lymphoma Society [LLS] takes blood cancer head-on, in hopes of eradicating it completely so that no family has to pay its steep price. Help the class of 2020 Man & Woman of the Year when you participate in LLS' annual philanthropic race.
"All of the money raised [from this campaign] stays in the St. Louis area," says event co-chair Pete Benoist. "It provides support and information for families, and funds research grants [of approximately $6.1 million in 2019]." On top of that, LLS provided $2.4 million in financial aid to patients and families.
Each year, highly motivated individuals dedicate themselves to raising funds on behalf of those whom LLS supports. This giving community forms powerful teams who compete to raise funds and awareness during a 10-week campaign. At the end of the 10 weeks, those who have raised the most for LLS' mission – which aims to improve the quality of life for patients and their families, and to cure cancer – will be crowned Man & Woman of the Year 2020.
The candidates' efforts give voice across the area on behalf of honored heroes, like this year's Boy and Girl of the Year, Luca and Marlee. At 2-years-old, Luca had undergone more sedation, X-rays and procedures than his parents combined. His diagnosis of T-Cell Acute Lymphoblastic Leukemia has brought his family closer as they seek joy in even the smallest moments.
For 15-year-old Marlee, a high school athlete, ALL T-Cell Leukemia impacted every part of her life. "My life as I knew it came to a complete stop," she says. The varsity-level golf and basketball player had to watch from afar as her friends and teammates continued to compete and attend school.
Now in maintenance, she has resumed her golf game, reaching third place at her River to River high school conference, and is back in honors courses. Her spirit is undeniable. "Cancer has stolen a lot from me: my hair, my strength, my body image – but I won't let it steal my joy," Marlee declares. "My goal is to live each day to the fullest."
Man & Woman of the Year also gives LLS the opportunity to showcase its Legacy Leadership Award recipients, Dr. Todd Druley and Dr. Peter Westervelt, who are being honored for their impactful work as hematology oncology doctors in the blood cancer field.
The grand finale takes place on May 15 at St. Louis Union Station. Each candidate provides 10 silent auction items and one live auction item for guests to bid on. "The gala is quite a party!" promises Benoist. "There's auctions, dinner and an awards ceremony." Tickets are available online at mwoy.org/gateway, and for those unable to attend, there will be open online bidding for the silent auction.
Candidates come from diverse backgrounds, and are spread across the metro area. "Everybody knows someone who has dealt with the disease, whether it be a friend or relative," says Benoist. "As soon as you start talking about LLS' mission, people want to dive right in."
Man & Woman of the Year runs through May 15. Candidates host various fundraising events and secure corporate partnerships, ticket sales and personal donations. Whichever candidate raises the most will be crowned at the grand finale. Now, it's your turn to rally with the community and fight back against blood cancers.
Leukemia & Lymphoma Society – Gateway Chapter, 1972 Innerbelt Business Center, St. Louis, 314-590-2230, lls.org/gateway, mwoy.org/gateway
---
The business news you need
With a weekly newsletter looking back at local history.