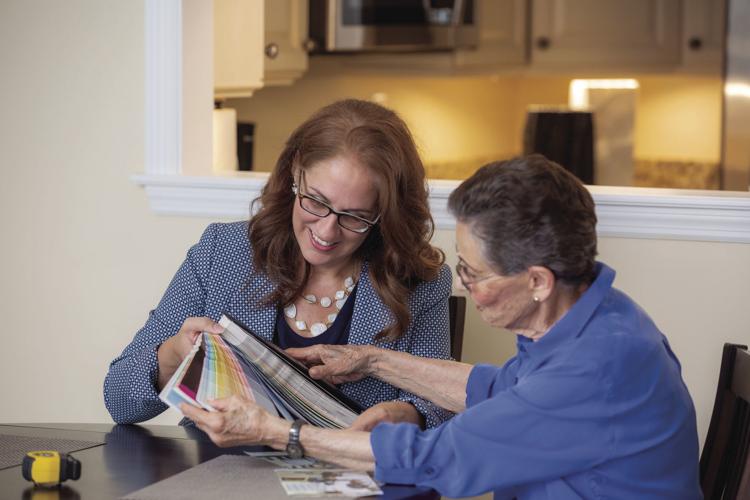 The Gatesworth draws people from all over the country to make this senior living community their home. As resident Muriel Weiser, who originally hailed from Chicago, can attest, the luxe surroundings and caring staff make The Gatesworth unlike any other community.
"You can ask the people working here a thousand questions and they still smile," she says. "They do anything and everything for you. They are friendly, loving, hardworking people who make our lives easier."
After graduating from the University of Colorado, Weiser went on to teach first through third grade. She married a dentist and had three sons, choosing to stay at home to take care of her family. Later, Weiser returned to the workforce, becoming the director of a preschool program at the YMCA. Her middle son retired in St. Louis with his family, and so Weiser transitioned to the area.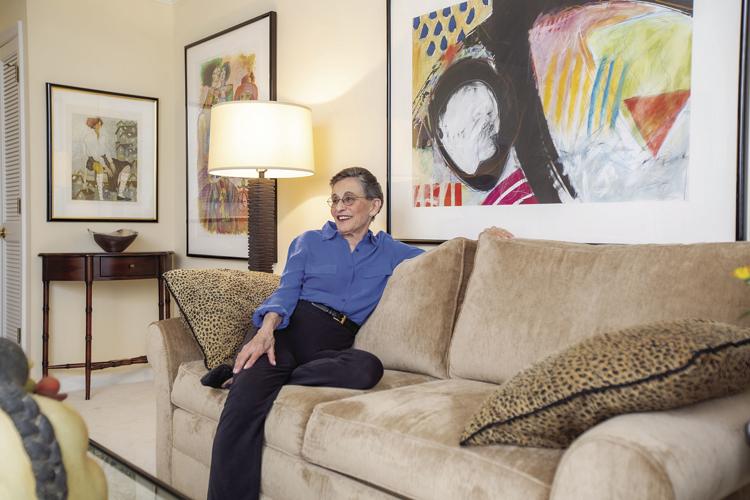 "The Gatesworth's reputation is superior to all other choices," she states. "It's comfortable. It has a lot of activities that I like. I socialize with the girls. I have family close by. I feel that this place has all the amenities for me to continue my lifestyle."
Weiser's husband passed after they arrived at The Gatesworth. "I was married for 60 years and enjoyed every minute of it," she shares, describing how, together, they had biked hundreds of miles a day and hiked mountains in Europe. "I'm physically active. I eat healthy. I do things on my own. I'll go outside and run, and I am 81 years old."
Weiser finds the freedom to be alone, to explore outdoors, to socialize and participate in activities – all available at The Gatesworth. "My life is good, no complaints," she adds. "You laugh, you have fun. It's a nice way to live."
The Gatesworth's move-in coordinator, Heather Cox, simplifies the transition for new residents. "For a lot of people, parting with their home is traumatic," she recognizes. "It's emotional. I have to win their confidence."
Cox establishes a relationship with residents by asking them to share the stories behind some of their favorite belongings as they pack them away.
"They all have tremendous stories to tell," she gushes. "Everybody's got treasures – and they tell me things like, 'Oh, I got that on my honeymoon.' They're interesting people. We laugh, we cry, we try to have a good time."
Cox notes how each incoming resident previously lived and adjusts their new space to reflect what feels familiar to them. She believes it is these efforts, along with the welcoming atmosphere of The Gatesworth and its collaborative team, which sets the community apart.
The eldest of three girls, Bella Browne transitioned to The Gatesworth from New York City. She holds two master's degrees in psychology and special education, and served as a special education teacher and counselor for high schoolers. The mother of two sons considered a big move, after her husband passed.
"I've been a New Yorker all of my life," Browne declares. "I turned 89 years old and thought, maybe I should consider a different lifestyle. My oldest son and daughter-in-law moved to St. Louis and suggested I move [there]."
One of her first experiences at The Gatesworth had Browne in stitches. "A stretch limo takes me to the market," she beams. "I laughed so much, I cried. I had to call all of my friends." Browne still occasionally returns to New York to visit, but the place where she finds "the staff … anticipates our needs" is now the place she considers home.
"Don't be afraid to reach the age of 90," Browne advises. "When you have reached my age, look at your family, at your life and recognize you don't have to prove anything to anyone. There's a certain satisfaction in it."
So, take the limo to the market or grab coffee and cookies and chat beside the fireplace. The Gatesworth makes life a dream.
The Gatesworth, One McKnight Place, St. Louis, 314-993-0111, thegatesworth.com