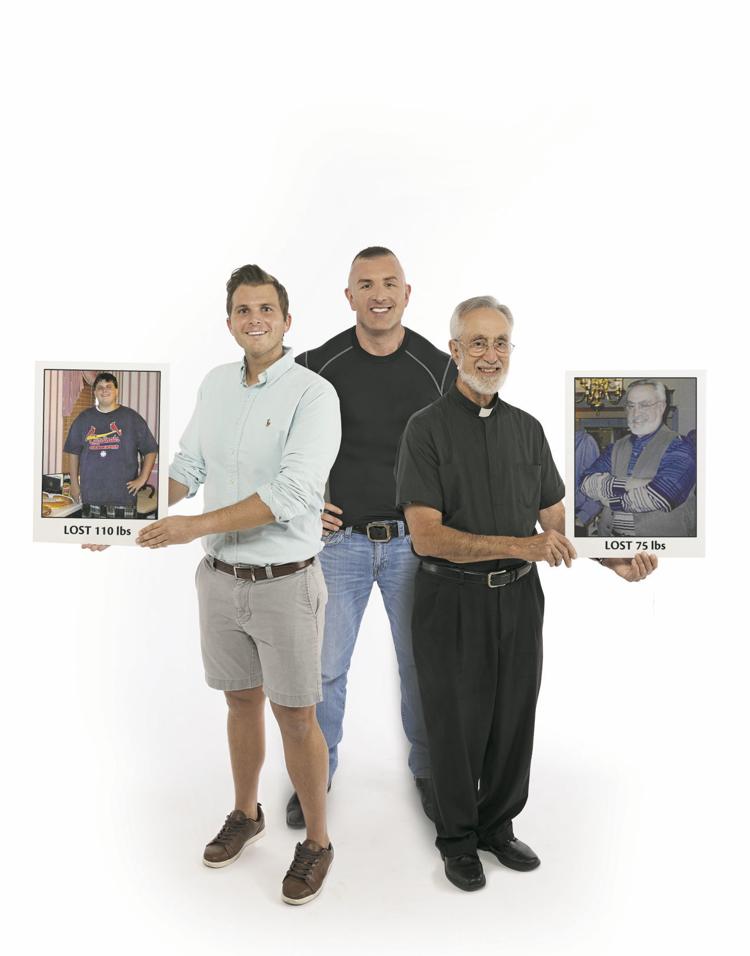 For those who have continuously struggled with their weight, who have tried every trick in the book to lose pounds and who have found that nothing seems to work, there's a solution: Charles D'Angelo.
"When you find yourself pacing the kitchen, fifteen minutes after eating a huge dinner, you have to ask yourself what's driving you," the nationally renowned transformation coach says. "That's what the work is with me – changing your mindset. The ancestor of every action is a thought. The focus is on developing a strategy and a loving relationship with yourself, so that it no longer feels necessary to drug yourself with food or anything else in the face of life's daily challenges."
Based in St. Louis, D'Angelo is responsible for jaw-dropping transformations that have helped people to get back control of their lives. Allan Finnegan attests to how D'Angelo set him on a path to success.
"Debilitating is a strong word, but [my excessive weight] affected my whole life," explains Finnegan. "I was quiet and reserved in high school. It set me off from everyone and everything. It kept me from playing sports and having girlfriends – all the things a teenage boy wants."
Finnegan, at the age of 17, began working with D'Angelo. Two months in, an unexpected challenge arose. "My mom found she needed a heart transplant," he remembers. "She was helicoptered to Minnesota and I went every week to see her. Summer came and I went to Mizzou. I applied what Charles had taught me there and lost more than 100 pounds."
Today, more than a decade later, his mother has run half-marathons and works out daily. Finnegan left his corporate job and bought a gym, inspired to have the life-changing impact on others that D'Angelo had on him.
"I invest in my health because I know how much better I am when I'm eating [well] and working out," he describes. "You make it a part of your day like with everything else, like taking a shower or brushing your teeth. Trust in the process."
Fr. Ted Vitali reflects on when he first met D'Angelo, who was a student in his class at Saint Louis University. Once class was done and Vitali was no longer his professor, Vitali, who tipped the scales at 250 pounds, decided to give D'Angelo's program a go. "I went to him like a little boy going into kindergarten, overwhelmed by the possibility of what he was doing," he recalls.
When D'Angelo told that he could achieve his dream of getting to a healthy, doctor-recommended weight, Vitali balked. "I thought it impossible," he shares. "I gave up [that notion] with Lent 40 years ago. Then, I hit 185 in two or three months."
Vitali compares the challenge to other addictions, which is why having a community can be of immense value. "You need a sponsor – somebody who has shared in that same [struggle]," he believes, which he found in D'Angelo. "Accountability matters. The difference between losing the weight and keeping it off is essentially the same. It requires a pattern of exercise and, most of all, eating."
A decade later and Vitali considers himself the healthiest 78-year-old he knows. "I struggled with aches and pain," he says. "I had high blood-pressure, almost had a stroke. That was [before meeting Charlie. Today,] I have no arthritis, no high blood-pressure. In the profoundest sense, I owe Charlie my health – probably even my life."
Through self-discipline, D'Angelo fundamentally altered his own life, having faced the same challenges as a teenager. Aiding others in their revolutionary makeovers feels like a calling to him.
"Transformation takes effort," he asserts. "It's a journey without a finish line. My mission is to give my clients that experience of success, installing the mental 'software' so that they continue to maintain an attitude of self-compassion and confidence, rather than self-contempt, long after our coaching relationship has come to an end."
Charles D'Angelo, 314-495-3228, charlesdangelo.com
The business news you need
With a weekly newsletter looking back at local history.