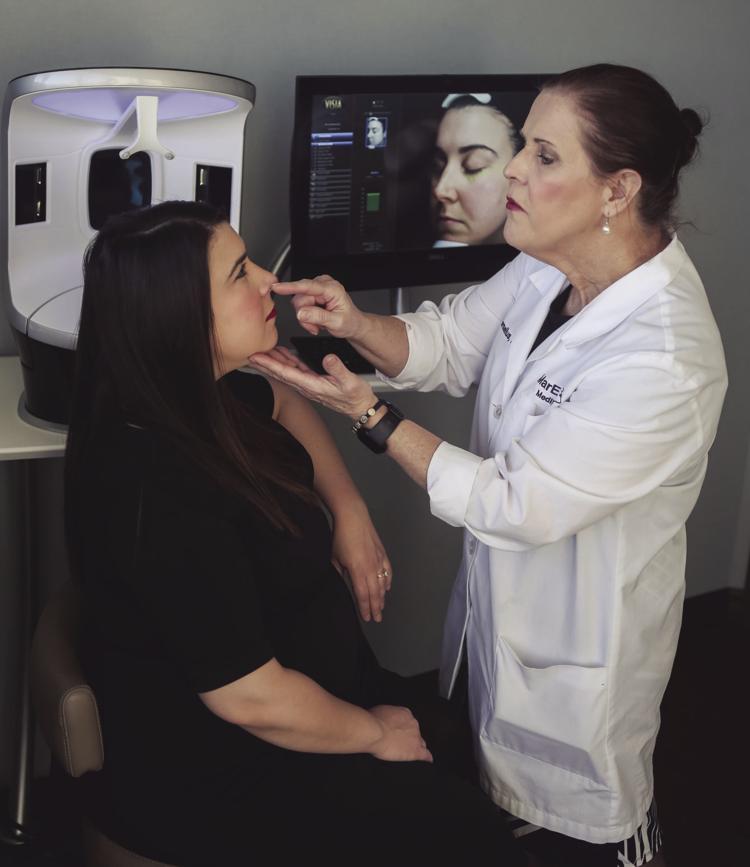 The holidays promise memory-making moments with family and loved ones – but, often, they can equate to stress and an over-packed calendar. At MarElyse MediSpa, step into the season with a fresh face and a checked-off gift list.
"During this hectic time of year, our holiday specials are a way of treating yourself," says business manager Marysa Monterubio Boggeman. "These specials [help you] get ready for the holidays and make great gifts."
The medical spa's skin rejuvenation packages can prep you for holiday parties or delight recipients, with treatment options best suited to each individual's skin. Overseen by two medical directors, each consultation is led by founder and owner Debbie Cornelius Monterubio, PA-C, who guides patients with a qualified attentiveness.
"Comfort is big for me," Monterubio explains. "I want my patients to feel comfortable and to be knowledgeable about the treatment and products they are using."
MarElyse's main offerings include the BBL (BroadBand Light) and Halo treatments. "If you're stepping into the waters of laser skin resurfacing, BBL is great," notes Boggeman. "BBL can respond after just one treatment, but really starts to show after three or more. Halo brings out the big guns. You can get the same results in one treatment that you would from three to six treatments of BBL. For maximum results, a Halo combined with a BBL can do wonders!"
During the holidays, enjoy an add-on enhancement with your treatment that packs the benefits of either hyaluronic acid to promote natural collagen production in one's skin, or glycolic acid, which provides a deeper exfoliant. In addition, skincare sets serve well as take-home gifts.
"If you're looking for immediate results, Botox and Juvaderm fillers [give you that] picture-perfect look for the holidays," Boggeman details. "Botox relaxes lines and creases [while] Juvaderm smooths out skin and adds volume."
Whatever skincare solution you decide on, the ultimate goal at MarElyse is to find the treatment or product that makes you feel at your best.
"We don't want to change the way you look," Boggeman says. "We want to make you feel more comfortable and the most confident in your own skin … To reveal the beauty within."
What better way to tackle this frazzled, fun-filled season than with a gift that truly keeps on giving?
MarElyse MediSpa, 1034 S. Brentwood Blvd., St. Louis, 314-571-6062, marelyse.com
WHAT/WHERE/WHEN
Stop in at these holiday markets to learn more about MarElyse MediSpa's treatments and to pick up skincare gift sets for those on your holiday list.
St. Louis Priory's Mothers' Club Christmas Boutique
Priory Gym at 500 S. Mason Road Wednesday, Dec. 4, from 10:30 a.m. to 2:30 p.m.
Ladue Chapel Nursery School's Holiday Mart
Ladue Chapel Nursery School at 9450 Clayton Road Thursday, Dec. 5, from 11 a.m. to 7 p.m. Friday, Dec. 6, from 9 a.m. to 1 p.m.
The business news you need
With a weekly newsletter looking back at local history.