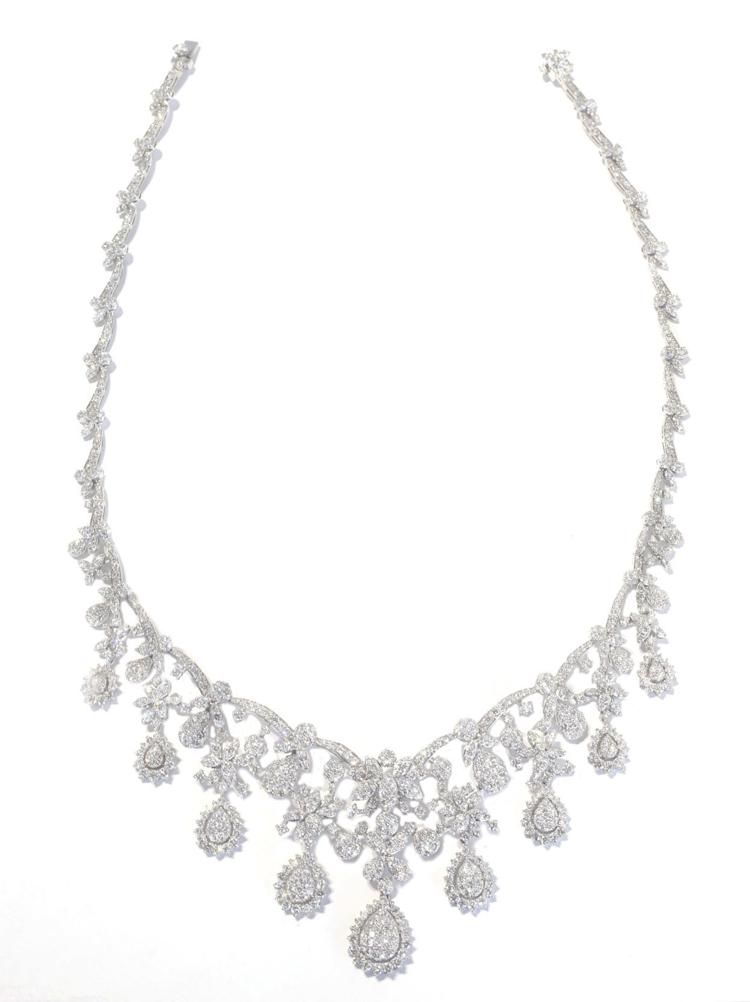 Sometimes, one piece is all a look needs to help its wearer stand out from the crowd. A statement necklace with just the right amount of sparkle is a seamless addition to any woman's formal or evening attire. At Genovese jewelers, you'll be able to find the perfect pendant for your wardrobe and lifestyle.
"Typically, when people are buying medallion-style necklaces, it's because they're looking for something different to add to their style," says executive buyer Katie Kelly. "We're selling more in white gold than any other metal – it makes the diamonds pop and matches with what people already have."
Genovese's larger pendants are most popular for formal occasions because the medallions are comprised of smaller diamonds, resulting in a glittering, eye-catching piece at an affordable price point. "You're not paying for big stones, but still get a huge look," Kelly expresses. "They're one of a kind."
Genovese's medallion pendants are a part of its Novia collection, which is exclusive to the jeweler and is personalized for each customer. "Novia medallion styles are designed in-house," Kelly says.
Customers are included in all steps of the design process, and every item of the Novia collection is created in-house as well. Although each piece is unique, the Novia medallion pendants consistently boast an intricate, filigree style.
"When you're looking at bigger statement necklaces, there is always a floral look to it," Kelly explains. "You want it to be open and airy."
Another highlight of the house-made Novia medallions is that they can incorporate a customer's existing stone when they choose to upgrade a ring or necklace design. "We'll put in the center stone and build around it," Kelly says. "The stone stands out as an accent and has meaning to it."
With Valentine's Day around the corner, Kelly adds that the extensive inventory at Genovese guarantees that everyone can find something for their loved one, even on a budget. "Coming off the holidays, we don't want anyone to feel like they have to spend a lot of money," she expresses. "There's a wide range of items, and every [woman] smiles when they open a Genovese box. You can never go wrong."
Kelly also encourages couples at all stages of their relationship to stop in to Genovese for the holiday. "We want to touch all markets; a high school student can get his girlfriend a gift, and a couple celebrating 50 years can get a gift," she says. "Everyone wants to say I love you, and our gifts really say that."
Genovese Jewelers, 12460 Olive Blvd., St. Louis, 314-878-6203, genovesejewelers.com