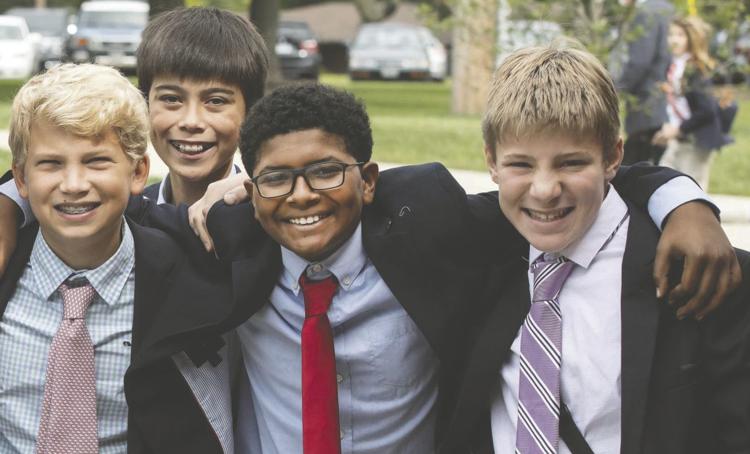 Mission Profile
"Our academic program imparts the intellectual skills and habits of inquiry, study and reflection that are vital to a successful future," says Alice Dickherber, director of admissions at Saint Louis Priory School, a Catholic, independent day school for boys in grades seven through 12.
The educational experience at Saint Louis Priory School is deeply rooted in Benedictine values and balanced by a rigorous examination of diverse disciplines that are designed to develop young men in mind, body and spirit.
"When you enter Priory, you join a lifelong community," Dickherber says. "We want to integrate our students into this community and nurture each one's academic, social and spiritual life. And that starts with our seventh grade program."
The junior school at Priory, which houses grades seven and eight, begins the important integration process into the campus community by including two unique aspects within its curriculum.
"One is our advisory program, in which every student is assigned a faculty member," Dickherber details. "That faculty member meets every day with a small group of 12 to 15 seventh- and eighth-graders. Community is built between grades within that group."
These faculty members guide junior school students in the careful balance between their social and academic lives. The advisory program also incorporates mentorship opportunities between Priory's high school and junior school students.
"Tutoria is a high school mentoring program for our seventh and eighth grade students," Dickherber explains. "Every Tuesday, for a full class period, four to six high school mentors meet with an advisory group. They pray together and engage in reflection. They have fun and build relationships."
All of that time invested in fostering relationships is well spent on the youngest Priory students, who carry a heavy course load from several educational departments. "We have high expectations for our students," Dickherber confirms. "We know that nurturing their social lives and their connection to the community are just as important."
"At this time of year, many of our alums who are home from college are coming back on campus," she adds. "We have more than 2,700 alumni and all come back to campus, knowing someone will be here who taught and knew them. The relationships and connections they made here [continue to be] so important in their lives."
Campus Visits
Plan your tour of Saint Louis Priory School by contacting Alice Dickherber, director of admissions, at 314-434-7184 or via e-mail at adickherber@priory.org.
For more information:
Saint Louis Priory School, 500 S. Mason Road, St. Louis, 314-434-3690, priory.org