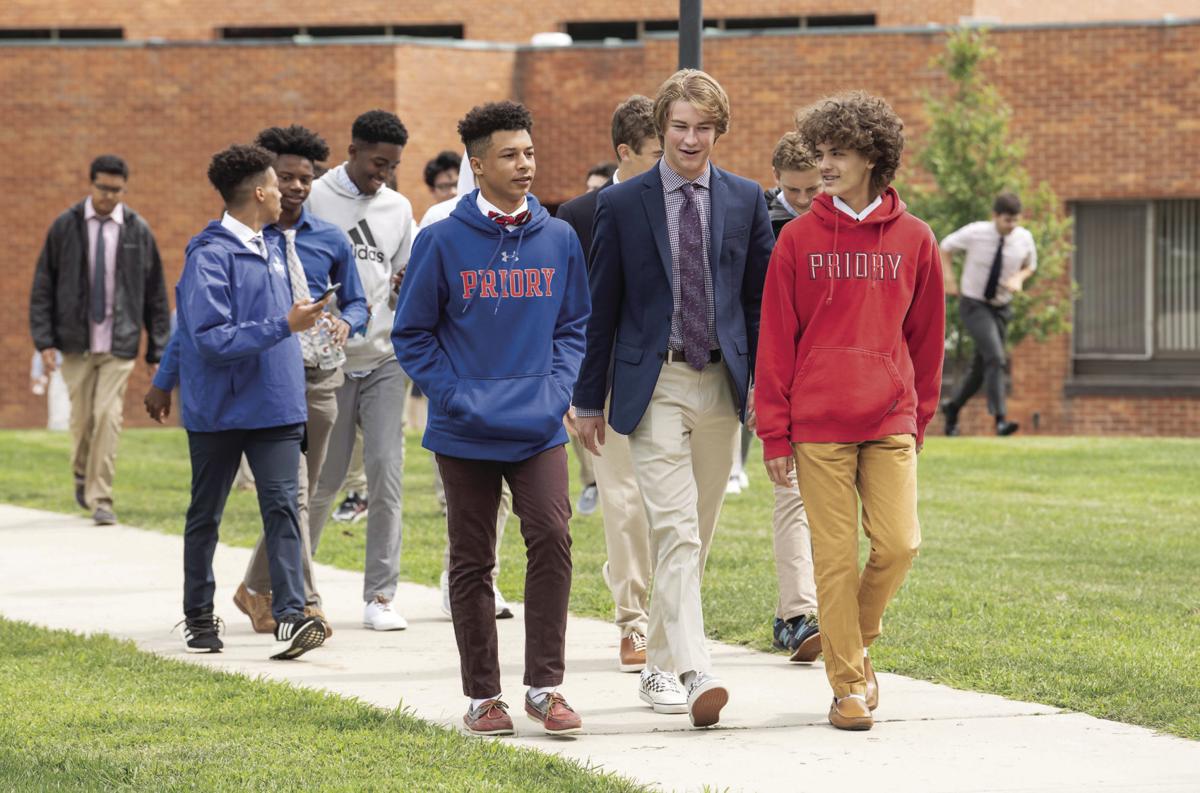 In today's fast-paced, digital age, young men can feel overwhelmed, lost or isolated. Saint Louis Priory School seeks to ground its students in faith and community, as well as provide a well-rounded education that prepares them for the needs of today.
Founded in 1956, in partnership with the Benedictine Ampleforth Abbey in England, Priory was built upon the mission of providing young men with a Catholic and Benedictine education of the highest caliber.
"[Priory offers] an education that is both spiritually and humanly formative," expresses headmaster Father Cuthbert Elliott. "We started out with just one class and gradually built our way up."
Today, the academic program focuses on four major areas: Humanities, including English, history and social studies; visual and performing arts; science, math and technology; and modern and classical languages. "The focus [is] on skill development," explains associate headmaster, Dr. Jared Rashford. "We believe having students take coursework in these areas sets them up for success."
"The campus is 150 acres, and the students have autonomy on how they use the space," Elliott adds. "They become very independent in their academic experience." As students advance into their sophomore through senior years, they are given more opportunity to take different electives or advance in a particular subject.
One subject specific to Priory is its medieval arts class. There, students learn calligraphy and stained glass and are provided opportunities for further advancement within the school's medieval arts guild, the only one of its kind at the high school level in the United States. "We're very proud to give them ways of being creative and collaborative while keeping it in the context of our roots as a western Catholic school," Elliott says.
In the more than 60 years since its founding, Priory has certainly grown from a single class. Elliott explains that Priory seeks to continue growing not in size but in satisfying the needs of students over time. "The development I'm interested in is programs around mental health and wellbeing," he says. "Helping meet [students] in the digital world, while helping them be social in real life, and teaching our boys to live fully in a community."
"A school that is Catholic and Benedictine means a strong community," Rashford adds. "We're very intentional about supporting our boys and creating a sense of community." Priory's Tutoria program builds that community growth by creating small groups that span grade levels, which give younger students a mentor and older students the opportunity to learn leadership skills. The school is open to students of all faiths, but it does place importance on growing students' spiritual values and offers prayer groups and retreats.
"We try to create a space for students to have encounters with God," Elliott says. "We want to teach a culture of humility, love and respect in a very deliberate way. That's our Benedictine heritage."
Saint Louis Priory School, 500 S. Mason Road, St. Louis, 314-434-3690, priory.org
---
Campus Visits
Plan your tour of Saint Louis Priory School by calling 314-434-3690, ext. 101 or by e-mail at admissions@priory.org.
The business news you need
With a weekly newsletter looking back at local history.