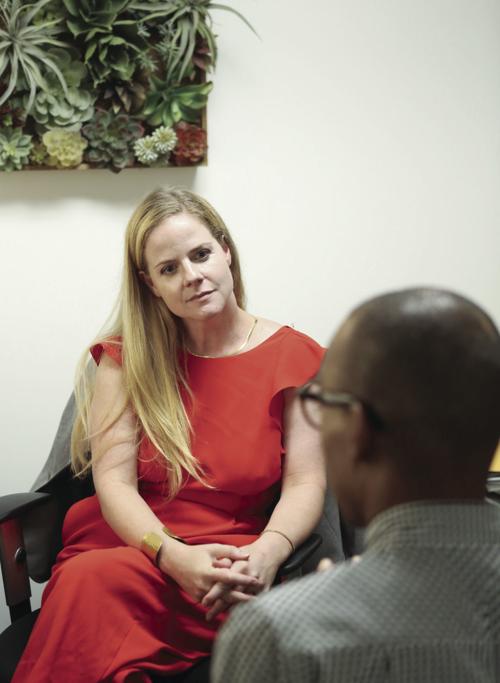 Dr. Michelle Sheets, clinical psychologist, has been working in the psychiatric field for 10 years, completing her Ph.D in New York City in 2009 and working in a vast array of settings.
After losing her brother to cancer when he was 15, Sheets not only went through her own grief but also witnessed the effect grief had on her family and friends. "It was a profound experience for me," Sheets describes. "This is what really piqued my interest about what is happening inside everyone's head and learning about ways to possibly help others."
Having grown up in St. Louis, Sheets moved her practice to the Clayton area earlier this year and is looking forward to serving those in need of a psychologist. "I'm getting to know St. Louis again," she says. "I'm hoping to grow my practice and help people around town as best I can."
With experience in inpatient units and the emergency department at St. Barnabas Hospital in the Bronx neighborhood of New York City and the Bensonhurst Center for Rehabilitation and Healthcare in Brooklyn, Sheets has since moved to deal with high-functioning clients – particularly those with anxiety and depression.
"The goals are different than with the more severely ill," Sheets says, describing her shift in practice. "I really enjoy it when I work with people on goals like getting up and going to work or working for a promotion. It's a different kind of fulfillment.
"It's so rewarding to see real change in peoples' lives. When someone comes back and tells me they went on their first date or were able to finally split up from a partner after years of unhappiness, or when they got the job they were too nervous to apply for … When I can see measurable change – that's what I like most about it."
Sheets encourages potential clients to give her a call, noting that it's better to have a phone call to talk to a therapist before truly booking an appointment. "See if you get a good feeling," she says. "I'm happy to have calls that are just calls – that there are people just looking to talk."
7733 Forsyth Blvd., Suite 1100, 347-977-7637, drmichellesheets.com
The business news you need
With a weekly newsletter looking back at local history.