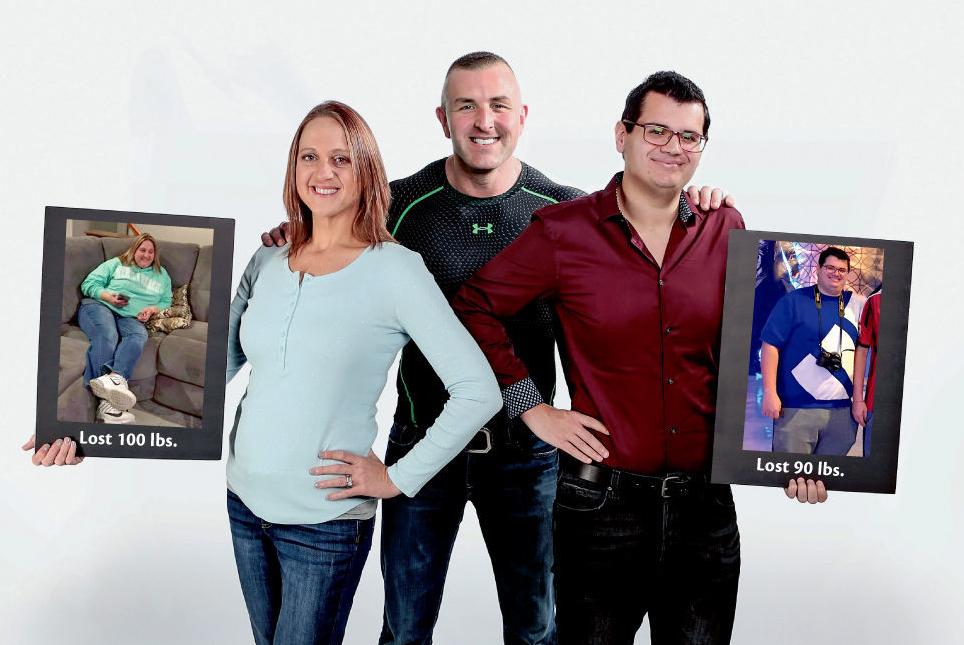 When he receives the call, celebrated transformation coach Charles D'Angelo already knows how the person seeking his services feels: hopeless. However, after their first meeting with D'Angelo, clients feel renewed hope that this is how they will change their lives for the better.
Rajiv Malhotra, like many of D'Angelo's clients, experienced a jaw-dropping transformation when he shed 90 pounds under D'Angelo's tutelage. "Working with Charles assists you in realizing how to begin to accept and love yourself," stresses Malhotra. "As a dividend, you consistently make better choices that lead to weight loss. There is no financial value that you can assign to being happy with the way you look. When you're losing the weight and adding years to your lifespan, it's priceless."
Many of those who visit the nationally known coach's office echo the same things: They've tried every other measure to lose significant weight, from dieting to hitting the gym to fast fixes. Some have even considered surgery to get them back on track. They look at him as their last hope, to which he humbly answers.
"When a person meets with me in hopes of becoming a client, I always say to them that there are two Charles' sitting in front of them," D'Angelo describes. "The Charles who was a bullied, fearful, shy and obese child – and the man, who is disciplined, confident and healthy."
This stark contrast reminds people why they first came to him. After all, D'Angelo has experienced the pain and difficulties of being overweight. It was his own conviction and drive to live a healthier life that turned the more than 350-pound teenager into the toned, passionate man they see before them.
Kelly Duclos struggled with changing her instinctual mindset to serve others first, beginning with her family. "I would put other people before me," she confesses. "It felt like I had to do everything to make sure that everyone is okay, that they're happy, that their needs are met – and I didn't meet my own."
Duclos did so at the cost of her own health and happiness. "I was disgusted with myself," she admits. "I didn't like the way I looked and didn't want to see myself in pictures or in the mirror. I hid behind everything."
Duclos gained significant weight during pregnancy, which felt impossible to lose as she raised her first child alone. After combining families with her husband, she gave birth to a second daughter and, shortly after, lost her mother. The many changes in her family dynamic kept Duclos from addressing her high blood pressure and increasing waistline.
"I amazed myself," Duclos says, after working with D'Angelo, dropping an incredible 100 pounds. "Putting my mind to it, putting myself first and making sure my needs were met. I don't feel I have to hide anymore. [The most rewarding thing is] loving myself again."
D'Angelo aided Duclos in recognizing that she could better serve those she loved by caring for herself first and foremost. "Creating a strong, honest relationship upfront allows for clients to look at the behaviors that aren't serving their aims, so that they can begin to replace them with strategies that will," D'Angelo states.
D'Angelo begins with stripping down the line of thinking that prevents a person from making progress in their weight-loss journeys. "In the face of life's challenges, using food, or any substance, as a distraction or consolation always leads a person further from what they desire and most deserve," D'Angelo expounds.
In Malhotra's case as a college student, he wanted to address his health concerns before graduating and making other huge life decisions. "I always felt like I wasn't really the person I wanted to be," Malhotra describes. "Just talking with Charles, I knew I had never met someone like this before. It's just you and Charles in the room but it feels like there are three people – you, him and the side of you that believes you can't do it."
That revealing conversation led to significant success for Malhotra. "The way you view yourself is most rewarding," he agrees. "It's looking in the mirror, being comfortable in front of a camera or wearing styles you previously couldn't. That's all great – but it's a side effect of being proud of the way you look."
D'Angelo offers a final reminder to those still searching for faith within themselves. "Loving yourself means recognizing the things you're doing that aren't fostering your growth and development," D'Angelo advises. "Practicing mindfulness each day allows for a person to learn to be responsive, rather than reactive, and develops the muscle of discipline to see themselves through to achieving their goals."
Charles D'Angelo, 314-495-3228, charlesdangelo.com
The business news you need
With a weekly newsletter looking back at local history.