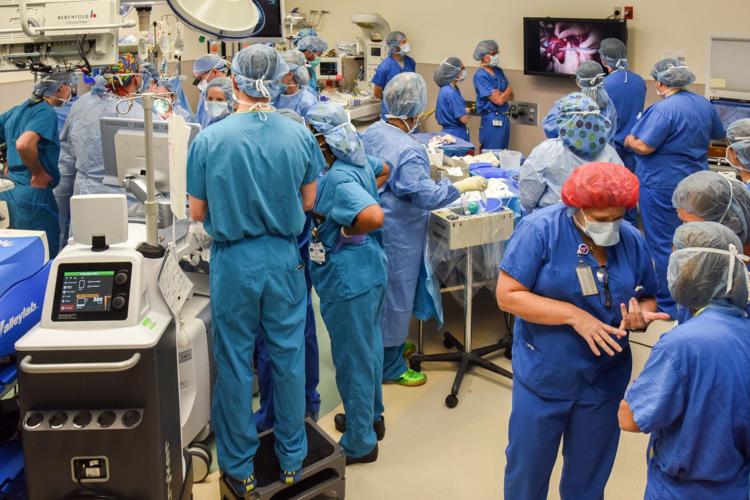 Bringing new life into the world should be a time of excitement and promise. With that joy, however, comes check-ups, lab work and, for some women, unexpected complications that can potentially risk the health of both mother and baby.
Opened in 2017, the Women and Infants Center draws together specialized physicians, surgeons, nurses and resources from Barnes-Jewish Hospital, St. Louis Children's Hospital and Washington University Physicians to provide comprehensive care for women and infants. The Women and Infants Center occupies two floors of the brand-new Barnes-Jewish Hospital Parkview Tower, which connect, via walkway, to the expanded Newborn Intensive Care Unit (NICU) at St. Louis Children's Hospital.
"The Women and Infants Center offers a continuum of care that extends from before conception all the way through pre-, peri- and neonatal stages," explains Dr. Barbara Warner, a professor of pediatrics at Washington University School of Medicine who works with infants in the NICU. "Everything is under one umbrella, so that each of our providers is aware of a [patient's medical history] from the beginning."
Housed within the Women and Infants Center, the Fetal Care Center particularly focuses on high-risk pregnancies. "The mandate of the Fetal Care Center is to look after babies with any kinds of anomalies," informs Dr. Michael Bebbington, the center's director. Bebbington and his team treat unborn babies with abnormalities ranging from chromosomal disorders to craniofacial defects to neurological conditions. "If there's a surgical intervention that can be performed on fetuses, we can do it here," he declares.
"A significant amount of our work is on complicated twin pregnancies, especially identical twins, because they're prone to very unique problems," says Bebbington. One of these problems is Twin-to-Twin Transfusion Syndrome (TTTS), which occurs when identical twins sharing a placenta and blood vessels experience unequal blood flow. To ameliorate this condition, surgeons at the Fetal Care Center perform a complex procedure, known as selective fetoscopic laser photocoagulation, on babies while still in the womb.
As is the case for many other fetal abnormalities, the Fetal Care Center is one of only a few elite institutions with the specialists and resources to treat TTTS. "The Fetal Care Center really serves not just St. Louis, but our whole, multi-state Midwest region," says Bebbington. "If we weren't here, patients would have to go to Cincinnati or Denver."
And, it's not just expertise that distinguishes the Fetal Care Center. "You could talk to almost any family that's passed through the Fetal Care Center and they feel very connected to it," emphasizes Bebbington. "Families may come here in the morning and then have to go to Children's for an ultrasound. One of our staff members will walk them to their first test and then pick them up for their next appointment. That level of care is not something we see very often in medicine."
For Dr. Warner, the Fetal Care Center truly excels in supporting both the health of the fetus and the psychosocial needs of the entire family. "It's never a stress-free process, but we become partners with these families."
"This is such a team effort on so many different levels," echoes Bebbington. "We've created a collaborative environment. Everything we do feeds into helping families get through difficult times."
Barnes-Jewish Hospital's Women and Infants Center, One Barnes-Jewish Hospital Plaza, St. Louis, 1-888-996-5764, barnesjewish.org/medical-services/women-infants