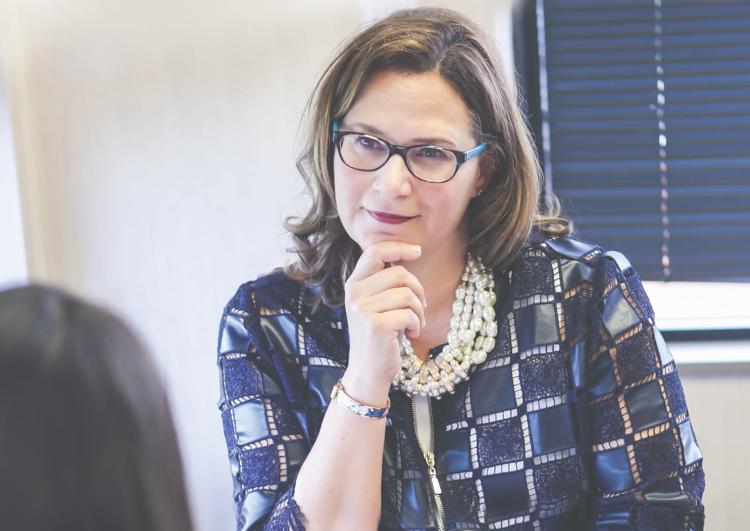 Allison Schreiber Lee, a family law attorney at Paule, Camazine & Blumenthal, P.C., understands the complicated nature of family and the legal matters that can surround them, including divorces, paternity action, motions to modify, temporary restraining orders and orders of protection.
"I am a child of parents who had a contentious divorce," she shares. "I understand the emotions kids can go through when their parents are divorcing. I [also] understand financial hardships and concerns that parents go through, having witnessed issues between my parents."
Schreiber Lee has not only seen the ugly side of divorce. The attorney knows firsthand how a marriage can end amicably.
"I'm a single mom," she adds. "My ex-husband and I get along very well. [I know] how divorces can go, if people can put away their own hurt and prioritize the children first."
Schreiber Lee names her time spent as a former sex crimes and child abuse prosecutor as one of the most rewarding periods of her career. She claims some of her best work came out of that tough climate.
"The claims of abuse, I think, have risen with internet access," she speculates. "It becomes harder to find what's true and what's not. I can guide people on both sides…People whose children have been victims and people who have been accused [of victimizing]."
Able to navigate the gray areas often found in legal matters, Schreiber Lee's unique sympathy for clients makes her services especially valuable.
"Having an attorney you can trust is important," she emphasizes. "It is our job to do what is in your best interest. If somebody has a 'scorched earth' [approach to their divorce], I help them to step back and see that they will likely have interactions beyond [the divorce settlement], especially if the clients have small children."
She sets herself apart from other lawyers not only because of her candid approach, but also for her unwavering commitment to being there when clients need her most.
"In emergencies, people get my cell number," says Schreiber Lee. "I help by trying to find the best way to keep them and their children safe. At the law firm of Paule, Camazine & Blumenthal, P.C., we tend to be some of the most responsive family law attorneys in St. Louis."
With her wealth of experience and relatability, Schreiber Lee continues to be a top choice for a family lawyer.
165 N. Meramec Ave., Suite 110, St. Louis, 314-244-3613 (direct), 314-727-2266 (main office), pcblawfirm.com/attorneys/allison-schreiber-lee