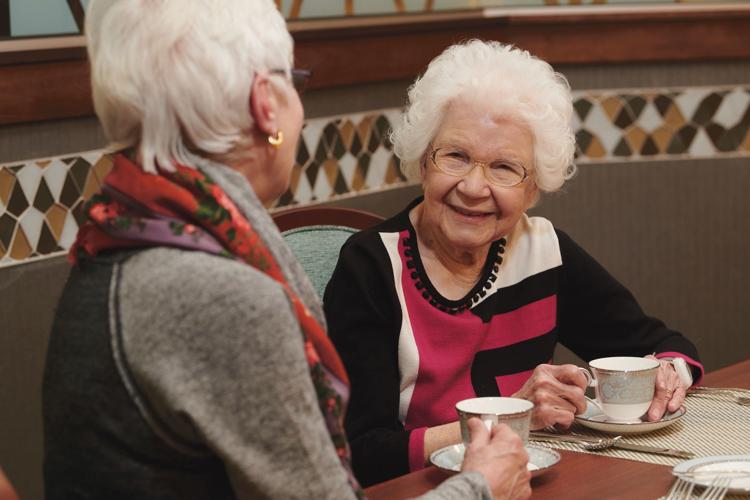 "There's no place like home." Three clicks of her ruby red slippers and Dorothy returned to her homestead in the cinematic treasure The Wizard of Oz. In reality, many have to leave their longtime residence as they age, with the notion of returning, impossible. Finding a suitable replacement may seem like a fruitless search – until an introduction with Allegro Senior Living.
"Do it," resident Maxine Stahl advises those on the fence about leaving behind the place with which they are most familiar. "I didn't want to live by myself, but I wanted to be fair to my children. It was hard at first – but it didn't take me too long [to adjust]. At Allegro, I'm right across from the nurse's station. I like that someone is here all night in case I get sick or need help. I feel safe here."
Allegro, located across from emergency care at St. Mary's Hospital, offers the ultimate convenience for Maxine and her family. "We can see Mother more often," daughter Sharon Stahl, who retired as VP of Student Affairs at Washington University, shares. "We live a 15-minute walk away, and our son and daughter-in-law also live a 15-minute walk away in the other direction."
Maxine finds immense joy in meeting new people. Her sociable personality serves her well at the brand-new community where everyone is made to feel like family.
"The idea of Mother coming in as a sort of founding member was exciting," Sharon says. "She would be one of the first to live at Allegro. She can feel a sense of ownership [and shape the culture]. She's getting to know people so well here, which means we get to know the people at Allegro really well. That's been important to us."
Allegro has become as meaningful to Sharon as it has to Maxine, with a staff devoted to continuing the standard of living to which residents are accustomed while maintaining their independence.
"I was impressed by the quality of the staff at Allegro, and their engagement and genuine concern for what it would be like for residents," Sharon details. "You can tell a lot when you walk in the door, just by how the person at the desk or the person who parks your car [interacts with you]."
Everyone at Allegro stays attuned to resident needs by fostering a culture of community.
"People are warm, caring and attentive," Sharon says. "We're comfortable knowing that Mother is being well cared for and that Allegro is close at hand, which is reassuring. We know she is getting the close attention and care that she needs."
Allegro Senior Living, 1055 Bellevue Ave., Richmond Heights, 314-332-8372, allegroliving.com