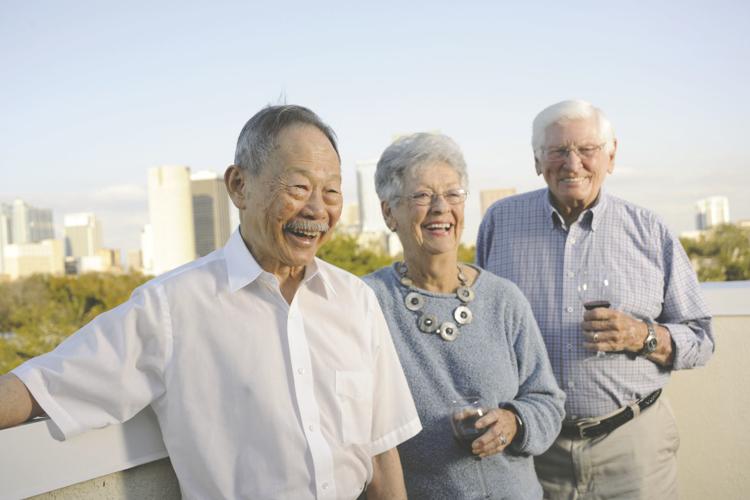 More than four decades ago, the Love and Schiffer families decided to take their combined experience in hotel management, real estate and banking, and apply it to senior living care – first as investors, then as developers and managers. The result was Allegro Senior Living, a St. Louis-based company that now boasts 20 senior living communities across Florida and other parts of the Southeast.
Allegro Senior Living will finally introduce its signature brand of expert, luxury care to St. Louis with the opening of its newest location in November. Located in Richmond Heights, and close to the bustling Clayton, Central West End and downtown areas, this brand-new community will offer both assisted living and memory care within an upscale yet welcoming atmosphere.
"We've found that seniors want to feel more independent, which is why the community has such a hotel-like feel," says executive director Angela Sweet. Although the first three floors will be devoted to assisted living care, residents walking into the complex will feel as if they've entered into a chic hotel lobby, complete with a concierge and a babbling water fountain.
Residents can choose between studio and one-bedroom apartments outfitted with spacious bathrooms and walk-in closets. Each condo-style unit will also feature a kitchenette with a full-size refrigerator, plus granite countertops and accents.
Although residents can certainly eat in, the community's dining – and beverage – programs may prove too tempting to resist. The relaxed and casual bistro will offer all-day dining, meaning that residents can grab a sandwich, salad or snack whenever hunger strikes. Perhaps only a cocktail will do? With a full-service bar, the bistro can satisfy those cravings, as well.
"All-day dining, not to mention a full-service bar, are pretty unusual in senior living communities," shares Sweet. "It's just another example of how Allegro Senior Living promotes independence." In addition to the bistro, the more formal dining room will also serve breakfast, lunch and dinner.
An in-house medical director, as well as physical and occupational therapy services, will cater to residents' health and well-being. For community members looking for new ways to stay active or unwind, there will be a fitness center, a spa and a stadium theater, which will show movies and stream Sunday religious services.
The community's fourth floor will exclusively serve seniors living with dementia, and feature its own dining room, salon and rooftop patio. "On this floor, everything has a reason," emphasizes Sweet. "We just want to be there for residents and to make their lives meaningful."
The heart of Allegro Senior Living's memory care is its innovative Ensemble Program, which promotes residents' peace of mind and emotional security through sensory engagement and familiar routines. A hallmark of the program is its use of virtual technology – specifically, an interactive 70-inch screen television – to engage the senses. Residents will be able to "attend" mass at the Vatican or "play" the piano with the simple flick of a wand.
A 20-year veteran of senior living care, Sweet hopes that prospective residents will stop by the visitor center, take a virtual tour and speak with her about the many appealing amenities, programs and choices available. "The knowledge and expertise of the people that work for Allegro Senior Living are extraordinary," she stresses. "The people make this community."
Allegro Senior Living, 1055 Bellevue Ave., Richmond Heights, (314) 332-8372, allegroliving.com