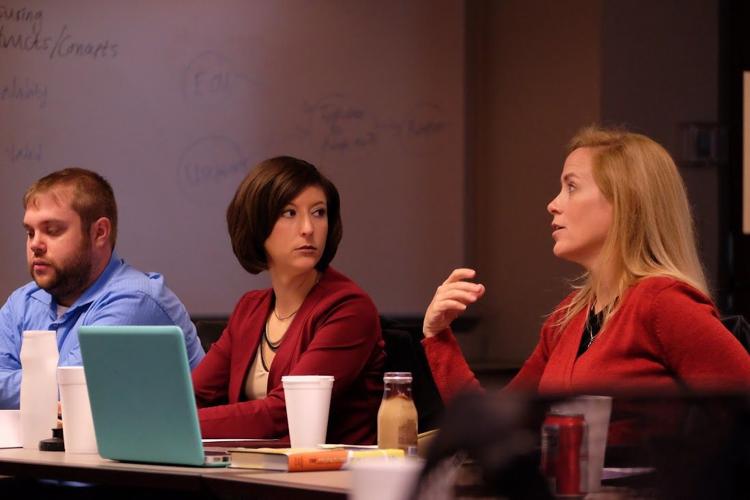 Years ago, Thomas Eyssell's boss told him, "You get paid for what you do at work, but you get promoted for what you do after work." Now, as associate dean and director of graduate studies, chairman and professor of finance and legal studies, and director of financial planning and counseling programs at the University of Missouri-St. Louis (UMSL), Eyssell is guiding working professionals toward those promotions based on their after-work efforts to earn a master's degree in business administration (MBA).
"Success is a function of both effort and preparation," Eyssell says. "Our programs make up the 'after-work' portion of one's career development because our faculty are active both in the academy and out of it, as researchers and as consultants, board members, etc. We ensure that our courses are up to date and provide students with the latest tools and techniques in their disciplines."
Approximately half of UMSL's MBA students have business undergraduate degrees and are currently in business positions, he says, adding: "The other half come from a panoply of backgrounds. Scientists, engineers, physicians and even people who work at not-for-profits find that the knowledge and skills of an MBA help them move their careers in the direction they choose."
Debbie Psihountas, director of the MBA program at Webster University and a professor of finance in its George Herbert Walker School of Business and Technology, agrees that for people who want to climb the professional ladder, an MBA can provide the needed boost.
"In many fields, the graduate degree has become a must, as individuals seek to differentiate themselves," she says. "Any education beyond the bachelor's degree becomes a tool for advancement, in addition to demonstrating one's commitment to continual learning and improvement, which is critical as companies change and evolve much more quickly than they once did in order to remain vibrant and competitive in today's changing landscape."
Given that an MBA can push one further along the career path, working professionals in a variety of fields are pursuing the coveted degree while holding full-time jobs. To make this possible, colleges and universities have created MBA programs designed to fit around busy work schedules.
For example, Psihountas notes that more than 90 percent of Webster's MBA students are working professionals, and many also juggle family obligations with work and education. With that in mind, the MBA program allows for flexibility. "We offer the opportunity to move seamlessly between online courses and classroom-based courses," she says. Classes that do require on-site instruction are offered at a number of locations, including the main campus in Webster Groves and satellite campuses at Westport Plaza; in Downtown; at Winghaven near O'Fallon, Missouri; and at Scott Air Force Base in Illinois. She recommends students start slowly, with one course per term in the beginning, "to be able to judge how well coursework and study fit into the work, family and other commitments the student already has."
UMSL offers a "FlexMBA," in which students choose a specific area of concentration, such as accounting or finance, and classes are offered during evenings, online or in hybrid formats. "This is our largest and longest-running program, first started in 1968," Eyssell says. "Most of the students in this program are employed full time in the St. Louis region and complete the program in 2½ to 3½ years."
Other individuals may choose UMSL's Professional MBA (PMBA) program, a 21-month accelerated, internet-enhanced weekend program. "PMBA participants are provided with a tablet, all course materials, meals while on campus and an international experience at the end of the program," he says. "This year our PMBA students will spend a week in Cuba visiting business and political sites, followed by time in Panama and Costa Rica."
Whether taking classes at night, on weekends, online or in a combination of those options, MBA students study an array of modern business principles. "Our students gain grounding in the critical MBA fields: marketing, organizational behavior, finance, accounting, economics, strategy and more," Psihountas says. "Additionally, our program includes six credit-hours of electives, and students have a broad variety of graduate courses available to them to take."
Eyssell offers additional detail about the curriculum: "Finance courses cover not only the fundamentals of financial management but also the application of complex derivatives to hedge commodity, interest and exchange-rate risks. Similarly, the coursework offered by our logistics and operations-management departments begins with basic statistics and logistics topics, and takes students through big data and business analytics. And our information-systems department instills the basics of the latest programming languages, IT management and, more recently, particular emphasis on cybersecurity, complemented by a brand-new lab space in which students can practice their hacking skills. Add to this the latest in international business, regulatory/compliance issues, human resources, etc., and you quickly have a very full curriculum."
Students who persevere and earn an MBA are encouraged to use the programs' alumni networks and university career resources to help them leverage their new knowledge and credentials.
"The MBA is the new baseline for serious business professionals," Psihountas says. "In many organizations, employers look for commitment beyond the B.S. or B.A., and having additional coursework and credentials can be a great differentiator."
Learn more about professional MBA programs:
Maryville University, maryville.edu/bu/business-administration-masters, 314-529-9300
Saint Louis University, business.slu.edu/programs-of-study/graduate-business-programs/evening-mba, 314-977-6221
University of Missouri-St. Louis, mba.umsl.edu, 314-516-5885
Washington University in St. Louis, olin.wustl.edu/EN-US/academic-programs/professional-mba, 314-935-7301
Webster University, webster.edu/business-and-technology, 800-981-9801