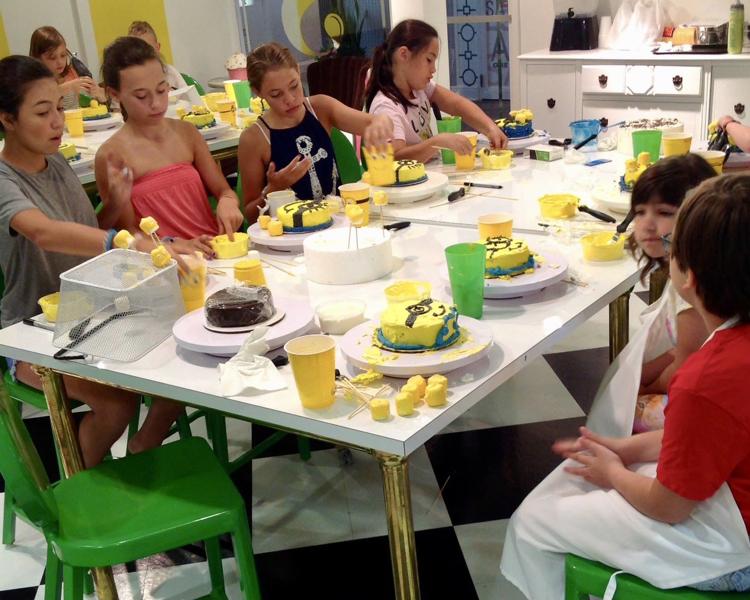 With summer volunteer opportunities and day-camp activities that span the breadth of student interests from technology and coding to sports and performance arts, Sweetology, a DIY cake-decorating studio located in the ever-growing Town and Country Crossing shopping center, offers a summer-camp experience that truly captures the artistic side of dessert-focused culinary arts.
The Sweetology five-day Cake Adventure Camp gives a general overview to cake, cupcake and cookie embellishments, introducing children ages 6 to 13 to basic piping techniques using five different tips on the pastry bag, each producing a variety of borders and patterns. Campers also learn how to make, color and flavor buttercream frosting, eventually using their creations to frost a large-scale cake project.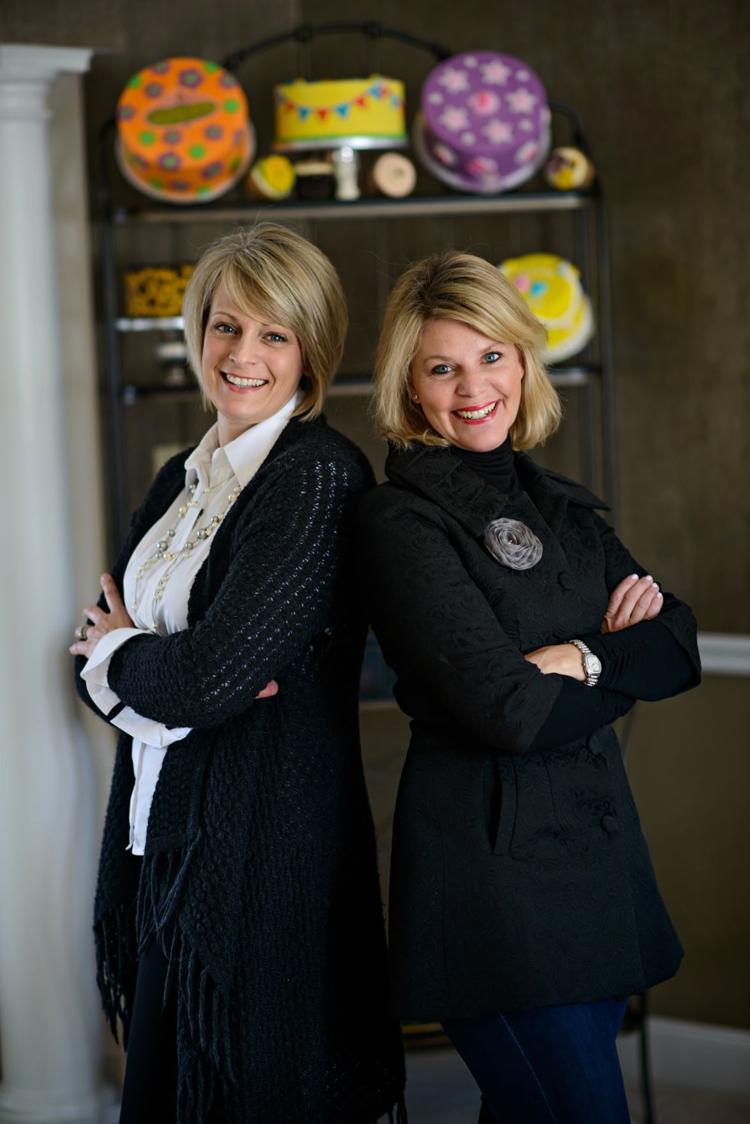 "There's no right or wrong way to frost a cake, but we teach them how to use the correct tools and get the frosting smooth," says DeAnn Bingaman, Sweetology's co-founder and co-owner. Buttercream isn't the only medium employed by these young pastry chefs: The campers are also introduced to fondant – a fun medium the kids use to learn how to sculpt and cut out shapes, similar to working with Play-Doh – and royal icing, an icing made with powdered sugar, meringue powder and water that dries to a harder consistency, making it a favorite for more durable edible art like cookies.
With all the baking done off-site by Central West End cupcake bakery The Cup, which provides Sweetology with cupcakes, cookies, cakes and its legendary buttercream frosting, campers are able to focus their creative energy on decoration, transforming a plain cupcake or cookie into a personalized masterpiece – efforts rewarded by taking their edible project home as a special treat.
Campers begin the week by frosting cupcakes and then move on to decorating cookies, culminating the experience with the pièce de résistance – a classwide cake-decorating project. "It will usually contain multiple elements," Bingaman says of the cake project. "We try to teach how to balance the design and keep it interesting with multiple shapes and sizes. For us, it's all about creating a unique experience for the participants."
Before settling into her expanded Town and Country digs this year, Bingaman opened Sweetology three years ago as a storefront in Ladue. A longtime decorating enthusiast and self-professed "neighborhood Martha Stewart" – but not a cake decorator by trade – Bingaman opened the shop with her business partner and co-owner Kara Newmark. The Sweetology concept was originally Newmark's notion, built around an idea similar to pottery-painting shops, but instead using baked goods as the blank canvas for frosting, fondant and sprinkles. "Sweetology is all about the decorating experience," Bingaman says. The shop offers decorating kits as well as a wide variety of toppings, sprinkles, candy and accessories, allowing customers to flex their culinary muscles at the shop itself or in their own homes.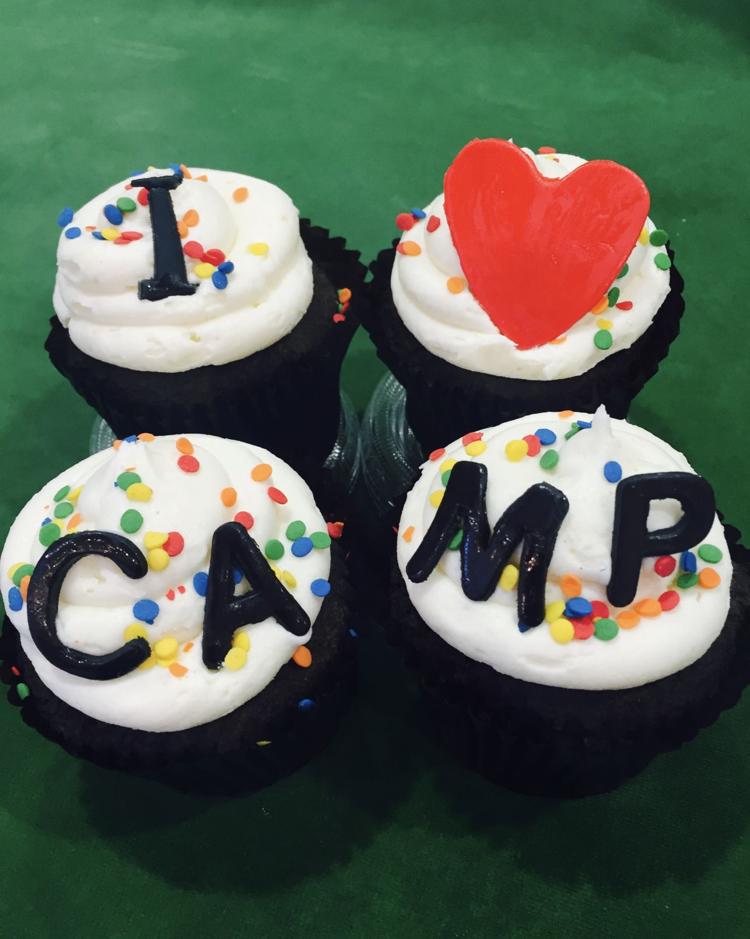 The shop also offers Sunday Funday Workshops, a series of eight decorating workshops over the summer that will feature a different edible project each week. Themes for the workshops include candy cake, Star Wars cupcakes, a unicorn cake and a Herbie the Love Bug car cake – where participants will learn how to shape the cake itself into a car. Participants can sign up for individual classes or an entire camp. For now, all of Sweetology's camp programming is kid-centric, but Bingaman does field a lot of inquiries for adult classes. "We offer them from time to time, but we don't have a regular schedule," she says. "We'll do a girls' night out on occasion."
Sweetology's Cake Adventure Camp is entering its third summer with rave reviews from past campers. Terri Cox of Ladue enrolled her 7-year-old daughter Piper in last year's Cake Adventure Camp and is excited to sign her up for another delicious summer adventure this year. "I think decorating camp was a new way to express Piper's creativity," Cox says. "Although she was one of the youngest in the camp session, she never felt out of place."
"It was really delicious," agrees Piper, recalling her week spent dyeing frosting and creating fondant animals. "Like edible delicious."
Seven sessions of Sweetology's five-day Cake Adventure Camp will be offered this summer, the first session beginning June 5 and the last session ending July 28. The three-hour sessions are held in the morning or afternoon, with a full schedule and registration available online. Attendance fees are $165 per camper, and no previous decorating experience is required.
1232 Town and Country Crossing Drive, Town and Country, 314-736-4800, sweetology.com