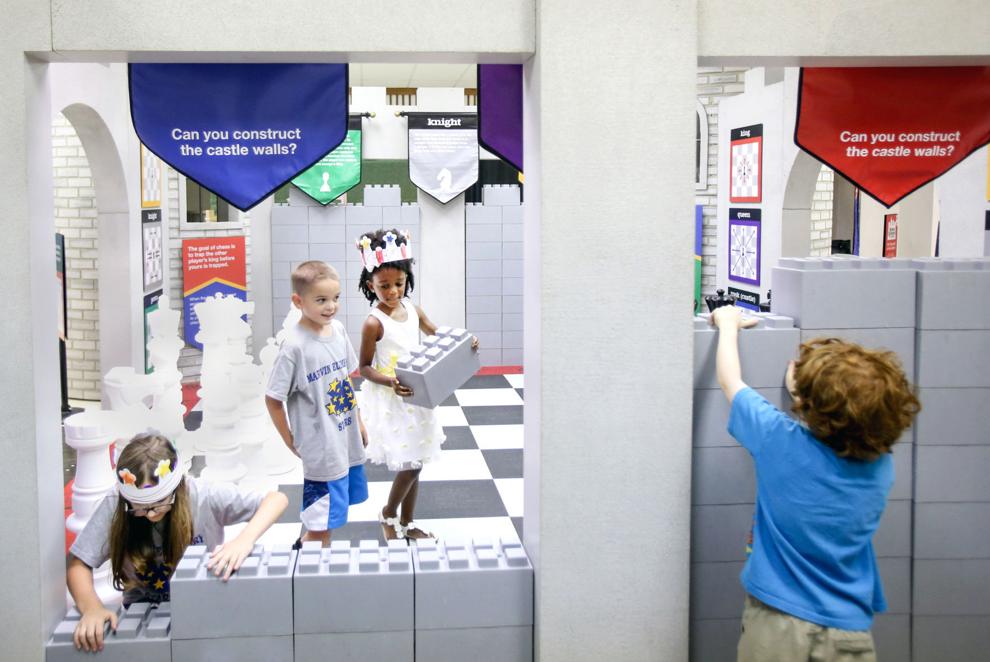 In this woefully mundane if not outright malign era, a much-cherished mid-St. Louis County landmark recently extended its magical influence northward.
On June 12, The Magic House, St. Louis Children's Museum opened a chess-based exhibition titled "Kings, Queens & Castles" at a satellite location in the St. John Municipal Center at 8944 St. Charles Rock Road in north St. Louis County.
That free exhibition, presented in partnership with the Ritenour School District and the Chess Club and Scholastic Center of Saint Louis, will run from 9 a.m. to 4 p.m. each weekday until Aug. 11.
"Designed for children ages 3 to 11, 'Kings, Queens & Castles' brings the game of chess to life and provides an engaging introduction to individual chess pieces and game strategy," states a press release from The Magic House.
"At the exhibit, children can explore a medieval castle complete with a drawbridge and turret slides, learn how to prepare for a game by arranging large-scale pieces on a giant chessboard floor, use their creativity to design a royal crown or a knight's shield and even dress up like their favorite chess pieces to play a human chess game."
Now, as anyone who's fumbled coins and playing cards while practicing prestidigitation knows, magic demands a considerable investment of energy and attention, and according to Carrie Hutchcraft, The Magic House's director of marketing and development, "Kings, Queens & Castles" scarcely constitutes an exception.
"In 2014, the World Chess Hall of Fame reached out to The Magic House to commission the exhibit," Hutchcraft says, referring to an entity related to the Chess Club and Scholastic Center of Saint Louis. "They had hoped to create a family-friendly exhibit that would help to teach the game of chess. As experts in creating child-friendly, hands-on learning experiences, we were excited about the opportunity to work with them.
"The exhibit first opened in October 2015 at the World Chess Hall of Fame. Then The Magic House hosted it in fall 2016. Following our hosting, it began to travel to other children's museums before making its way back to the St. Louis area for our summer in St. John."
Hutchcraft adds that the staff at the Kirkwood Road enchantment emporium, a not-for-profit organization, "put a great deal of time and effort into creating this exhibit. The Magic House is fortunate to have an exhibit design team on staff and enjoyed working with the experts at the World Chess Hall of Fame to translate the game into the exhibit experience."
With regard to the exhibition's current site in North County, Hutchcraft says: "The Magic House had been exploring the idea of hosting an exhibit in areas of need in St. Louis. We had explored a few ideas but did run into some challenges of finding the right location. We were able to connect with the superintendent of the Ritenour School District, who also volunteers on our Education Advisory Committee and who likewise was excited about the opportunity, and [he] helped us identify the St. John Municipal Center."
Beyond that tip of the standard magician's toff topper to Chris Kilbride, the superintendent in question, Hutchcraft continues by agreeing that the exhibition could be viewed as a quantum leap beyond The Magic House's previous outreach and inclusiveness efforts.
"Throughout its history, education has been at the core of The Magic House's mission," states it website about those efforts. "Over 60,000 children visit the museum each year for curriculum-enriching field trip experiences that support classroom learning and meet state and national standards. An additional 25,000 children participate in the museum's outreach programs that take place in area classrooms, libraries and hospitals."
Since opening in 1979 as the first totally participatory museum designed solely for children, The Magic House has attained national prominence, now including 55,000 square feet of exhibitions (10 times its original space) and serving more than 560,000 visitors each year, according to the website.
The local landmark has dedicated itself to inclusiveness, in particular welcoming in various ways St. Louis-area children with the fewest opportunities. In that regard, Hutchcraft provides a bit more background on the effort that ultimately involved the St. John Municipal Center.
"The idea of a satellite location became an important topic during our most recent strategic planning process," she says. "As we were exploring The Magic House's future, visitors, board members and community leaders shared their desire to ensure that we continue to provide our experiences with all children, even those who aren't able to physically make it to The Magic House.
"We wanted to find a way to get more involved and have a larger presence in the community, especially over the summer. During the school year, we work closely with school districts in higher-need areas. The opportunity to offer an exhibit in north St. Louis County over the summer is completely aligned with our mission and work."
As an added attraction, the Chess Club and Scholastic Center of Saint Louis will offer weeklong half-day summer camp sessions contiguous in the
St. John Municipal Center to "Kings, Queens & Castles." In them, enrollees can improve their skills and learn even more about chess. The remaining sessions – both morning (9 a.m. to noon) and afternoon (1 to 4 p.m.) – will run from July 10 to 14 and from Aug. 7 to 11. Fees per enrollee cost $30 for half a day and $50 for a full day (excluding lunch). Those desiring details or seeking to register should email scholastics@saintlouischessclub.org.
Otherwise, in an alakazam wrapup, Hutchcraft characterizes her and her colleagues' excitement about the St. John exhibition as high, confessing that they feel "thrilled to host our 'Kings, Queens & Castles' exhibit in St. John this summer. Through the opening of this location, we're able to further our mission of providing all children in the St. Louis area with hands-on educational experiences.
"Additionally, we've been able to work with the Ritenour School District to identify new staff members and volunteers to join us in the space as well, providing more work and learning experiences for older students from the area. We look forward to meeting many new families and making new friends at our North County satellite this summer."
The Magic House, St. Louis Children's Museum, 516 S. Kirkwood Road, St. Louis, 314-822-8900, magichouse.org