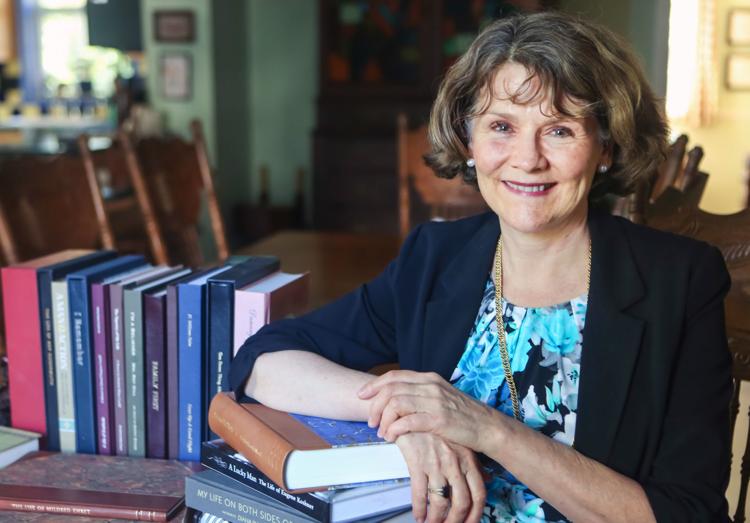 Kathy Evans isn't used to telling her own story. Rather, her passion and vocation focus on other people's stories. Through her business, Write for You Life Stories, Evans has written and produced more than 50 personal memoirs in the past 17 years for people from all walks of life. So when asked about her own background, she almost hesitates before plunging into the tale of how an occupational therapist ended up a biographer.
Evans' professional journey began in 2001 when she needed a change. "I very much liked being an occupational therapist, but some aspects of it weren't a good fit for me," she says. "My favorite aspect of doing therapy was hearing people's stories, and I always got to know my patients' personal histories."
When providing occupational therapy services in clients' homes, Evans often ended up spending much longer than expected listening to her clients and asking questions over a cup of tea. "Then, in a chance conversation with an acquaintance, I asked what a mutual friend of ours was up to," she says. "He said, 'She's writing life stories as a therapeutic intervention at MossRehab in Philadelphia.' It was one of those watershed moments. I thought, 'Hmm, that's what I'm going to do for the rest of my life, starting now.'"
Evans had been writing poetry and short stories for many years as a hobby.
"I have 67 rejection slips to show for my efforts at writing poetry and short stories, but it taught me how to write," she says with a laugh. However, writing books was a whole new endeavor, and Evans had no local mentors in the field. Her only option was to dive in and learn by doing.
"I spent six months writing about a dozen memoirs, not book-length," she says. "I went to the JCA [Jewish Center for Aged], spoke with the activities director and said I needed practice. I asked for residents to interview and said I would give a copy of whatever I wrote to them and their families."
As she practiced, Evans was preparing to offer memoir-writing services in a medical or rehabilitation setting, which she knew would require grant funding to support her work. "Then a friend said, 'I wish somebody would do that with my mother,'" Evans says. "I realized that if I could do it as a private business, I wouldn't have to be constantly writing grants." The result: Write for You Life Stories, LLC.
Individuals work with Evans to create a book, which can range anywhere from fewer than 100 to more than 700 pages. Over the course of multiple interviews, Evans documents the facts, values and personal tone of each client's life, enabling her to ghostwrite an autobiography in the first person. "I also do background research to set the story in its time, place and culture and, in the process, often discover things about a client's family that the client didn't know," she says. In a few cases, Evans writes in the third person, especially when the book covers a great deal of family history in addition to the individual remembrances of one person's life or if the subject of the biography is no longer living.
Most of Evans' clients come to her through word of mouth, and she might be working on several memoirs at once. She charges by the hour, discussing the budget and scope of the project at an initial consultation before the interviewing process begins. Interviews can last from as few as six hours to hundreds of hours, sometimes taking years to complete. As a result, prices are in the five- and six-figure range, which includes interviewing and writing.
"It's like getting on a train with someone, and neither of us knows where it's going," Evans says of the process. "The clients are familiar with their own life journeys, of course, but they don't know what it will be like to write the book. On the client's part, it takes a bit of courage and willingness to be open. I never take for granted what a privilege it is to be trusted with someone's life history.
"I usually begin by asking a client about their grandparents. It's a little more comfortable to start by talking about someone else, and it's crucial to include this material. Most of my clients are older, and their memories of grandparents are about as far back as we can reach into living history. This is part of the river of the family's journey."
Evans begins writing immediately and provides drafts for the client's review early in the process. "That will let us both know if I have the client's voice right," she says. "Either the client will relax and trust is created, or if I'm off track, I have a chance to correct course right away before we get too far into it. Giving the client a draft early on will let us both know. … " She then works with freelance copy editors and designers to create the finished product, typically a small run of 10 to 200 books. Her father, a retired Presbyterian minister, also assists with genealogical research when needed.
"One of my favorites was one of my first," Evans says. "A woman's daughter hired me to write her story. I called her to set up the appointment and said to plan for about an hour. She said, 'I can't talk about my life for a whole hour! I grew up in south St. Louis during the Depression – end of story!' Of course, we had a number of hourlong interviews, not just one, and that client found out she had a rich, beautiful story."
Evans loves getting to know her clients over time, seeing them go deeper into their memories and making sense of their lives in a new way. "I love the process, and love the finish: being able to put a beautiful book in my client's hand," she says.
She notes that everyone has a remarkable story –
most people just have never told it to anyone before. Evans' own story would make for a good book, but she says she hopes to finish her father's memoir first. "It's important to know that writing memoir is not a matter of vanity – it's an act of generosity, a gift to your family," she says. "I say to reluctant clients, 'Think what it would mean if you had the life story of your parents or grandparents. You are the keeper of your family stories, and you can give that gift to your descendants.'"
Write for You Life Stories, 314-740-8859, writeforyoustl.com