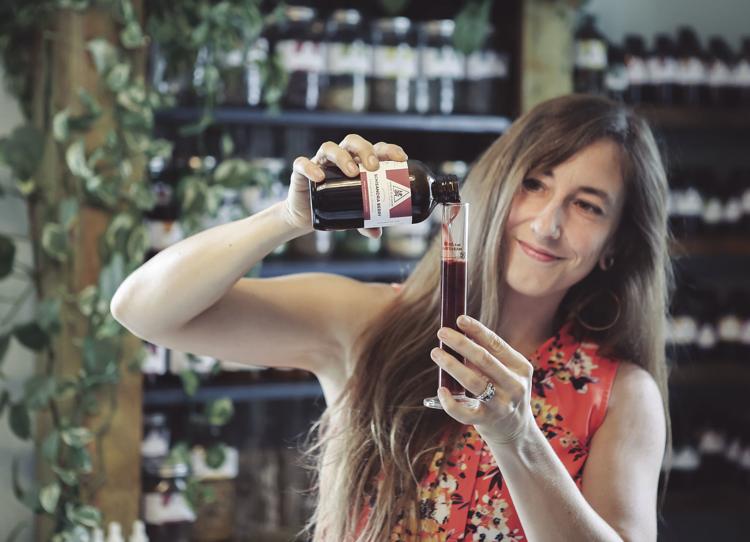 "I had never even heard of herbalism until after I graduated from college," says Amanda Jokerst, the owner of Forest & Meadow Apothecary and Herbal Clinic.
That amusing admission almost boggles the mind, in that Jokerst's website lists a daunting array of credentials and states that her services combine "research-based and traditional herbal medicine, nutritional anthropology, ancient abdominal bodywork and massage techniques, and intuitive listening skills."
Moreover, Jokerst's by-appointment-only practice has expanded so much that it soon will move from an office in the Wellness Center of Maplewood to a new clinic/shop combo at 3228 Ivanhoe Ave. in St. Louis' Lindenwood Park neighborhood. (She tentatively mentions Sept. 21 as the date of the grand opening, with limited business hours before that, posted on the website and social media, and regular business hours resuming in October.)
"I was reading a book about some of the environmental and infrastructural problems we may be facing as a society in the not-so-distant future," Jokerst continues by way of relating the genesis of Forest & Meadow, "and the author mentioned a friend of his who was studying how to use plants as medicine in case she lost access to standard medical care. It immediately resonated somewhere deep within me, a place I didn't even know existed at the time."
That resonance directly inspired her to take an online course in herbal medicine, after which her captivation with the subject snowballed. Dropping phrases like magic and wonder, awe and respect, she says, "I have been practicing as a Certified Clinical Herbalist since 2016."
Jokerst also credits her clients for inspiration. "They were coming to me with much more complex health conditions than just colds or flus," she recalls, "and they wanted someone who could guide them in using herbs and natural remedies for their own wellness. So that's when I decided that it was time to take the next step and get a more formal herbal education."
Vitalism informs her practice, whose clientele she estimates at 90 percent female and 10 percent male. Jokerst defines that term as "a philosophy that the human body has an intelligence that guides and directs all areas of health – physical, mental, emotional and spiritual."
Someone practicing that philosophy, she notes, "seeks to understand how that intelligence … is manifesting within each client, looking for where it may be blocked or suppressed – that is, symptoms – and how they can best support the body to further engage its own natural healing abilities."
Practitioners, Jokerst says, "don't just focus on symptoms or a particular disease one may have, but they look to get to the root of imbalance in the body, keeping the whole person in mind, and support their clients with various methods and therapies … "
Jokerst, as an herbalist, also disavows feeling any animus toward modern medicine as such.
"I don't believe that there has to be a dichotomy of natural medicine versus standard medical care, herbs versus drugs," she says. "Sometimes we need a multifaceted approach to really start to feel better, and Western medicine does offer us some very helpful tools. … "
That said, Jokerst notes that modern medicine has failed a number of her clients. "Western medicine does a phenomenal job of working with acute situations, but it tends to fall short with disease prevention, chronic illness and wellness maintenance," she says. "This is where I think herbal medicine and the sort of herbal medicine I practice in my clinic truly shine.
"I give my clients the tools they need to feel healthy and vibrant, not just to not feel sick. I teach my clients how to better listen to and understand the signs their body is giving that things are starting to go out of balance so that they can be more proactive in maintaining their own wellness."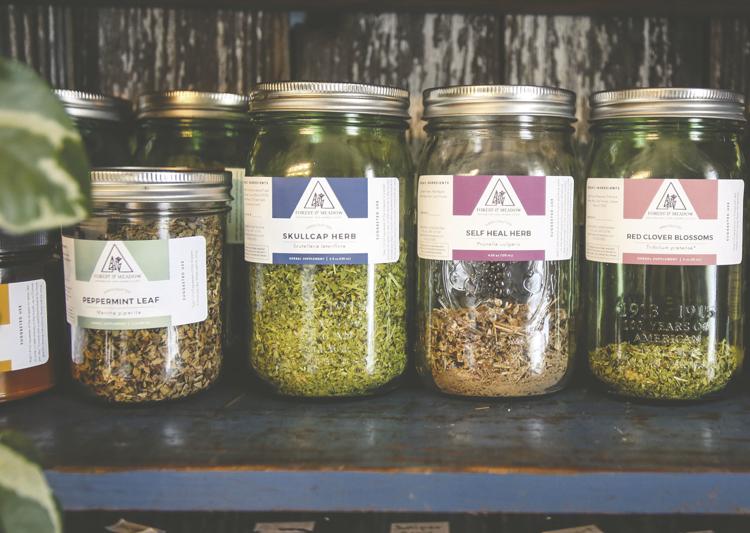 Beyond the West and its focus on modern medicine, Jokerst also notes that herbalism still thrives elsewhere on the globe and bolsters health care for much of the world's populace.
Moreover, Jokerst emphasizes an interaction with her clients that recalls the halcyon days of house calls. "I build relationships, and I do my best to foster genuine connection with each person that sits in front of me," she says.
An initial one- to two-hour session, Jokerst adds, generally provides her with a thorough understanding of a client's health profile, both present and past.
"Because I'm interested in practicing holistic care, I really take the time to listen to what my clients want to share, to really hear their story," she says. "Sometimes, this can be an incredibly healing part of the process … "
In particular, Jokerst strives to divine a client's "whole health history" – current symptoms, diet, stress levels, and sleep and exercise habits, as well as health-related impacts on mental well-being, emotional life, work and relationships. "I need to know all of these things to really be able to work holistically, to support the whole person sitting in front of me and not just a set of physical symptoms they may be presenting with," she says.
"I remind my clients that they are the experts on what's going on in their bodies and they have the power to listen to and understand what their bodies are saying."
In her practice, instead of standardized herbal products, Jokerst customizes formulas for the individual client. "I rely on a mix of traditional herbal wisdom, modern research studies, my own clinical experience and that of the teachers I've had, as well as intuition, to craft effective herbal remedies based on the information I gather from my clients during our sessions," she says.
Jokerst's herbal products include teas, tonics and tinctures, as well as more arcane offerings like oxymels (medicinal honey/vinegar mixes), all incorporating organic local ingredients wherever possible. Several area stores, listed on the website, carry those products, which will remain integral to Forest & Meadow's new space.
"Our shop will feature over 200 different organic and ethically wild-crafted bulk herbs, as well as essential oils and aromatherapy, and we will expand our current offerings … ," she says.
The new clinic/shop also will feature a variety of other practitioners, like an acupuncturist and an aromatherapist, and will offer classes on diverse herbal topics along with, charmingly, "a teaching garden behind the shop, serving as an outdoor classroom as well as a space to just 'be' and connect with plants," Jokerst says.
Ultimately, she muses on Forest & Meadow's place in the larger societal terrain.
"I think herbalism offers a corrective not only to some of the hubris or overreach of modern medicine, but also of our society at large," Jokerst says. "Working with plants as medicine helps us reconnect with the natural world, which has a huge impact on how we look at and feel about the natural landscape around us. I mean, just being outside can have tremendous healing power!
"When we realize that our health as humans is dependent on the health of the environment in which we live, we have more of a vested interest in protecting it and standing up for the rights of our planet. I think herbalism is intimately intertwined with environmental justice, and as an herbalist, there is a call for me to highlight these connections for my local community.
"Which brings me to one last point: Herbalism is also about creating healthy communities. Healthy people are able to be healthier members of their local communities, which ripples out into our society at large."
Forest & Meadow Apothecary and Herbal Clinic, Wellness Center of Maplewood,3134 Sutton Blvd., Maplewood, 314-252-0082, forestandmeadow.com