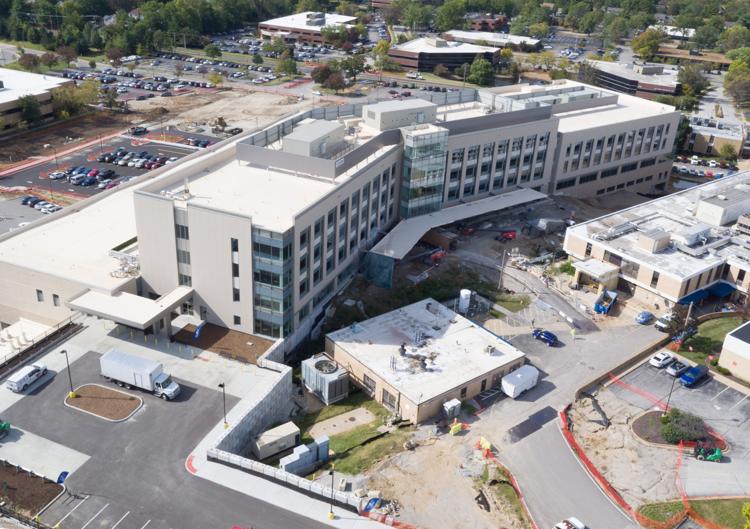 While traveling west on Olive Boulevard for the past two years, drivers could see construction cranes rising behind Barnes-Jewish West County Hospital in Creve Coeur. Directly behind the existing hospital, a new 64-bed facility, which broke ground in 2017, slowly emerged, and on Nov. 5, physicians admitted the first patients to the new hospital.
"This is a full replacement at the same address as the Barnes-Jewish West County Hospital, where we've been taking care of patients for the past 50 years," says Dr. Greg Branham, the hospital's chief medical officer and a plastic surgeon with Washington University Physicians. "A lot changes in 50 years in terms of patient care and expectations. Our new facility is all about improving the patient experience in innovative ways."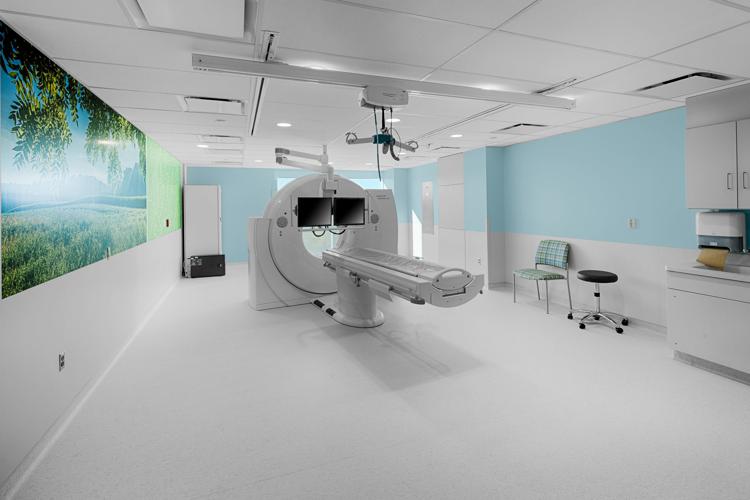 Branham says the former building will slowly disappear as it's dismantled to make way for green space, additional parking and a walking path for patients and their families. "We've been providing great patient care all along, and the new facility will just optimize that through new technologies and a very patient-centric approach," Branham says.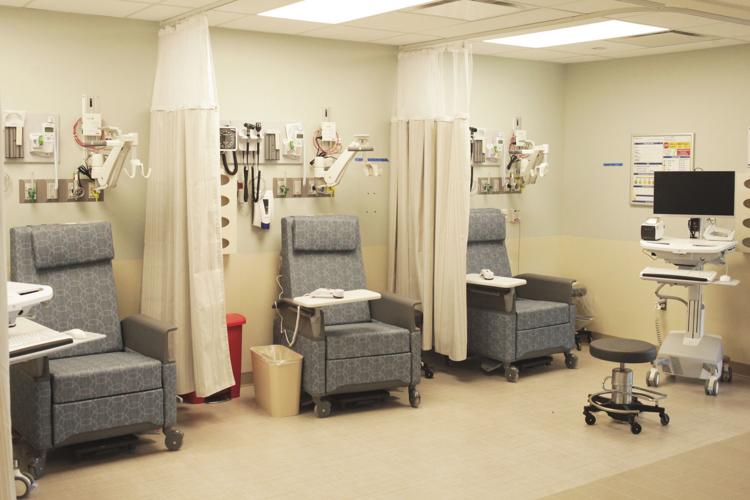 A prime example of that optimization involves the shift from double- to single-patient rooms, which offer more privacy and accommodations for family members. In them, a tablet on the patient's bedside table controls entertainment options and access dining on demand, which operates like room service and allows patients to order food and drinks that conform to their medical needs whenever they want a snack or meal. Important discharge instructions and patient education are provided via the in-room entertainment system to help reinforce and augment information provided by hospital staff.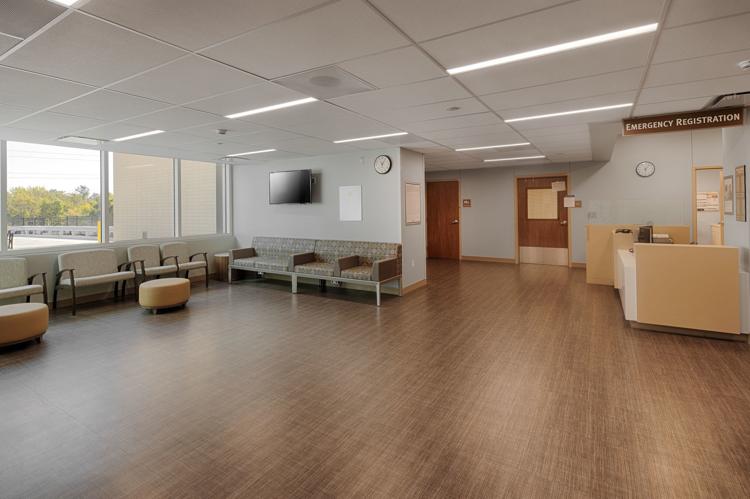 Designed as a multispecialty, short-stay facility for postoperative patients, the hospital contains 14 operating rooms and can outfit two more in response to future demand. Moreover, the surgical suites are larger and more technologically advanced than those in the previous building, Branham notes. Outpatient and same-day surgeries will also be performed at the new facility. Looking toward the future, the hospital could add a fourth floor containing 32 additional patient rooms.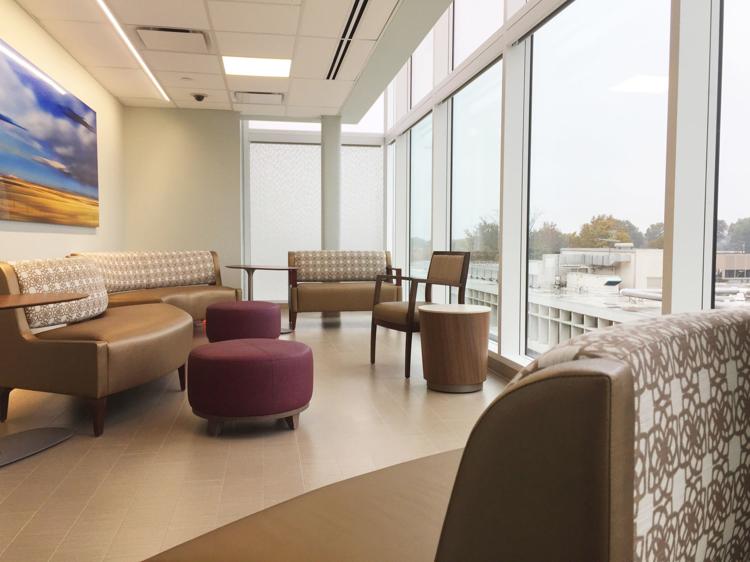 "The inpatient rooms were designed based on what we've learned through continuous quality improvement at our other hospitals," Branham says. For instance, more than half of the rooms feature electric patient lifts to help staff safely move patients in and out of bed, especially following surgical procedures. Those patients will also begin postoperative rehabilitation in a gym located on the same floor as their rooms.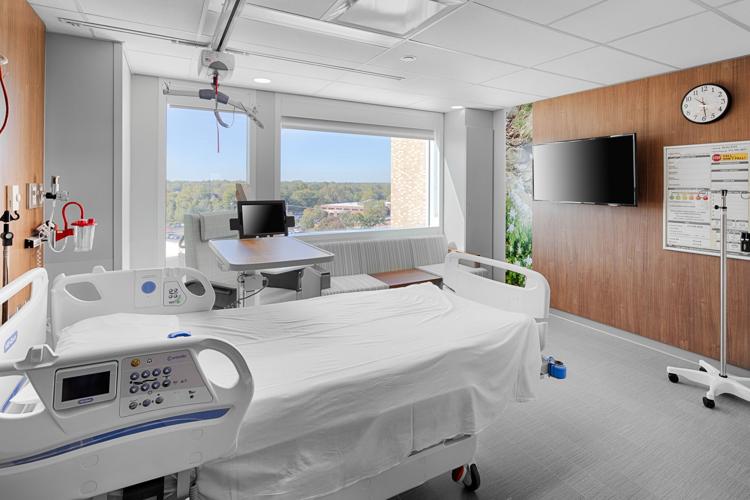 Branham highlights another important innovation referred to as "call-system integration." Patients at the new facility will have a device that allows them to communicate directly with nursing staff, instead of pinging the nurses station and awaiting a response. "[Patients] can communicate with the nurse before he or she even arrives in the room, which improves efficiency and responsiveness," Branham notes.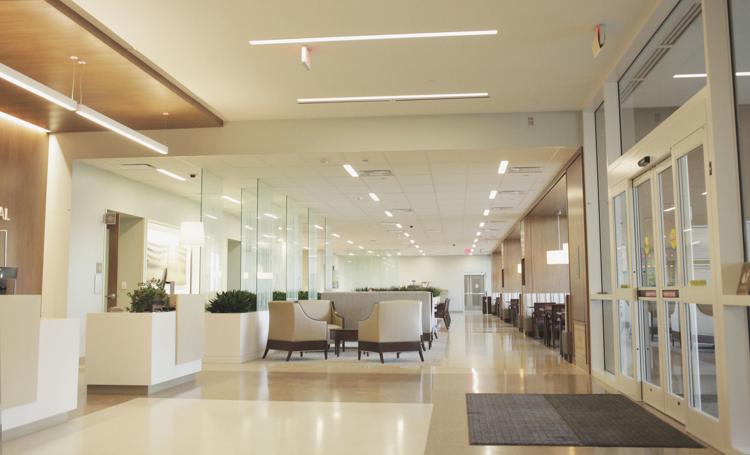 In the same vein, nurses and other hospital staff can contact physicians directly and vice versa. "That's a real plus," Branham says. "We'll be saving a lot of time because we won't be waiting for people to call us back."
Branham notes that physicians and staff have been looking forward to the new 260,000-square-foot Barnes-Jewish West County Hospital since its initial planning stages. They now anticipate a new 100,000-square-foot medical office building, scheduled to open next year. "We'll have three times the space, plus the latest technologies," he says.With so many new, thoughtful offerings and technologies, the new and improved Barnes-Jewish West County Hospital embraces a patient-first mentality.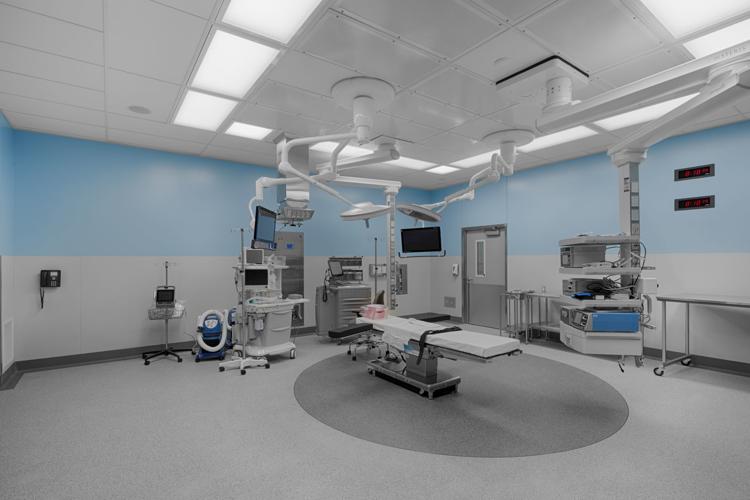 "This facility is open and filled with natural light," Branham says. "There's beautiful artwork by local artists. It just doesn't look as clinical as the old building, and you really can see that it is all about helping patients feel more comfortable in an innovative, medically advanced setting."
Barnes-Jewish West County Hospital, 12634 Olive Blvd., Creve Coeur, 314-996-8000. Take a virtual tour at barnesjewishwestcounty.org/explore.
The business news you need
With a weekly newsletter looking back at local history.