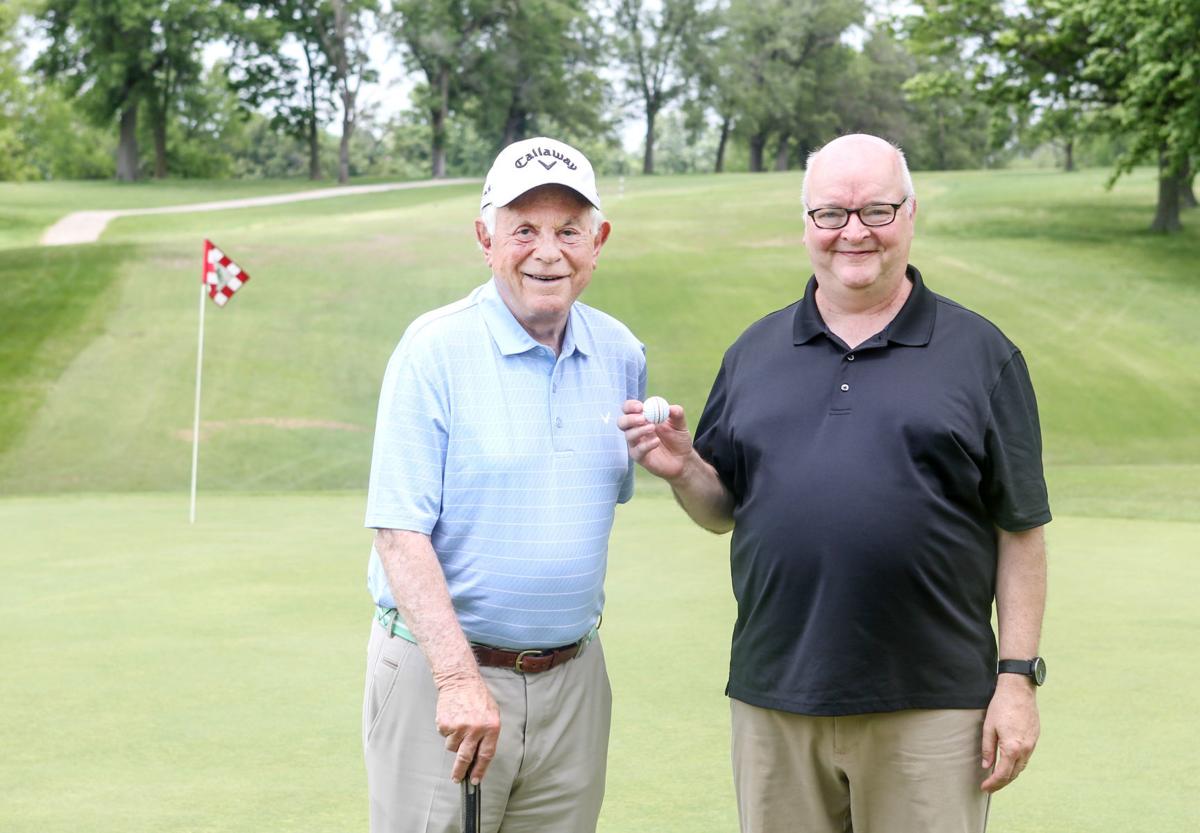 On a mission to be able to see his golf ball better after teeing off, St. Louis entrepreneur Ray Barrett discovered something special about the three lines he'd drawn on his ball: They seemed to improve his putting.
"At my age, when we hit the golf ball with a big club and swing as hard as we can, the first thing we say is, 'Where'd it go?'" Barrett says. "After doing that for two or three years, I thought putting three lines on a ball would help me see it better as it would spin. I was still saying, 'Where'd it go?' … but I was putting out of my mind."
He says after playing a whole season drawing lines on his golf balls, the guys he'd play with were mad because he was putting better than them.
"They thought there was a magnet in the ball or something," Barrett says.
But it was no magnet. It was something else, as Barrett would learn.
In 2010, he called Dr. Carl Bassi at the University of Missouri-St. Louis' College of Optometry, looking for a scientific explanation for his putting improvement.
"As soon as he described it, I thought it sounded a lot like what happens with Vernier acuity," Bassi recalls.
Vernier acuity refers to the ability of the brain to process subtle differences in alignment detected in the eyes. With a set of reference points like the three lines, the brain perceives the straightness of aim better; that's why airports have lined landing strips for pilots.
Bassi was intrigued with Barrett's results, and they decided to come up with a way to test the science behind it. They settled on embedding a laser in the golf ball and encouraging golfers at nearby Normandie Golf Club in Bel-Nor to come over and try aiming putts with it.
"We made a putting green that was 10 feet long, so we could have people align 5 feet away and 10 feet away," Bassi says. "As golfers were coming through, we got them to aim a normal single-line ball and then compare it to three lines on the ball. What we saw was that it improved alignment. Barrett's idea was a good one."
More specifically, the three lines improved putting accuracy on average by nearly 12 percent from 10 feet away and 11 percent from 5 feet away. Now, there was science behind it. Barrett called his patent attorney, and they worked out both a design patent and a utility patent for the technology. Barrett went through the United States Golf Association to make sure his product complied with the rules of golf and applied for the name Triple Track Technology.
"It was all bundled and ready to go," Barrett says. He figured it was only a matter of time before a golf company wanted the rights to it – but it wasn't that easy.
"I called almost every golf ball manufacturer, even people who recycle balls," he says. "Anything that had 'golf' in the title, I called. None of them worked."
It wasn't until Barrett was introduced to Jim Holtgrieve, one of St. Louis' greatest golfers, that the ball really got rolling. Barrett showed Holtgrieve the technology he'd developed, and Holtgrieve began to use it. The well-connected golfer had a contact at Carlsbad, California's Callaway Golf Co., and he turned the company on to Barrett's Triple Track Technology. After a face-to-face meeting with Chip Brewer, the company's president, and Jason Finely, its chief of marketing, Callaway decided to pursue the Triple Track Technology and officially licensed it.
Callaway added the Triple Track Technology to its new ERC Soft golf ball, and it hit shelves in February of this year – it's available at most pro shop or sporting goods stores. Since then, feedback has been "dynamite," Barrett says. It's being used by pros around the world, including Phil Mickelson, who used it in his win at Pebble Beach for the PGA Tournament earlier this year.
"I never gave up on [Triple Track] because I was always convinced it was going to work," Barrett says. "I knew the ball would be played by the pros because it made sense. There was science behind it."
Bassi has also enjoyed seeing the technology he helped test out there in the world.
"You can't help but be curious about reviews," he says. "There's been lots of positive reviews from all over the world. People are posting videos from Great Britain, Australia … That's just kind of a neat thing to see."
ERC Soft via Callaway Golf Co., callawaygolf.com
The business news you need
With a weekly newsletter looking back at local history.