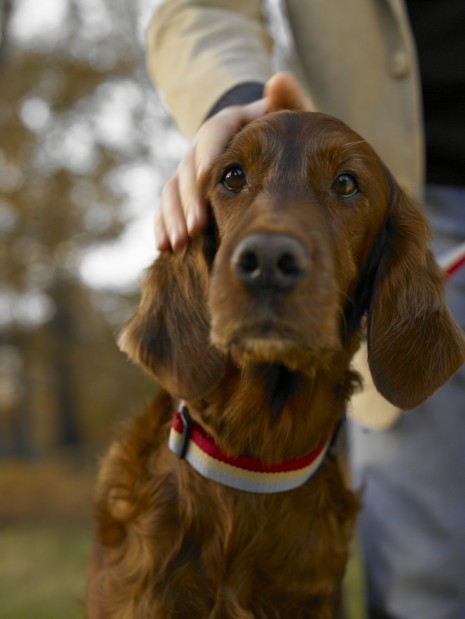 Dogs and cats can suffer allergic conditions much like we humans do. As fall approaches, pet owners need to be alerted to allergy symptoms and methods to control and treat pet allergies. Humans typically express allergic conditions through their lungs, called their primary 'shock organ.' The shock organs in pets are, first and foremost, associated with symptoms involving their skin and external organs like their eyes and ears, as well.
The culprit inciting allergic symptoms, the allergen, is commonly either a protein compound, or possibly a lipid protein mix (lipoprotein). They can be introduced by inhalation (pollens, chemicals, house dust), ingestion (grains, certain animal or plant proteins), injection (insect bite or sting), or by direct contact (carpet or furniture textile, dust mites, grasses and fleas). Some allergens are specific to the household, while others are aligned to the external environment. Pets and humans alike may be exposed to allergens and develop either an immediate symptomatic response, or may develop an allergic condition over time. Seasonality is typically expressed as a result of environmental elements, which would make clear sense. Finally, there are breeds like cocker spaniels that may be genetically inclined toward allergic syndromes.
The symptoms of an allergic condition range broadly from very mild itching or licking of coat and/or feet, with or without dry, patchy skin; to more dramatic presentations like scabbing, open sores, mild to severe ear, and/or conjunctival infections and worse. A moist dermatitis, often referred to as a 'hot spot,' can materialize overnight, to the surprise of the pet owner.
Your veterinarian will gladly discuss options for diagnosis and treatment of your pet's specific condition. As an example, there may be a need to review general blood exams to include a thyroid test. In many scenarios, a low thyroid level may be associated with chronic and recurring skin conditions like hot spots. This is particularly true in given species like golden retrievers. A thorough examination and medical history may direct your veterinarian to suggest special actions like allergy testing, wherein a blood sample is sent away and reviewed in hopes of identifying one or more allergens your pet may be reacting to. In these cases, the pet owner will retrieve multiple pages of allergens listed and grouped by category and unique sensitivities. This information offers your vet an opportunity to establish a program for control and management of your pet's allergy symptoms. Food allergies are particularly common in pets. The common response is to initiate clinical food trials, working to eliminate possible food components of concern. Certain animal or plant proteins may be an issue. Corn and rice or other grain components may incite a food allergy response in Fido or Felix. Again, I encourage all pet owners to visit the vet in order to define a best course of action for you and yours.
Management and treatment options will be tailored to your pets' needs. One logical suggestion for a dog that chronically licks his/her feet, or develops localized rashes along their tummy and inner leg margins, would be to wipe down those areas as soon as your pet comes back inside from a potty visit. Some veterinarians may suggest regularly scheduled baths, using one of many prescription-based shampoos to soothe and cleanse the skin. It is always a good consideration to clean human and pet bedding that comes in contact with your critters. I often encourage frequent vacuuming of carpets, floors and even furniture surfaces to minimize the negative impact of dust mites and house dust.
Pharmaceuticals to address an allergic dog or cat are especially tailored by your veterinarian. Be sure to maintain flea and tick control preventive products to avoid a flea allergy dermatitis; while anti-histamines and shampoos can offer both acute and chronic management alternatives. Your vet may suggest other specific regimes to include antibiotics, topicals, or either injectable or oral steroids, as needed.
Bottom line: Pet allergies are so, so common. The alternatives for management and treatment of any given allergic scenario are many and diverse in nature. Work with your veterinarian to create logical and sequential actions to make your pets comfortable and free from allergy symptoms. Understand that allergy management is much like detective work. It's a challenge, but when in control, can offer both the pet owner and, of course, our pets, very satisfying results.
Dr. Doug Pernikoff practices at the Clarkson-Wilson Veterinary Clinic/Veterinary Pet Rescue. For more information, visit clarksonwilsonvet.vetsuite.com.