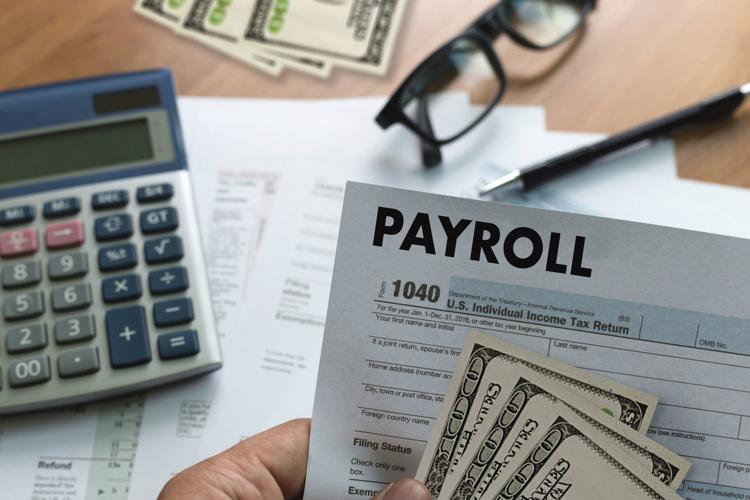 If you don't want an unpleasant surprise next April 15, you may want to give your paycheck a checkup now. The Tax Cuts and Jobs Act signed into law by President Donald Trump on Dec. 22, 2017, decreased the highest income tax rates, but for many people, other aspects of the law could negatively affect their tax situation.
"While tax rates have decreased, this impacted withholding for those earning a salary or pension," says Margaret Klokkenga, a senior advisor with Clayton Financial Group. Some people noticed less tax withholding this year. However, Klokkenga says, "There may be many other factors in an individual's tax situation, so the decreased withholding may show up in the individual owing more tax when they file their tax return in 2019."
Those "other factors" are complicated. Thomas Bassett, CPA, JD, AEP, vice president and East Region tax manager for Commerce Trust Co., notes that the new law introduces many changes, and knowing how it will affect individual or household tax returns requires in-depth planning and modeling. "You'll need to replicate your 2017 tax info in software that has the 2018 rules," he says. "And, more than ever before, you'll need a tax professional to help you interpret the results."
One thing individuals earning a paycheck can do on their own, however, is visit
irs.gov and do a "Paycheck Checkup." The link takes users to the IRS Withholding Calculator. Using data from a current pay stub, the calculator helps estimate the appropriate withholding. A similar calculator for Missouri state withholding is at dor.mo.gov under "Popular Services."
"If you find that your withholding is coming up short, contact your human resources department and request a W-4 and MO W-4 to update your withholding," Klokkenga says. "You can also make a one-time fourth-quarter federal and/or Missouri estimate, due Jan. 15, 2019, in lieu of revising your withholding."
Yet withholding is only one concern. High-income earners are likely to have itemized their tax deductions in the past, something they may no longer be able to do under the new law. Another important change is that home equity loan interest may no longer be deductible. It depends on the amount and how the proceeds are used. "Miscellaneous itemized deductions have been eliminated, which affects taxpayers with investment advisor fees and employee business expenses," Klokkenga says. "Personal exemptions were also eliminated, but the standard deduction increased to incorporate the removal of the personal exemption. All of these changes may make the standard deduction more appealing."
"As always, you'll need to estimate both your regular income tax and your self-employment tax," Bassett says. "The Tax Cuts and Jobs Act didn't really change self-employment taxes, so you'll still need to set aside that 15.3 percent of your income to pay that tax and make estimated payments. For income taxes, there's a new code section – Section 199A – that gives many business owners an extra 20 percent deduction in calculating taxable income."
However, Bassett calls the calculations relating to that new deduction "breathtakingly complex." And since the IRS has yet to release any draft forms for the Section 199A calculation, it remains to be seen exactly how those who qualify will be claiming this deduction on their return. "But most tax professionals have access to some software tools to help you plan for how to qualify for this deduction and what it might do to your taxes for 2018," Bassett says.
Some additional tax strategies may help offset potential negative effects of the new law. "If you're in a tax year where your income is substantially higher, consider clumping your charitable contributions and lumping your deductions together to maximize your itemized deductions," Klokkenga says by way of example. "You can donate low-basis stock to a donor-advised fund and receive the deduction in that tax year, but you can wait to make any grants to charities until subsequent years if you wish."
She also notes that people who invest in state-specific 529 college savings plans for their children may now distribute up to $10,000 per child per year to pay for K-12 private education in addition to higher education that was previously allowed. "Open up a MOST [Missouri's 529 savings plan] account if you haven't already and contribute up to the maximum deduction received on the Missouri tax return, which is $8,000 if filing single or head of household and $16,000 if married filing jointly," she suggests. "You can contribute the money and immediately distribute the money to pay for college expenses or up to $10,000 for K-12 private-education expenses."
Tax advisors and accountants tend to become busy with year-end work in December, Klokkenga adds, so November is a good time to check in with your advisor and check up on your tax situation.
Clayton Financial Group, 165 N. Meramec Ave., No. 130, Clayton, 314-446-3250, claytonfinancialgroup.com
Commerce Bank and Commerce Trust Co., various locations, commercebank.com and commercetrustcompany.com