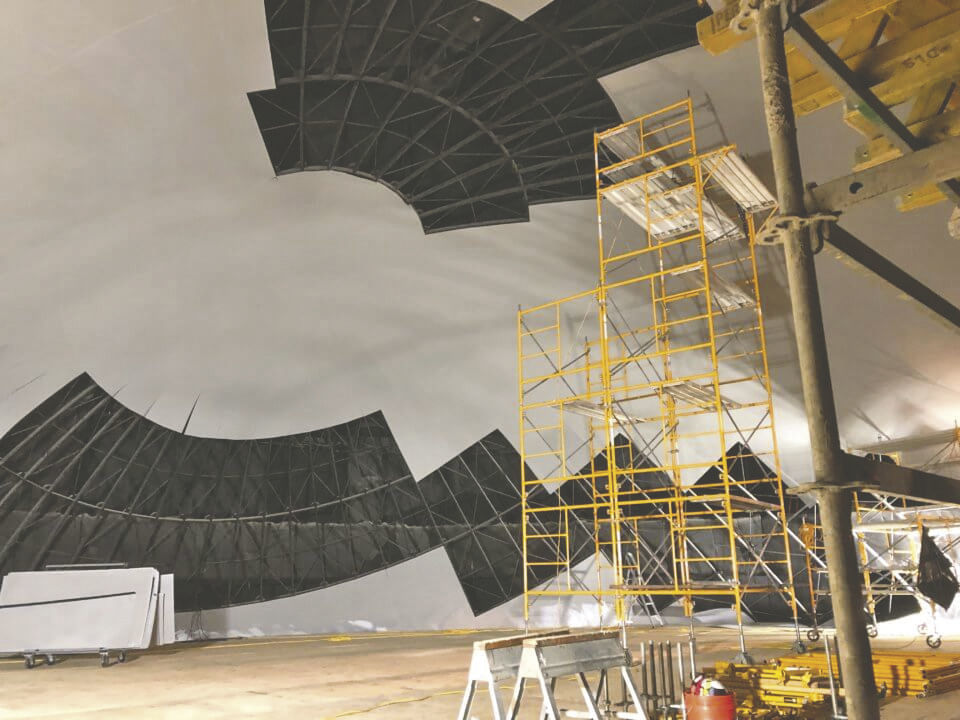 For St. Louisan Jennifer Stanfield, seeing movies in a cinema usually requires more effort than is enjoyable.
She relies on cochlear implants to make up for hearing loss and therefore must take into consideration whether a cinema provides on-screen captions or other accommodations. Without captions, she struggles to keep up with what's being said. Even with captions, the sound quality isn't optimal.
"I fell asleep during Star Wars years and years ago when there was no closed captioning involved," Stanfield recalls. "I fell asleep, and it doesn't get much more action-packed than Star Wars."
But in January of this year, Stanfield decided to see the newest film of the franchise, Star Wars: The Rise of Skywalker, at the Saint Louis Science Center's OMNIMAX Theater. She says she experienced the movie in a totally different way, thanks to the cinema's unique technology.
The Saint Louis Science Center recently wrapped up its first major OMNIMAX renovation since 1991. The upgrade, valued at approximately $3.5 million, included coordinated efforts to improve the moviegoing experience for everyone.
"Since we're a community organization, we wanted to have the most up-to-date systems possible," says Dave Gioia, Saint Louis Science Center's theater manager and chief projectionist. "We wanted everybody to have the same experience as much as possible – no matter their situation."
The center installed a new NanoSeam screen and implemented laser projection technology, making it one of four IMAX domes with laser projection worldwide. More wheelchair seating is available – up five spots from three, as well as larger and equipped with companion seating.
For those who prefer to watch with captions, they can use one of 15 Dolby CaptiView devices that display captions on a personal screen smaller than a typical smartphone. These devices settle into a cup holder and have an adjustable arm that users can move according to eye-line and preference. OMNIMAX also obtained 24 Dolby Fidelio devices with descriptive video service, which can amplify a film's sound, as well as provide narration in a seamless fashion.
Perhaps the most significant or advanced change is the cinema's hearing loop system, which anyone with a telecoil in his or her hearing aid or cochlear implant can tap into. According to Bethesda, Maryland's Hearing Loss Association of America, a telecoil is a small copper wire inside most hearing aids and all cochlear implant processors that, when used with an assistive listening system like this one, allows sound to go directly from the source into the hearing device.
"Nobody has to go to any extra steps as far as finding us or getting a device from us or worrying about how the device works," Gioia says. "They can use it wherever they want in the theater, and it's just on all the time."
The loop system consists of copper wire placed around the cinema and connected to the central sound system. An electromagnetic field allows connection to the telecoil in cochlear implants and hearing aids. This direct sound transmission eliminates much of the background noise and creates a clearer, crisper sound.
"I don't have to listen to people chewing on their popcorn," Stanfield says. "I don't have to listen to them talking to each other. I can just focus on the movie. Normally when you go to a movie, you still have to deal with whatever sounds are around you. But when you have looping, that's not happening, so the focus is better, and the sound is amazing."
The OMNIMAX looping system wasn't this amazing from the get-go, she adds. Stanfield first visited the renovated cinema just after construction wrapped up in November, and she says she left disappointed.
Stanfield met Gioia shortly thereafter, and the two discussed improvements. Adjustments were made to the system, and Stanfield says the experience tremendously improved. In January, she coordinated a group viewing of Star Wars: The Rise of Skywalker and shared that experience with about 40 other people who use hearing devices.
"I'm just trying to spread the news to people in St. Louis and surrounding St. Louis that looping is available at the OMNIMAX," Stanfield says. "I've had people come up to me that had not gone to the movies for 20-plus years, and they were just ecstatic at the experience that they were able to have."
Stanfield and Gioia both say they are not aware of any other cinemas in the metro area using loop technology, but they hope that will change in the near future. 
Saint Louis Science Center, 5050 Oakland Ave., St. Louis, 314-289-4400, slsc.org
Editor's Note: Because of COVID-19 closures, please consult slsc.org before planning activities at the Saint Louis Science Center.
The business news you need
With a weekly newsletter looking back at local history.