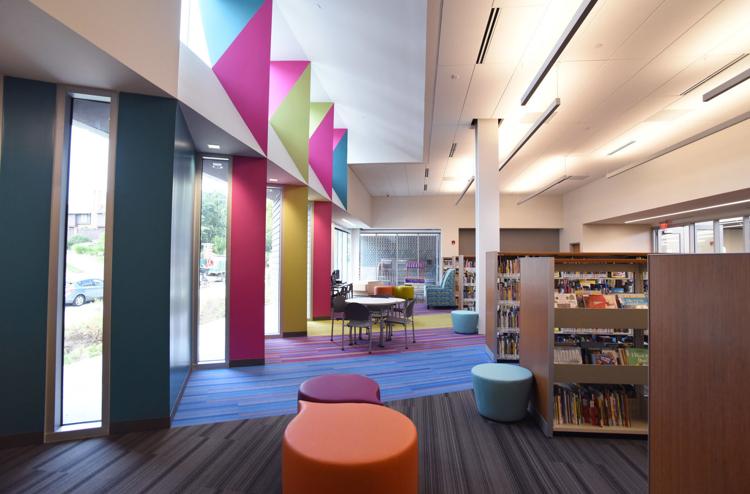 In the 42 years since the Mid-County Branch of the St. Louis County Library system was built, a lot has changed in Clayton and the surrounding metro area.
"The world had very different requirements for public libraries in the '70s, and things have changed," says Kristen Sorth, the system's director. "Cars have changed, the amount of people with cars has changed, Clayton has changed … It just was time for a new building."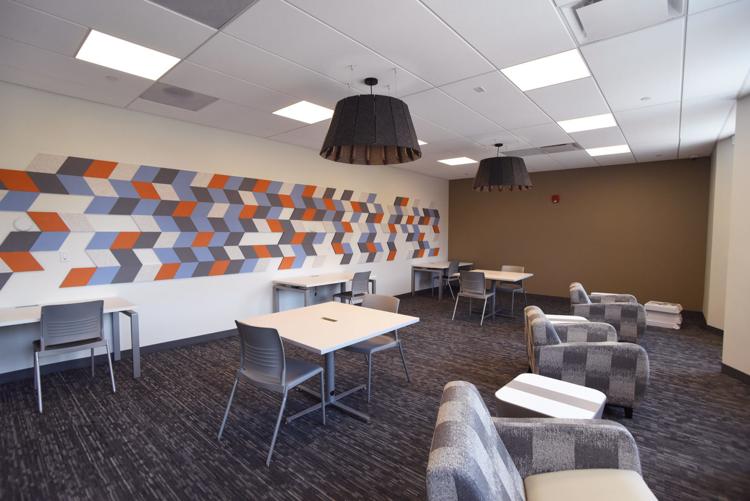 On Sept. 4, that shiny new building opened its doors to the public at 7821 Maryland Ave. in downtown Clayton after the prior structure closed in December 2017. The $8.5 million renovation was No. 18 of the 19 originally planned projects comprising Your Library Renewed, a 5-year campaign with a $120 million budget funded by a 2012 tax initiative.
A 20th location, the Eureka Hills Branch, was later added to the campaign, and its addition will mean that all locations in the library system eventually will have been renovated or replaced.
"The goal in general for all of the branches was to make them reflect who we are as a system," Sorth says. "We had a lot of aging facilities that were not well-equipped for the modern use of a library." She notes that although the existing structures had computer labs and places to plug in personal electronics, they were more making do with what was there rather than following a purposeful design. "There were a lot of bunker-style windows where there wasn't a lot of natural light, and also, there wasn't a lot of activation of the outdoor green space," she adds.
The new Mid-County Branch offers a 15 percent larger footprint and nearly unrecognizable look and feel, even for frequent visitors of the old space. "[A colleague] and I went there last week, and we both had a really hard time picturing what this looked like before, even though it's on the same footprint," Sorth says. "It's been super rewarding to see people come back to their branch and see their 'library people' whom they missed so much and be so amazed by the changes in the branch."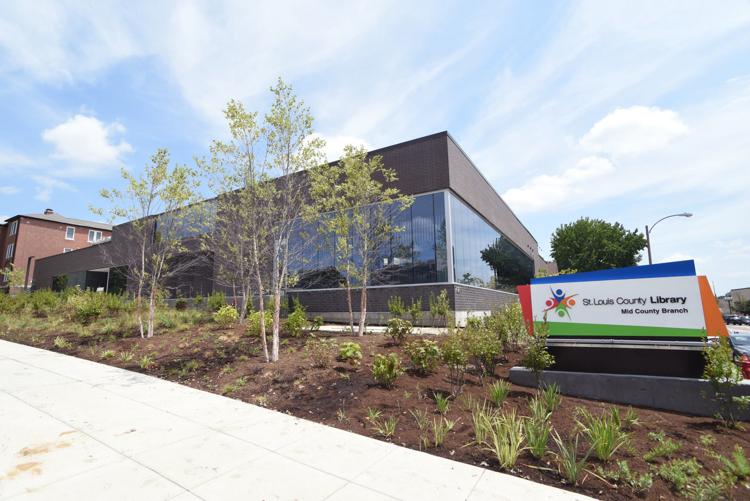 A few of those notable changes include abundant natural light immediately on walking through the plaza entrance, as well as a prominent, central circulation desk for easier access to information and resources. Sorth notes that keeping the spaces of the library separate was at the top of the list in the redesign. "For kids and especially for teens, they want their own space," she says. "They need their own space. They've got different needs, and their books look different."
To that end, the brightly colored interactive children's area features low-to-the-ground browsing bins for little hands to dig through at their level and books arranged with the front covers, rather than spines, displayed. There are cushions for tiny tushes, love seats for parent-child reading, magnetic tables, Legos and other interactive experiences to teach kids about reading and learning. The new teen space is a little funkier but still fun, and offers a spot for group or solo studying, hanging out and, of course, reading.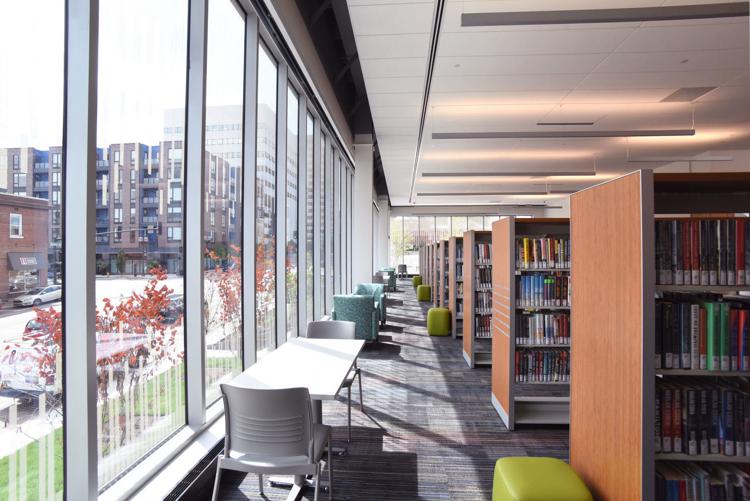 Another quiet reading room serves as the soothing home to a felt-panel wall mural on display with shades of slate, orange, light gray and blue in a chevron pattern. The chairs face out for a serene spot to take in the Clayton lunch rush through the many windows. There are two private study rooms for business meetings and students, a much-expanded community meeting room for larger events and programs, and a business center and computer lab.
One of the most exciting updates, especially for anyone who had previously visited the Mid-County Branch with a car, is the overhaul to the parking garage. Previously, sharp turns, angled parking spots, blind spots, bulky columns and a lack of clear signage caused many dings, wrecks and headaches. Now, the well-lit garage offers a much clearer path in and out, straight-in spots, directional signage and an overall modern, updated design. "It's funny to think how excited we all are about parking," Sorth says with a laugh.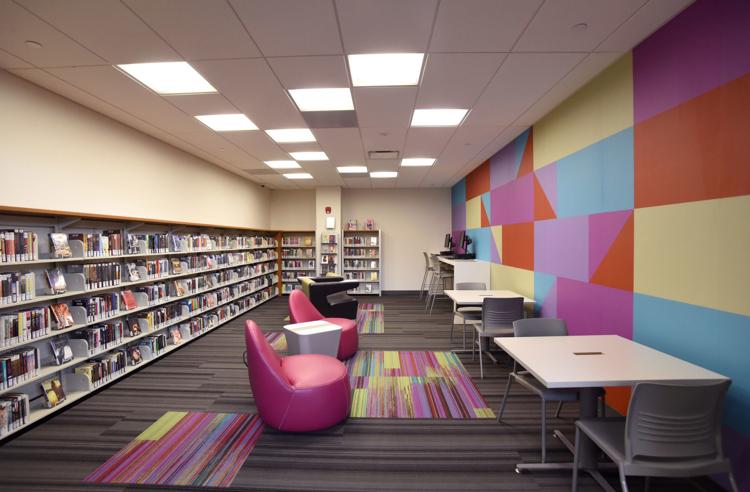 The library will now offer Sunday hours from 1 to 5 p.m. In October, the branch is hosting numerous events for kids, teens and adults – including film screenings, book discussions, cooking clubs, and art and song programs – which are listed on the library's website. Another exciting initiative that's been beefed up within the past year is the breadth of items for checkout. Yes, there are books and movies and even telescopes, but you can also now reserve musical instruments, binoculars, Wi-Fi hot spots, puzzles, tabletop games and parent-child kits for major life events like going to school or adopting a pet.
Of all the renovations, Sorth says Mid-County was the most highly anticipated and asked about. "If I have gotten questions about any of our projects, Mid-County far exceeds the rest of them," she relates. "Everywhere I go, people would ask me about Mid-County. I've been so excited to tell people it's opening."
That branch has always been visible because of its prominent, urban location, especially compared to the other, more tucked-away branches in the library system. But more than its corner real estate, the Mid-County Branch was loved for its impact on the surrounding locale, according to Sorth.
"I think that one of the most important parts of my job is to be out in the community, volunteering and talking to people about library resources," she says. "Having a center of the community right there in Clayton where you can come in and spend the day, use our free Wi-Fi and public computers, or just sit there and read – I think the space itself is really significant."
St. Louis County Library Mid-County Branch, 7821 Maryland Ave., Clayton, 314-994-3300, slcl.org/content/mid-county-branch