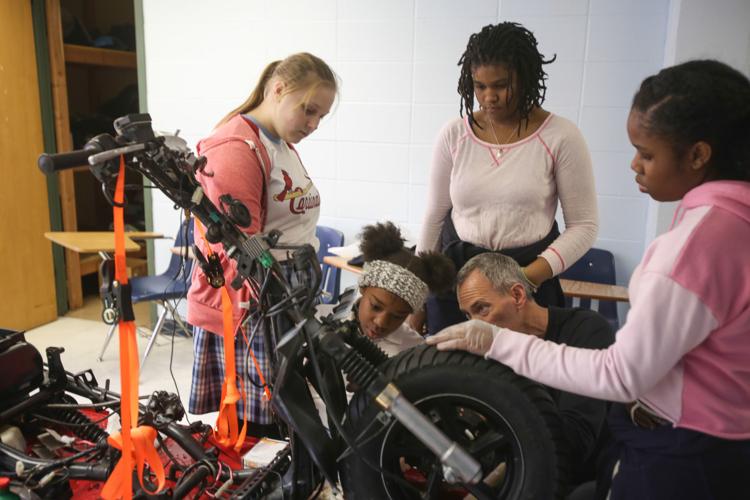 Although small, Marian Middle School is having a big impact in the lives of students.
Marian – "a Catholic school serving adolescent girls of all religious, racial and ethnic backgrounds," according to its 2016-17 annual report, its latest – has been thriving in St. Louis' Tower Grove South neighborhood.
At Marian, Sister Sarah Heger, CSJ, who serves as the school's principal, briefly reflects on what has helped Marian.
"Marian stands out among other educational institutions as a well-established, faith-based, all-girls school with an extended-day/extended-year program and a well-developed graduate-support program that ensures student success through high school and postsecondary education into sustainable careers," Heger says. "In a group of peers, Marian students stand out for their leadership, their passion and insight, and the knowledge that they are already making and will continue to make a difference in our world."
More than nine-tenths of Marian's girls rank as students of color, according to its annual report, and roughly the same percentage "qualify for free and reduced-fee meals programs, a national indicator of poverty."
"Simply put, our mission is to break the cycle of poverty through education," Heger relates regarding Marian's greatest achievement. "Watching that happen, one girl at a time, is our greatest success. While our capacity is only 75 students, I know that with the proper supports and opportunities and with a lot of hard work, each girl can become a force that changes the trajectory of her family and her community. They will accomplish dreams they never dreamed before they came to Marian.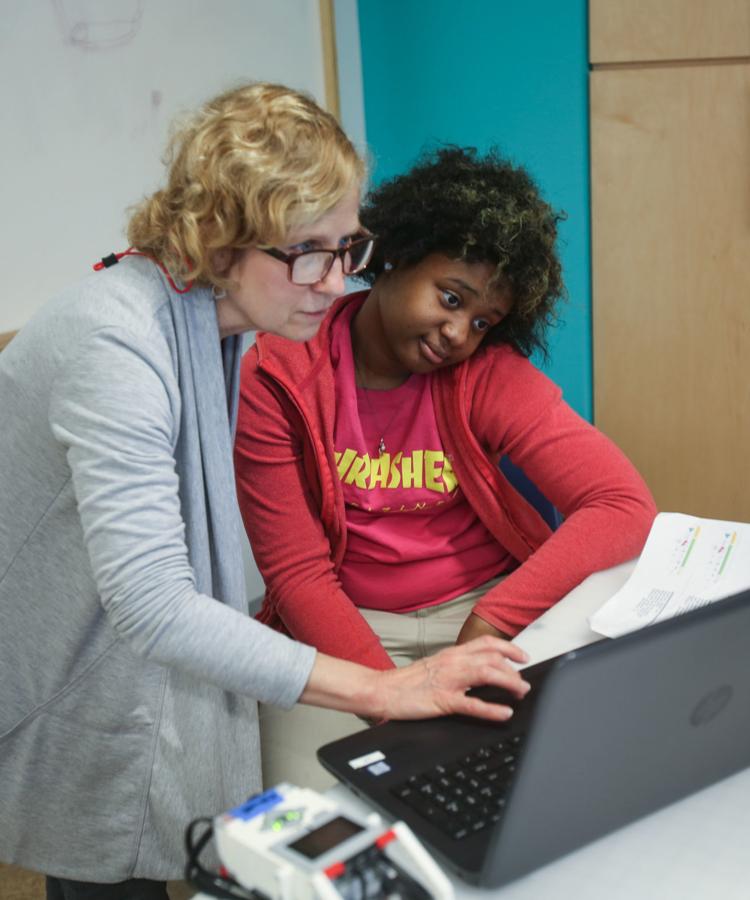 "It has been awesome to watch girls who couldn't sit in their seats or whose daily goal was to refrain from making chicken noises in class impress CEOs through their high school internships and accept full rides to prestigious universities. Our mission transforms lives and communities."
Marian, which cites a 97 percent high school graduation rate for alumnae – 148 of them over time, spread among 26 schools ranging from Bishop DuBourg to Villa Duchesne – and an 84 percent matriculation rate, emphasizes five guiding values, its annual report states: a faith-filled life, quality education, family and community spirit, respect for the uniqueness of the individual, and service to foster justice, peace and equality.
It also demands rigorous commitment. Students attend Marian 10 hours each weekday from August to June, as well as take part in weekend and summer educational activities, according to the website, which adds: "Students learn communication, critical thinking, problem-solving, leadership and life skills and thereby develop a strong sense of self-worth and confidence in their ability to overcome personal obstacles."
They also undertake a panoply of projects, ranging from refurbishing furniture to rebuilding a motorcycle to creating a women's empowerment website.
With similar diversity, recent "enrichment" activities at Marian in four areas – fine and performing arts, fitness and wellness, social awareness, and academics – involved anime (Japanese animation), yoga, a model United Nations and robotics.
Otherwise, in a recent career-centered "shadowing" experience, the annual report notes that "Marian girls diagnosed chromosome disorders with a geneticist, queried an Olympic athlete and dialogued with a NASA engineer."
Accomplishing Marian's mission has, at times, proven difficult, Heger admits. "Our students and families face a host of challenges that continue to push back against success," she says. "We not only need to maintain the high-quality education and range of supports that successfully develop our students holistically for the future, but we need to secure the funds every year to do so.
"While we raise money to pay for students' middle school education, Marian also provides the financial means to allow students to attend some of St. Louis' outstanding, tuition-based high schools. The mission – and all that it implies – is no small charge."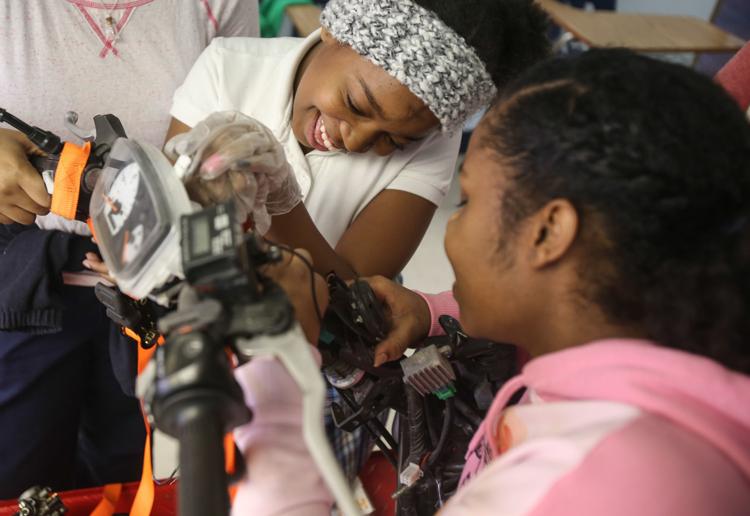 Marian's annual report states that its families pay based on financial capacity – a sliding scale based on gross household income – with $400 annually being typical. However, because the actual cost of educating a single Marian student exceeds $12,000, the report continues, the school relies on donors' generosity to continue 'Educating Girls for Life,' its tagline. In that respect, Marian will host its 17th annual Marian Magic fundraising event in two months, on April 21.
Looking forward to the school's third decade, Heger finally reflects on what challenges she and Marian's administrators most eagerly anticipate tackling.
"Our first years were spent building the foundation of our middle school program – quality, core academics and an enrichment program developing the whole child," Heger says. "With that in place, we then established an unrivaled graduate-support program and innovative STEM [science, technology, engineering, math] programming that continues to erase barriers for success beyond middle school.
"And recently, we expanded our mission statement to extend to career success. Towards that end, we're establishing partnerships with corporations and individual experts in their fields to develop workforce-ready women. While education is the foundation, [cultivating] life-giving professional careers, I think, is for us the next step in transforming lives."
Marian Middle School, 4130 Wyoming St., St. Louis, 314-771-7674, marianmiddleschool.org
The business news you need
With a weekly newsletter looking back at local history.