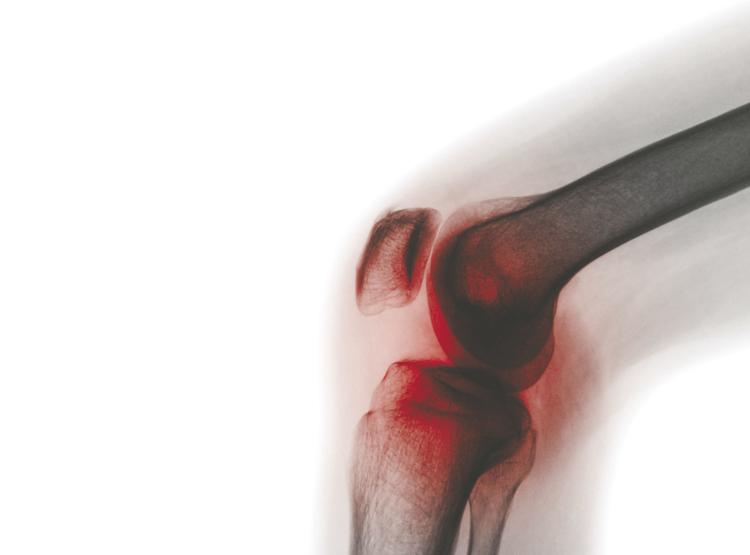 When it comes to managing pain and loss of function due to osteoarthritis, injury or other orthopedic conditions, patients have more treatment options than ever before. Among those options, Lipogems is a newer treatment that uses a patient's own fat to provide pain relief for knees, shoulders and other joints.
Dr. Andrew Spitzfaden, an orthopedic surgeon at Woods Mill Orthopedics in Chesterfield, began offering the minimally invasive procedure about two years ago. "I did some research and talked with some other surgeons who had incorporated Lipogems into their practice," he says. "I liked that this required a minimally invasive technique where patients remained comfortable during the procedure, and I liked that it could be performed in my office without the need for sedation or anesthesia."
Spitzfaden also was intrigued by the potential benefits of using fat cells, which have been shown to have reparative properties. "I also felt that I should be able to offer my patients the full spectrum of treatment options, from simple home exercises to total joint replacement," he says. "It made sense that as an orthopedic surgeon, I should be educated and involved in biologic injections like fat cells."
Lipogems International, headquartered in Milan, Italy, and with American headquarters in Norcross, Georgia, created a device that allows physicians to harvest fat cells (adipose tissue) from a patient, process them and then inject them into the problematic joint. The fat contains many types of cells including fat cells and other cells that can help manage chronic pain and inflammation through a reparative process.
The use of fat cells for this purpose is relatively new. Stem cells have been used for their regenerative properties in some cancer treatments for years and are being studied for additional uses. Spitzfaden notes that stem cells are cells that differentiate or develop into various more mature cells that can help fight inflammation or repair existing tissue. "Fat itself contains many types of cells, which can help manage chronic pain and inflammation through a reparative process," he says.
One benefit of using fat for this type of treatment is its abundance and availability in the body. Spitzfaden says the Lipogems system involves extracting a small amount of fat from both sides of the abdomen using a small needle after two dime-sized areas of skin are numbed. The total amount of fat needed varies based on how many joints are being treated. Once the fat is removed, it is processed and purified with a sterile saline solution.
"During this process, the fat is washed, rinsed and resized into smaller clusters while keeping the natural beneficial properties of the fat intact," Spitzfaden says. The fat storage container has multiple steel balls. When shaken, the balls break the fat into smaller pieces, making it easier to inject the fat into the patient's joint of choice. One online review of Lipogems notes, "It's a pretty cool system that's been likened to a cocktail shaker."
"The microfragment fat clusters are then injected into the treatment site," Spitzfaden says. "For certain joints, I will use an ultrasound machine to ensure the injection goes exactly where intended. Patients are allowed to walk out of the office and can even drive themselves home because they have been given no sedative medications." The entire procedure is complete within an hour.
Potential side effects to Lipogems include infection and fluid or blood retention near the site of the fat harvesting, but Spitzfaden says these problems are rare. Benefits include long-lasting pain relief and tissue repair, leading to a more active lifestyle and improved quality of life. The procedure is not covered by insurance, although some patients use funds from health savings accounts. The cost varies but tends to be around $2,000.
Many patients believe that the potential pain relief is worth the cost. Research into all forms of biologic-type injections continues (both stem cell and fat cell), but several short-term studies indicate that Lipogems provides pain relief for the appropriately chosen patient. Those who are taking certain medications or who have certain types of chronic diseases or cancers aren't good candidates for the procedure. A study published in the July 2016 issue of the journal Current Stem Cell Reports states that "Lipogems has been used in more than 7,000 patients worldwide … with remarkable and promising results and seemingly no drawbacks."
"With medical innovations and new treatment protocols on the rise, biologic injections such as bone-marrow aspirate, platelet-rich plasma and fat cells are becoming increasingly popular in the management of joint pain," Spitzfaden says. "The Lipogems procedure is a good alternative for patients who are looking for a safe, nonsurgical treatment option for certain orthopedic conditions. I have seen many patient successes with Lipogems when other nonsurgical treatments had failed. I have also seen many patients avoid or delay larger total joint replacement surgery due to the clinical pain relief seen after Lipogems."
Woods Mill Orthopedics, 224 S. Woods Mill Road, Suite 330 South, Chesterfield, 314-576-7013, woodsmillorthopedics.com