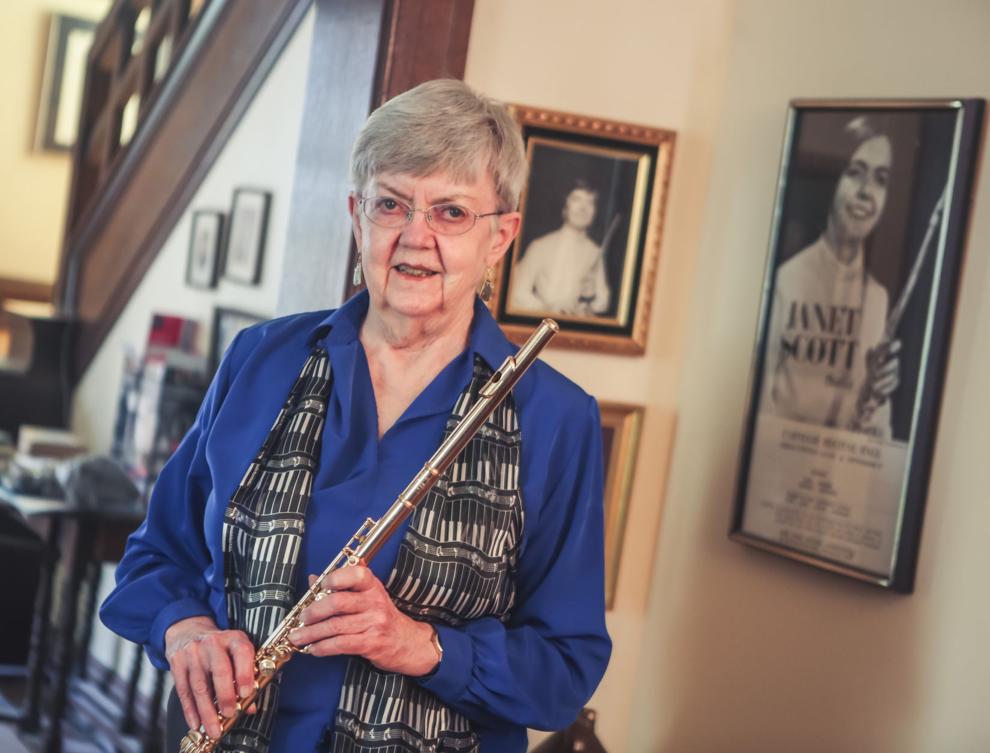 When the American Association of University Women (AAUW) Missouri convenes its state convention this week in Columbia, Missouri, board president Jan Scott will proudly bang her walnut gavel and preside over the event. Elected in August to a two-year term, Scott has big plans in the works. "We're changing the climate for women and girls in Missouri," she says. "We belong to a community that breaks through educational and economic barriers so that all women and girls have a fair chance. When women vote, we change the conversation."
AAUW has a long history of holding legislators accountable for how they vote on its priority issues – things like women and girls' education, equality, Title IX rights, pay equity, elimination of sexual assault and discrimination. "We are a nonpartisan organization and don't support any candidate or party – we follow the issues important to women, girls and families," Scott says.
An extremely accomplished woman whose expertise reaches far and wide, the 81-year-old is a board member of the St. Louis Press Club, national board member of Mu Phi Epsilon music fraternity, member of the executive board of the Musicians' Association of Saint Louis and founding member of the Flute Society of St. Louis.
She remains an active member of several organizations that advocate on behalf of women's equal rights, including board membership on the Coalition of Labor Union Women and chairing a project with the St. Louis branch of AAUW to create a discussion on understanding and dealing with sexual harassment, which developed into a forum at the University of Missouri-St. Louis (UMSL) on preventing sexual harassment on campus. She's been recognized by Women's Support and Community Services for helping St. Louis women make significant life transformations and is a Wall of Fame honoree of the Grace Hill Women's Business Center.
Of all her accomplishments, Scott might be best known for her musical proficiency. Her devotion to music began when she started taking piano lessons at age 5. "In fourth grade, I really wanted to play the drums, but was told that girls don't play drums," she says. "So my parents gave me my sister's abandoned clarinet to play, and we didn't connect.
"At the end of sixth grade, my father died. It was a tough time. I began taking flute lessons at Hanley Junior High. Later, my mom bought me a flute with the Social Security money saved from my dad's service in World War I. It took a few years before I managed to bounce an elder student from first chair in the U City band."
During her junior year in high school, Scott began studying with Albert Tipton, the principal flute in the St. Louis Symphony, whom she refers to as "my ultimate music teacher." Tipton, who became a mentor, arranged for a scholarship for his young student to attend the Institute of Music at the Aspen Music Festival. "This was life-changing for me," she says. "I was there for four summers. It was a fabulous experience, spending nine weeks in the mountains of Colorado." When Scott returned to Aspen, she studied both her instrument and voice. "One summer, to cover room and board, I cleaned bathrooms in the dormitories and buttered toast in the cafeteria," she says.
After graduating from University City High School in 1954, "I literally went across the street to Washington University [in St. Louis]," she says. After her first year there, the Women's Society of the St. Louis Symphony awarded her with a scholarship to study and play music at the Tanglewood Music Festival in Massachusetts, one of the premier music festivals in the U.S.
During her junior year of college, she played in the orchestra of the now-defunct Washington University Opera Theatre. "Dorothy Ziegler, the director, organized it and let me know that the second flute at the St. Louis Symphony Orchestra was leaving and that I needed to audition," Scott says. "That began my seven-year performance career for the St. Louis Symphony Orchestra. Not very many women played in orchestras in 1956. During my second week, the principal oboist told me, 'You know you are taking a job away from a guy.'"
After her sixth season with the symphony, she married the bass clarinetist, and both left the orchestra to play extensive concerts for Young Audiences, an arts education nonprofit. In 1970, she accepted a full-time faculty position at Southern Illinois University Edwardsville (SIUE) and, while teaching there, completed her master's degree in music performance at Wash U. In 1985, she was the music department's first research scholar at SIUE.
One of the highlights of her musical career was playing a New York solo debut recital at the Carnegie Recital Hall in 1974 that earned her a favorable review by The New York Times. Another was making the 1970 finals in an audition for the Boston Symphony Orchestra.
Before taking early retirement from SIUE in 1993, Scott participated in the Coro Women in Leadership Program, an established experiential leadership training opportunity that enhances leadership skills and community awareness. "I felt empowered to do something with other women," she says. She co-founded the Women's Yellow Pages, an online directory of women in business that she owns today. Her tagline is "Do Business With Women."
For her years as a musician with the St. Louis Symphony, she was honored with UMSL's Trailblazer award for occupying a position traditionally held by a man. She was honored with the Owen Miller award by the Musicians' Association of Saint Louis, Local 2-197, and named a 2007 Woman of Worth by the Older Women's League. Her distinguished achievement in communications earned her the Quest Award from Missouri Professional Communicators.
A native of St. Louis and resident of the City of St. Louis for 47 years, Scott says she enjoys cooking and believes that "life without butter would be challenging." She has a championship Maine coon cat named Delilah Rose, and she plans to soon get back to a life where she can designate time each morning to read The New York Times front to back – but she undoubtedly won't stop there. "You can't live 81 years without doing a bunch of different things," she says.