The date was April 4, 2017, and the MLS in the metro area looked deader than the proverbial doorknob.
By a margin of 53 to 47 percent, city voters had just rejected a contentious proposal, Proposition 2, to fund a 22,000-seat Major League Soccer stadium in St. Louis' Downtown West neighborhood. Proposition 2 got 27,000 approving votes – and that should have been enough.
Shockingly, though, 30,000 votes came out in opposition. No one anticipated that. The ownership group at the time made it known this was a one-time thing: They were finished trying to bring soccer here.
Long-time soccer analyst (and Missouri Sports Hall of Famer) Bill McDermott stated: "As good as this offer was by the ownership group, and then the vote failed, I thought, 'That is it. It will not happen in St. Louis.' No one showed any signs of stepping up at the time. We had literally thought this was going to work. Then the vote happened."
The night of the failed vote, a large part of the local soccer community was gathered in The Grand Hall at St. Louis' Union Station – just east of where the proposed stadium would have gone up, on land owned by the Missouri Department of Transportation.
About a thousand soccer fans were on hand. All of them were anticipating a night of celebration. Instead, World Wide Technology CEO and potential team owner Jim Kavanaugh got on a ministage and broke the news that the vote didn't work out, and the MLS expansion here wasn't going to happen.
Fast-forward to the spring of 2018, when Kavanaugh got a phone call he didn't expect. It came from Andrew C. Taylor, the executive chairman of Enterprise Holdings. He had carefully watched the failed attempt of the previous year, and he wanted to meet with Kavanaugh.
"My first meeting with Andy was very informal," Kavanaugh says. "We discussed St. Louis and the MLS at a very high level. We agreed to meet again and take a closer look at what we both thought could be a great opportunity for St. Louis."
McDermott knew good things were coming when the Taylors merged their efforts with those of the Kavanaughs. "Simply look around at every civic and charitable endeavor in town, and you will see the name Taylor/Enterprise and Kavanaugh/World Wide Technology," McDermott says. "They have brought that sort of civic pride to this unprecedented development for MLS soccer."
The official announcement of the soccer-related merger – and of plans for a 20,000-seat stadium to accommodate an MLS expansion team – came at Mathews-Dickey Boys' & Girls' Club in St. Louis' Mark Twain I-70 Industrial neighborhood on Oct. 9, 2018. It was more of a celebration than a press conference. Kids from the club were onstage with the Taylor family and the Kavanaugh family.
Carolyn Kindle Betz, effectively, was going to become the first female owner in MLS history. Also, with the additions of Jo Ann Taylor Kindle, Alison Kindle Hogan, Barbara Taylor, Christine Taylor, Kelly Taylor and Patricia Taylor, the owners of the proposed new expansion team would become the first majority female-led ownership group in league history. MLS4THELOU scarves were worn, and cheering rocked the rafters.
Nothing could stop this group.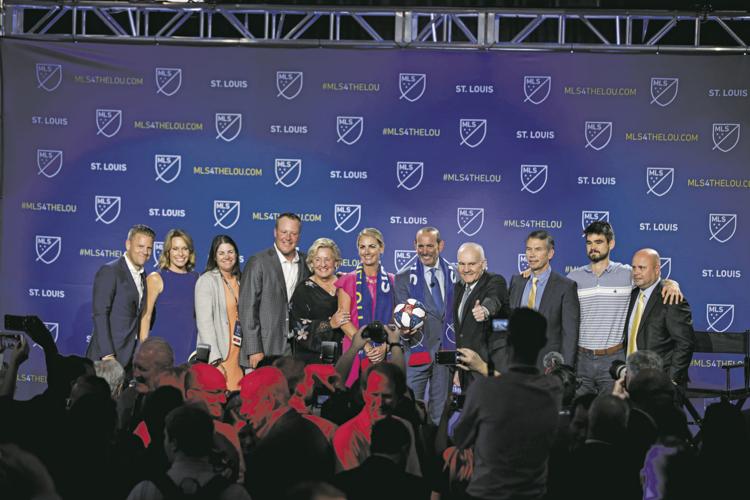 Of course, the MLS took its time to review all of the new expansion team cities closely. However, with the soccer heritage of St. Louis – a history that includes a rich tradition of youth soccer, five local players who went on to win the World Cup in 1950, the hosting of the annual Hermann Trophy awards, 10 national men's soccer titles from Saint Louis University and more – as well as the teaming of the Taylors and the Kavanaughs, the announcement seemed inevitable.
The declaration came last Aug. 20 at Palladium Saint Louis in St. Louis' Peabody Darst Webbe neighborhood, and everyone – from retired soccer legend Taylor Twellman to the metro area's favorite shortstop, Ozzie Smith – was there for the party.
Finally, in a fitting acknowledgment of the efforts of many and as an inspiring introduction to a new chapter for our city, MLS Commissioner Don Garber proclaimed: "St. Louis has always been and will continue to be one of the most historic soccer cities throughout the United States. After two decades of discussions about St. Louis being a part of our league, today the moment has arrived." 
MLS4THELOU, mls4thelou.com
The business news you need
With a weekly newsletter looking back at local history.