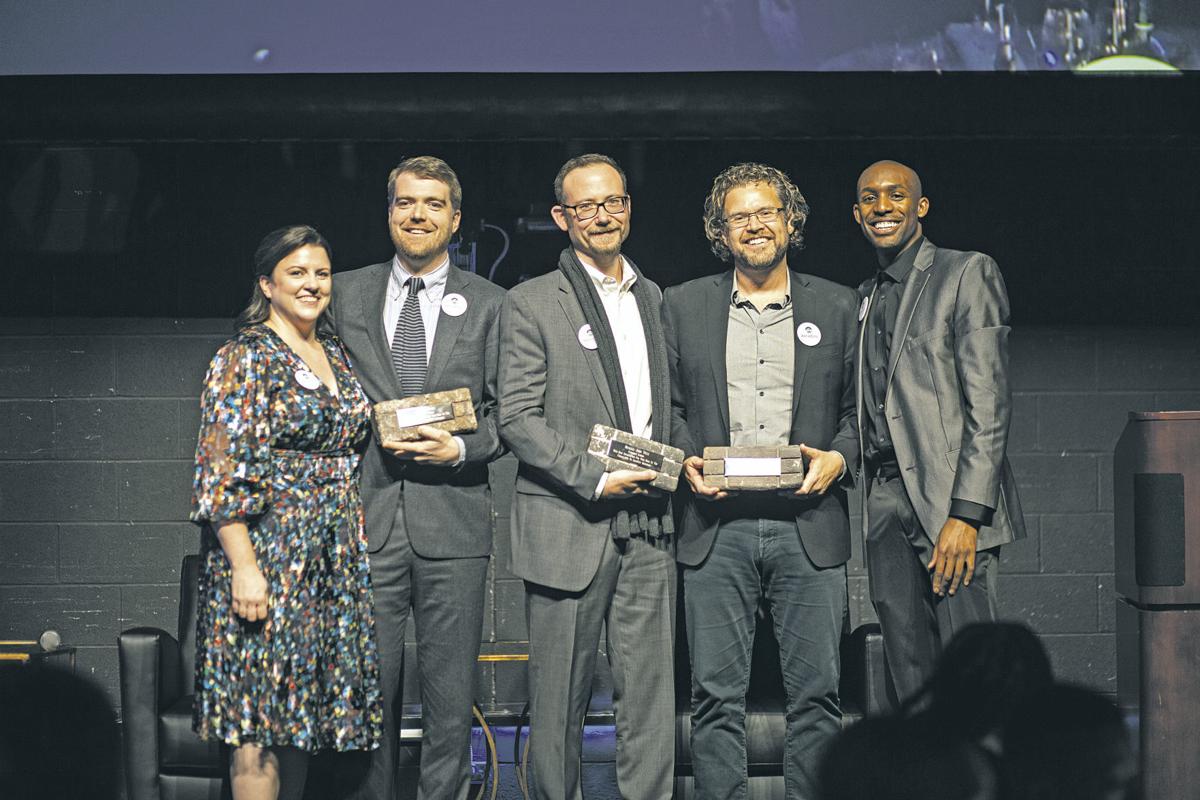 St. Louis native Blake Strode was entering his last year at Harvard Law School in 2014 when the nationally recognized turmoil in Ferguson caught his attention.
He read Radley Balko's article in The Washington Post, "How municipalities in St. Louis County, Mo., profit from poverty," and when he learned about ArchCity Defenders, he was drawn to work at the nonprofit legal advocacy organization. Following law school, Strode started working at ArchCity Defenders as a Skadden Fellow and staff attorney, and now he serves as the organization's executive director.
ArchCity Defenders is now celebrating 10 years of existence and growth locally. It began in 2009 with three young lawyers like Strode, who wanted to help people struggling to find justice within the legal system. Thomas Harvey, Michael-John Voss and John McAnnar formed ArchCity Defenders based on a shared understanding of justice and fairness.
"We don't call it the justice system," Voss says. "We call it the legal system here because justice and legality are two separate things."
Although much has changed in the organization's first decade, Voss says this perspective has remained central to how the staff approaches its work.
ArchCity Defenders pairs legal services with social services, media advocacy and impact litigation to help address the causes of injustice. ArchCity Defenders uses "holistic representation," addressing not just the civil and criminal legal issues of their clients, but also assisting with getting clients connected to services, housing and treatment.
"That's treating your client not just as a legal case but as a person," Voss says. "[It's] figuring out what's going on with their lives and why they're coming into contact with the legal system."
ArchCity Defenders provides free legal aid to help people who cannot afford a private attorney and have a case against them that doesn't qualify for a public defender. The nonprofit has represented approximately 2,000 clients since 2009 and works in 16 Missouri counties and two Illinois counties. It also addresses systemic injustices, particularly those dealing with race and socioeconomic class, through civil rights class-action lawsuits. Strode says this civil rights litigation arm is relatively new and has been growing since he joined the organization in 2015.
Since 2014, ArchCity Defenders has filed more than 50 lawsuits in state and federal court, 20 of which were class-action suits that impacted more than 20,000 people, communications director Z Gorley says.
Voss says staff growth particularly illustrates how the organization has evolved since 2009.
"This organization was started by three middle- to upper-class white men who had an idea of what we wanted the organization to be but didn't fully appreciate the realities that our clients were dealing with," Voss says. "We've been learning as we go."
ArchCity Defenders employs 29 people, 48 percent of whom are people of color and 59 percent of whom are women, Gorley says. Voss and Strode say this diversity more closely represents the community they serve.
"We have a pretty radical commitment to listening to our community and following their lead," Strode says.
Within the last year and a half, ArchCity Defenders has focused on deepening community partnerships in order to collaborate with other organizations and activists on a variety of projects. In the next few months, Strode says he expects to see an expansion of ArchCity Defenders' services through formalizing a social work unit, meaning there will be more staff devoted solely to the social work aspect of the organization.
Funding for ArchCity Defenders' work comes primarily from private donations and private foundation grants, Strode says. "We are really grateful for the way this community has become invested," he adds.
Strode also says ArchCity Defenders is quickly outgrowing its office space and might need to move again soon to keep pace with its rate of growth. An increased awareness of its services has resulted in a greater demand for those services, and sometimes the organization has to turn potential clients away because it lacks the resources to help everyone.
In a perfect world, the staff would "work themselves out of a job," Strode says. Though that vision seems unlikely, he envisions eliminating injustices and helping people avoid the legal system altogether. In the meantime, Strode hopes the organization will continue advocating for justice for all. 
ArchCity Defenders, 440 N. Fourth St., Suite 390, St. Louis
314-361-8834, archcitydefenders.org
The business news you need
With a weekly newsletter looking back at local history.