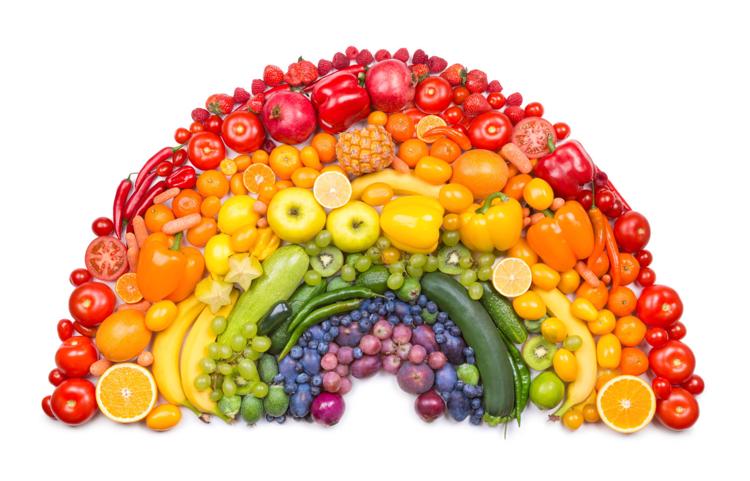 Amid hectic work, school and activity schedules, families can often find themselves struggling to eat healthily – especially when it comes to consuming enough fruits and vegetables every day. In honor of the National Fruits & Veggies – More Matters Month, held in September, local dietitians are offering tips to help parents get everything from the apples to the zucchini they need – and even how to make these nutritious whole foods appeal to kids.
The U.S. Department of Agriculture recommends adults have 2½ to five combined cups of fruits and vegetables a day, with two to three cups for kids. So local dietitians recommend ensuring there are fresh fruits and vegetables in all three daily meals, as well as snacks – from spinach in omelets to berries in yogurt and kale in smoothies.
Prep Ahead
Local dietitians say the first step to consuming more fruits and veggies is to make them easily accessible to all family members throughout the day. "Wash and cut up vegetables, so that when you're ready to cook them, they're ready to go," says Kathy Mankofsky, a registered dietitian with Mercy Hospital Dietitian Services. Keep the vegetables in a clear container in the refrigerator. You'll see them when you open the fridge, and it will be a reminder that a healthy snack is always at hand, Mankofsky adds.
Jamie Cassell, a registered dietitian at St. Luke's Hospital, advises cooking or prepping fruits and veggies in bulk. "Don't just put together a salad for one night; prepare enough to have at lunch for the next few days," she says. And if there isn't time for prep, buy fruits and veggies that are prewashed and precut for a convenient snack or side dish, she says. "Vegetables can be steamed in the microwave in as little as three to four minutes."
To ensure fruits and veggies always are on hand, consider ordering groceries online, says Ellie Huff, a registered dietitian and co-owner of Nutriformance, a health club in Frontenac. The smartphone app Instacart can be used for food ordering and home delivery from local grocery stores such as Schnucks and Whole Foods Market, she notes.
Keep It Kid-Friendly
When it comes to getting your kids to eat their fruits and vegetables, local dietitians recommend incorporating youngsters into the meal-prep process. "Take [your kids] to the grocery store, and ask them to pick some new fruits and vegetables that seem interesting," Huff says. "Ask kids to help out in meal-prep – my daughter loves to make cucumber and tomato salads for the whole family."
Huff also recommends adding a fun side to fruits, such as peanut butter with apples and seasoning on veggies for more flavor. "Be creative: Freeze grapes and bananas, and make homemade popsicles with fresh fruit and 100 percent fruit juice," she says.
Cassell agrees that making fruits and veggies more kid-friendly can help improve intake. "Allow [kids] to dip fruit in low-fat vanilla yogurt or veggies in Greek-yogurt-based ranch dip," she says. "Use olives, broccoli and bell pepper slices to make a smiley face on a homemade pizza, or make ants on a log with celery, peanut butter and raisins as a snack."
Research also shows that kids who help grow and prepare their own fruits and veggies are more likely to eat them, Cassell says. "Start small by growing lettuce or tomatoes in a pot."
Children learn by example, Mankofsky notes. "If they see you eating fruits and veggies on a regular basis, they will more likely eat them, too," she says. "I had a patient who said her parents never served vegetables … Then she didn't serve them to her kids. Now she wants to change this unhealthy pattern and start to make veggies for herself and her kids."
Make Healthy Swaps
Swap the cookie jar for a bowl of fruit because it's easy to grab a piece of fruit if it's out on the countertop, Mankofsky says. "And here's an easy recipe: You can buy a bag of zucchini noodles and toss them into your pasta sauce instead of regular noodles. You will be getting a whole lot of veggies instead of a whole lot of calories, and you will not believe how awesome it tastes," she notes.
And when your family goes out to eat, Huff recommends ordering vegetables and fruits for sides in place of unhealthy options such as fries. "If someone else cuts [the fruits and vegetables], kids will eat them," she says.
Remember, adequate fruit and vegetable consumption has many health benefits, including potential protection against heart disease, cancer, type 2 diabetes and obesity, Huff says. "Because fruits and vegetables are low-calorie and contain lots of good nutrients, they can help with weight management, as well," Cassell adds. And they contain healthy chemical compounds called phytonutrients, antioxidants and lots of fiber, Mankofsky notes. "Each color is a different phytonutrient, so eat a rainbow of colors."
National Fruits & Veggies – More Matters Month, fruitsandveggiesmorematters.org
Recipes Rich in Fruits and Veggies
Courtesy of Nutriformance
Parmesan Asparagus
Serves 4
olive oil cooking spray
1 lb fresh asparagus, tough ends trimmed
¼ cup grated Parmesan cheese
1 tsp sea salt
¼ tsp garlic powder, or to taste
| Preparation | Spray inside an aluminum foil pouch with cooking spray. Place asparagus in foil, and lightly spray spears with cooking spray. Sprinkle asparagus with Parmesan cheese, sea salt and garlic powder. Roast in 400-degree preheated oven until fork easily punctures thickest part of stem, about 12 minutes.
Green Smoothie
Serves 2
1 peeled and frozen banana
½ cup frozen mango or pineapple
½ avocado
1 large handful fresh spinach leaves
1½ cups soy or almond milk
½ tsp vanilla extract
| Preparation |
In a high-speed blender, combine all ingredients and blend until smooth.
The business news you need
With a weekly newsletter looking back at local history.