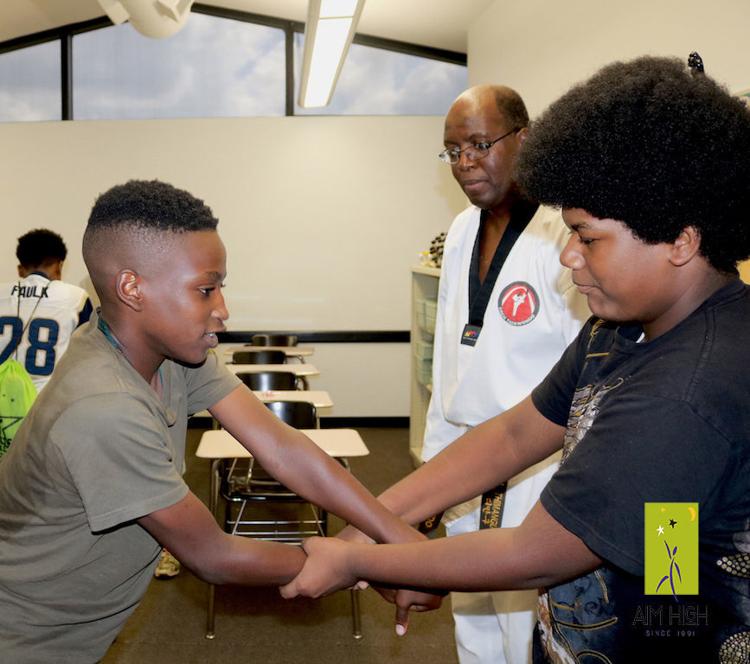 Aim High St. Louis might be the winner of the 2019 Ladue News Charity Awards, but the real winners are its more than 400 "Achievers" – middle school students who benefit from the academic, social and personal development encouraged through the free five-week summer program.
With many coming from challenging backgrounds and circumstances, Achievers experience a twofold approach to growth and learning. Teachers, teaching assistants and staff not only help Achievers with academic skill-building but also provide learning opportunities to support social and emotional development.
"In five short weeks each summer, students gain targeted academic skills that are transferable between subject areas and that will appear in their classroom in the year ahead," says Julie Angelica, executive director. She adds that participants who at first express reluctance or concerns about specific skills often find newfound success through Aim High's project-based and hands-on approach in small classes with a student-to-teacher ratio of 4:1 or better.
"The program also attends equally to promoting personal growth in our students' self-identity, encouraging them to explore the beliefs and values that influence their behaviors and decision-making," Angelica says. "This empowers students to be more intentional in their choices at an earlier age, which helps them set themselves up for success in school and in their personal lives. They gain confidence in themselves both in and out of the classroom."
Students apply for the program after the presentation at their school. The application includes a student's most recent report card, information for parents or guardians to complete, a nomination form from the student's teachers and short-answer and essay questions for the student that ask about future plans and goals, about strengths and challenges in school, and about what unique attributes and skills the student will bring to the Aim High experience. Most students are pre-identified by their teachers, so most applicants meet admissions criteria. There is a waiting list, and some students are admitted after the program begins, based on actual attendance and site capacity.
Angelica is confident in the program's approach. Of participants who attended Aim High for four consecutive summers from sixth through ninth grades, 96 percent of alumni reported graduating from high school. "Based on data from the National Clearinghouse, a national postsecondary admissions registry, we know that 77 percent of Aim High graduates enroll in postsecondary programs of study, as compared with just 44 percent of their peers who were Aim High-eligible but never attended," Angelica says.
She and Aim High's staff, board of directors and many volunteers use careful data-gathering to adjust programming to ensure continued relevance and success. For example, recent research and analysis resulted in the creation of the Ninth Grade Academy, a restructured experience for the oldest Achievers, offering block schedules, leadership development and enhanced career and college exploration, along with weekly community sessions on current topics such as cultivating an online presence and anti-bias training.
Another example is the enhancement of STEM (or science, technology, engineering and math) programming and related partnerships. "It's been exciting to see the students explore nature and get hands on outside the classroom through partnerships with area organizations like Earth Dance Farms and Danforth Plant Science Center, opportunities many of our suburban and city-based students otherwise wouldn't know about," Angelica says.
New this summer, Achievers will have a chance to spend a day of career mentoring with local community leaders as Aim High All Stars. "These students will be nominated by the faculty and site leadership," Angelica says. "We're still in the process of finalizing student selection criteria, but in general, we will be looking for students who demonstrate leadership, integrity and initiative.
"Another developing component that we're really excited about is a civics module we're introducing," Angelica continues. "It will provide a conduit for some critical-thinking exercises that will help kids explore larger world issues such as ethics, politics and economics, and design their own research and conclusions through project-based learning."
Although the summer program is the foundation for Aim High, Achievers also participate in Saturday sessions during the school year, focusing on outdoor learning, fun and local culture through field trips to sites such as The Griot Museum of Black History, the World Aquarium, the City Museum and the Missouri History Museum in Forest Park. The young scholars also discover career options and learn about the local impact of companies through field trips that include Milipore Sigma, Southwest Airlines, Clayco, Monsanto (Bayer) and Christner Architects.
"Saturdays spent on our home campuses – John Burroughs and St. Louis Priory – are focused on academic support and social connection to the Aim High community," Angelica says. "Because we're drawing students from all across the St. Louis region – well over 60 schools – and partnering with four districts, as well as charter and parochial schools, Aim High becomes the common denominator for the Achiever community, where they can catch up with like-minded friends, which helps students maintain focus and a positive mindset back in their home schools and communities."
Angelica and a committee of board members, staff and alumni are in the midst of a strategic planning process that will result in a new long-term vision to make Aim High the premier program for middle school students in St. Louis. "It will require a significant investment of resources – expertise, infrastructure and revenues – and we're excited about our potential to impact young people at a larger scale," she says.
Because the organization is sometimes referred to as one of the city's "best-kept secrets among the philanthropic community," Angelica notes that "we're focused on changing that so that the name Aim High is consistently recognized as the difference-making program for middle school students in St. Louis by name alone. We're on our way!"
Aim High St. Louis, 755 S. Price Road, St. Louis, 314-432-9500, aimhighstl.org