Shaw is a familiar name to many area residents. A park, a boulevard, a nature reserve and an entire St. Louis neighborhood carry that moniker. Yet almost 100 years ago, before so much of the area bore his name, Charles Shaw became mayor of the young, growing city of Clayton, where he served from 1933 to 1940.
Mrs. Charles Shaw, as she was commonly known then (her given first name was May), could have been content to sip tea and attend ladies' lunches. But while her banker and real estate developer husband charged forward with projects to expand and improve Clayton, May Shaw created an opportunity of her own.
More specifically, in 1939, she invited 22 other local women to join her in forming a garden club to "study and promote the love of gardening, floral design, civic improvement and environmental responsibility through educational programs and actions." Shaw wouldn't just stand by as her husband worked to better Clayton – she would make the community more beautiful, too.
The Clayton Garden Club, the object of that invitation, celebrates 80 years since its creation this year, making it one of the oldest continuous garden clubs in the nation. The nonprofit organization also belongs to National Garden Clubs, Inc. and Federated Garden Clubs of Missouri, Inc.
In the beginning, "a constitution and bylaws were created, and members were divided into three groups for 'home meetings,'" explains Diane Denney, the contemporary vice president in charge of programs. "Streetcar tracks running through Clayton divided the groups, which eventually grew to seven clubs. Today, only Clayton Garden Club No. 1 survives." Constitutionally limited to 30 members, the current club has 28 members dedicated to improving their city and environment, as Shaw was eight decades ago.
In the club's early days, its members planted a garden at the Clayton Public Library, provided fresh flowers and homemade cookies to soldiers leaving for World War II from St. Louis' Union Station, and beautified the land around public buildings, including St. Louis County Hospital and Juvenile Court Building. Thousands of fresh flowers provided by the club cheered hospital patients and shut-ins.
The mission of the club's modern iteration differs slightly from that of Shaw's initial creation. "The stated purpose of the Clayton Garden Club is to study and promote the love of gardening, landscape, floral design, horticulture and bird life; to aid in the protection and conservation of natural resources; and promote civic improvement," Denney says.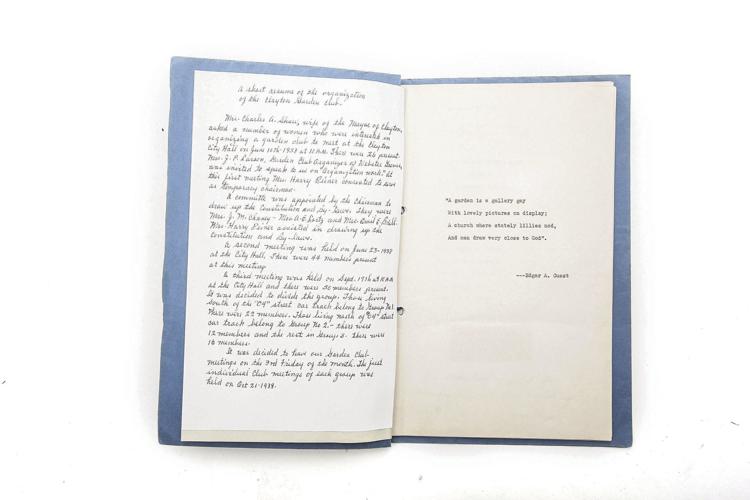 "It's as relevant today in the community as it was 80 years ago, with its current focus on the environment, conservation, preservation, pollinators, water management, community involvement and children's plant and food education, as well as the beautification of the landscape."
Although the focus has changed slightly over the decades, the club remains active and dedicated to community projects for all to enjoy. For instance, today, club members plant native perennials to draw pollinators to public gardens, including the grounds of the National Museum of Transportation. People of all abilities enjoy the Sensory Garden at Shaw Park, which club members help maintain with plants that offer various textures, tastes and fragrances.
"At the Ritenour Early Childhood Center, we provided five raised sensory planting beds, which are accessible for all children in the open Outdoor Learning Center at the school," Denney says. "The plants demonstrating sound, sight, taste, touch and smell were planted by the children as part of the larger STEM [science, technology, engineering and mathematics] program at the school. In continuation of the project, an urban gala apple tree was donated and planted by the club this year. Children experienced apples growing in the outdoor atrium for picking."
The club's dedication to education continues with their receipt of a newly awarded grant from Plant America to support the child-friendly garden experiences at EarthDance Organic Farm School in Ferguson, where children participate in programs to learn about farming and environmentally friendly food production.
The club also recognizes local organizations and businesses that "demonstrate the art of beautiful landscape" with Citation Awards. Past recipients include Barry-Wehmiller, Alberici Corp., Mercy Hospital St. Louis and University City in Bloom.
"Garden clubs are important to our planet, our community and your own personal health," Denney says. "The 80th anniversary of the Clayton Garden Club demonstrates its importance through eight decades, and the club still remains vital today."