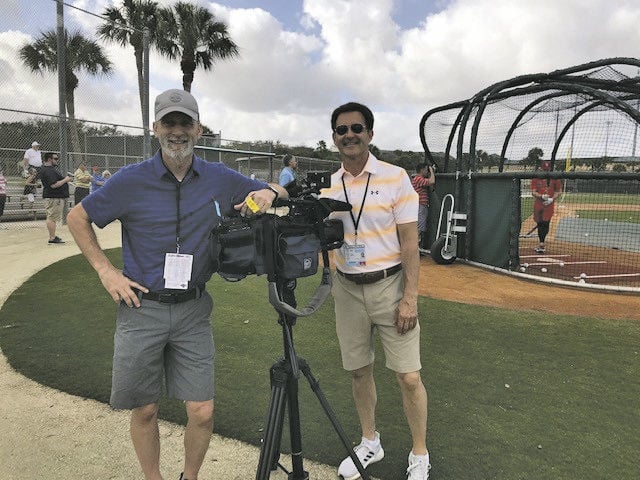 It's 8 a.m. in Jupiter, Florida, on a ballfield containing just three men – a mentor and two students.
Sweat's already dripping down their shirts. This one-hour period of self-imposed work has just one goal: to get better. They don't have to be there. They want to be there. So Kolten Wong and Paul DeJong are picking up ground balls from guru José Oquendo.
Just three men – but three men who want to make Cardinals baseball better.
Wong just won the Rawlings Gold Glove Award in 2019. Last season, he played the best second base in St. Louis since Tommy Herr in the '80s. But he's not content yet – not a bit. "You think I am done?" he says. "I am just getting started."
In fact, after the morning workout mentioned above, Wong doesn't like the way his arms move when he runs, so he asks a trainer to get video of him running sprints. Together, the trainer and the 29-year-old professional use the footage to make Wong a more efficient runner, proving that as a player, he keeps striving toward improvement a full seven years into his career in the majors.
Matt Carpenter is usually the first player at the complex every day during 2020 spring training. In my opinion, he's probably the most scrutinized Cardinal on the roster – and he's clearly at a crossroads in his career. Last season, Carpenter's average was 43 points off his career average, and his slugging percentage was 70 points lower. He felt so bad about this performance that he did something a professional athlete rarely does – he apologized. Today, he's added 5 pounds of muscle, while keeping his body weight the same.
Carpenter's approach to hitting? "I tried to get back to where I was as a hitter and hit to all fields," he explains. "I just want to be a tough out and not so one-dimensional."
Beyond a view of the standout work ethic of these players, spring in Jupiter usually involves perhaps no better scene than the bullpen sessions in the back of the complex. That's where you'll see 38-year-old Adam Wainwright throwing to 37-year-old Yadier Molina. Back in 2006, Wainwright threw to Molina to clinch the division, the National League Championship Series and, of course, the World Series.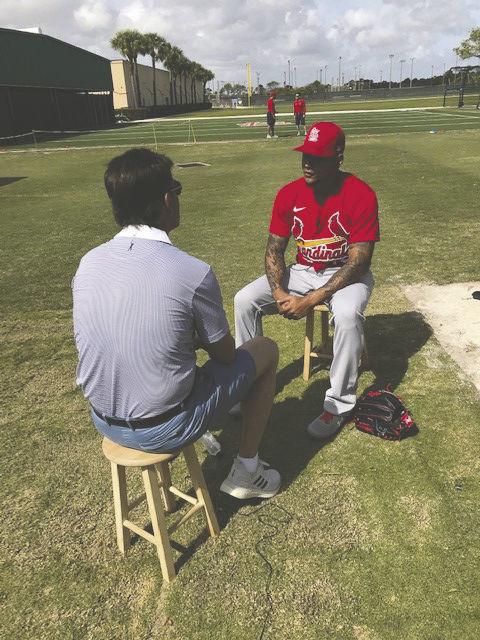 Counting playoffs, Wainwright and Molina have had 278 starts together. Judging by last season, they could have another 30. Molina hit a steady .270. Wainwright won 14 games and was the Redbirds' best pitcher in the postseason.
Wainwright might be the best talker on the team, so it comes as no surprise to have him sum up spring training best. "What a tremendous blessing it is that I can play this game of baseball," he says. "I come down to spring training every year, [to] this beautiful place, and to play baseball, this game I loved since I was a kid, for a living. It's just a tremendous blessing. I am relishing that right now. I am having so much fun. When it stops being fun, I'll quit."
Spring training is also always the prime time to see the phenoms. I still remember Albert Pujols' first spring training. He was not supposed to make the team. He'd had only one season of minor league experience under his belt – but his potential was off the charts. Then Bobby Bonilla got hurt. On the final weekend of spring training, during a hard rain, Pujols hit a homer so far it landed in the offices. Someone grabbed Tony La Russa's arm in the dugout and said, "You have to keep this kid."
That someone was Mark McGwire.
Then, after the game, while La Russa was walking to his car in the parking lot, his dad said the same thing: "You have to keep this kid." Pujols, of course, eventually became the best hitter in the organization since Stan "the Man" Musial.
This year's phenom is outfielder Dylan Carlson. John Mozeliak, the Cards' president of baseball operations, called him the best prospect since Oscar Taveras. He can play all three outfield positions extremely well. He runs; he throws; he hits for power and average. He may not be in St. Louis when the season starts, but when he arrives, he'll likely stay for a long time. "I feel like I can get better at every aspect of my game," he says humbly. "I feel I can evolve into the most complete player I can be. My goal is try and get better each and every day."
It's a club that did very little in the offseason to improve itself with trades and free agents. But this team believes that with the way they pitch, the way they play defense and the way they improve their hitting, they can win the division again.
Most of the experts don't agree at all. They have the 2020 Cards projected to be just a .500 team. I disagree. If the hard work and dedication shown at spring training mean anything at all, this team will win the division.
Editor's Note: In the days and weeks to come, consult the St. Louis Post-Dispatch and social media for the Redbirds' revised scheduling due to COVID-19-related postponements.
The business news you need
With a weekly newsletter looking back at local history.