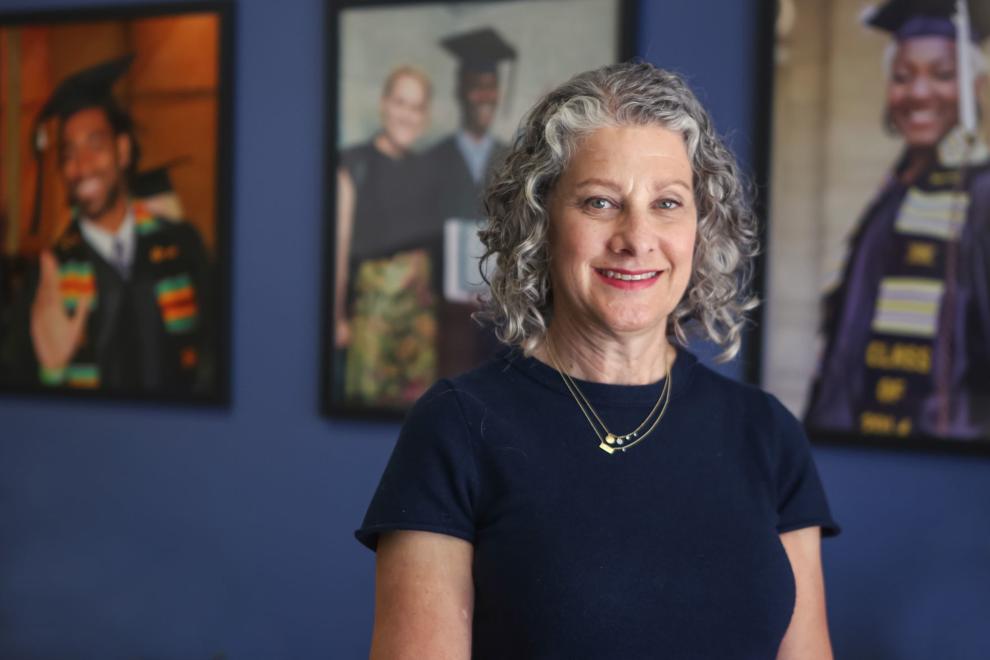 Carol Staenberg calls herself a "puzzler."
Visit her home in Old Town Clayton, and it's a sure bet you'll find an intricate jigsaw puzzle that she is working to complete. Also an avid fan of crossword puzzles, she enjoys finding just the right letters to fit into tiny white squares. But those puzzles are just for fun, to challenge her mind. What genuinely distinguishes this Staenberg is the ingenuity, creativity, knowledge and compassion she exhibits to put together the intricate puzzle pieces of helping other people. Honored as a Woman of Achievement in 2012, she is a tireless volunteer for several nonprofit organizations, ramping up their events, fundraising, visibility and outcomes.
As president of College Bound, she has been a steadfast and powerful leader for the 12-year-old organization. Through a multiyear commitment, College Bound's mission empowers promising students from economically disadvantaged backgrounds to achieve bachelor's degrees and fulfilling careers. It commits to its students for seven to nine years, increasing ACT scores, mastering Algebra 11 and coping with life cycle events like grief, college financial literacy, first internships, first suits and first jobs.
"Just one adult with a college degree can change the cycle of poverty in a family forever," says Staenberg, who joined College Bound's board in 2009. At the time, the organization had 300 students and a dream to propel low-income, first-generation St. Louis students to and through college. Since then, Staenberg has remained a powerful and steadfast leader for the organization, which now serves 600 students through its full-service program.
College Bound's success rates are astounding. Since its creation in 2006, a perfect 100 percent of its students have graduated from high school. Nationally, just 51 percent of low-income students enter college after graduating high school, but locally, Saint Louis Public Schools graduates matriculate at a rate of 72 percent, while College Bound students enter college at a rate of 93 percent.
Scott Baier, College Bound executive director, lauds Staenberg: "We could not have asked for a more committed chair to lead College Bound. Her thoughtfulness, humor, dedication and smarts are but some of many gifts she's given us. She breathes our mission. Not a day goes by that I don't think about how lucky we are to have her time, mind and heart on our team."
The soft-spoken 61-year-old talks with excitement about College Bound's Cap and Gown gala on June 9 at the Four Seasons Hotel St. Louis. "Guests will hear the heartfelt voices of a few of our students, whose inspirational stories of their life experiences will inspire the guests of the event to make a donation to help the kids further their aspirations through the College Bound program," Staenberg says. She's co-chaired the event for several years to bring in needed dollars for the students.
"When I listen to our students, I am grateful for how lucky I am to have the life that I do and the parents who nurtured me to be the person I am today," she says.
Born and raised in San Francisco, Staenberg was the youngest of three children. Her father was a psychiatrist, and her mother reentered school later in life, earning a degree in educational psychology. "They were both active in social justice causes," she says. "Michael and I have always wanted to be good role models for our three daughters, who all care about volunteering and giving back."
In addition to College Bound, Staenberg helps put together strategic fundraising pieces at St. Louis' Holocaust Museum & Learning Center as chair of development. Chairman Myrna Meyer speaks of her with admiration: "Carol has volunteered for the museum for six years. She is that go-to person in our community. I have had the pleasure of working beside this humble, capable woman over many years and continually find that I can learn from her. She sets high goals for all that she undertakes and has the leadership skills that encourage others to follow in her path."
The Harvey Kornblum Jewish Food Pantry, which provides food, personal-care items and community resource referrals to help individuals and families through difficult times, also benefits from Staenberg's humanitarian efforts. "I have built meaningful relationships with the volunteers because we all have a commonality: helping those in need," Staenberg says. "The clients at the pantry are the most thankful and humble people. You want to do what you can to make their lives better, plus make the experience at the pantry a positive one."
In keeping with Staenberg's mantra to be healthy in mind, body and spirit, she enjoys reading, travel and exercise. "I enjoy traveling, cycling and skiing in Steamboat Springs, Colorado," Staenberg says.
She applauds her husband's entrepreneurial and philanthropic spirit. "Michael has influenced me; he inspires me with the amount of time he spends giving back," she says. "Because of him, I always want to do more. We both believe strongly in social responsibility. It is so easy to write a check. What we thrive on is making relationships and understanding what someone else might be going through. Helping others feels good for me. It gives me a purpose in life beyond myself."