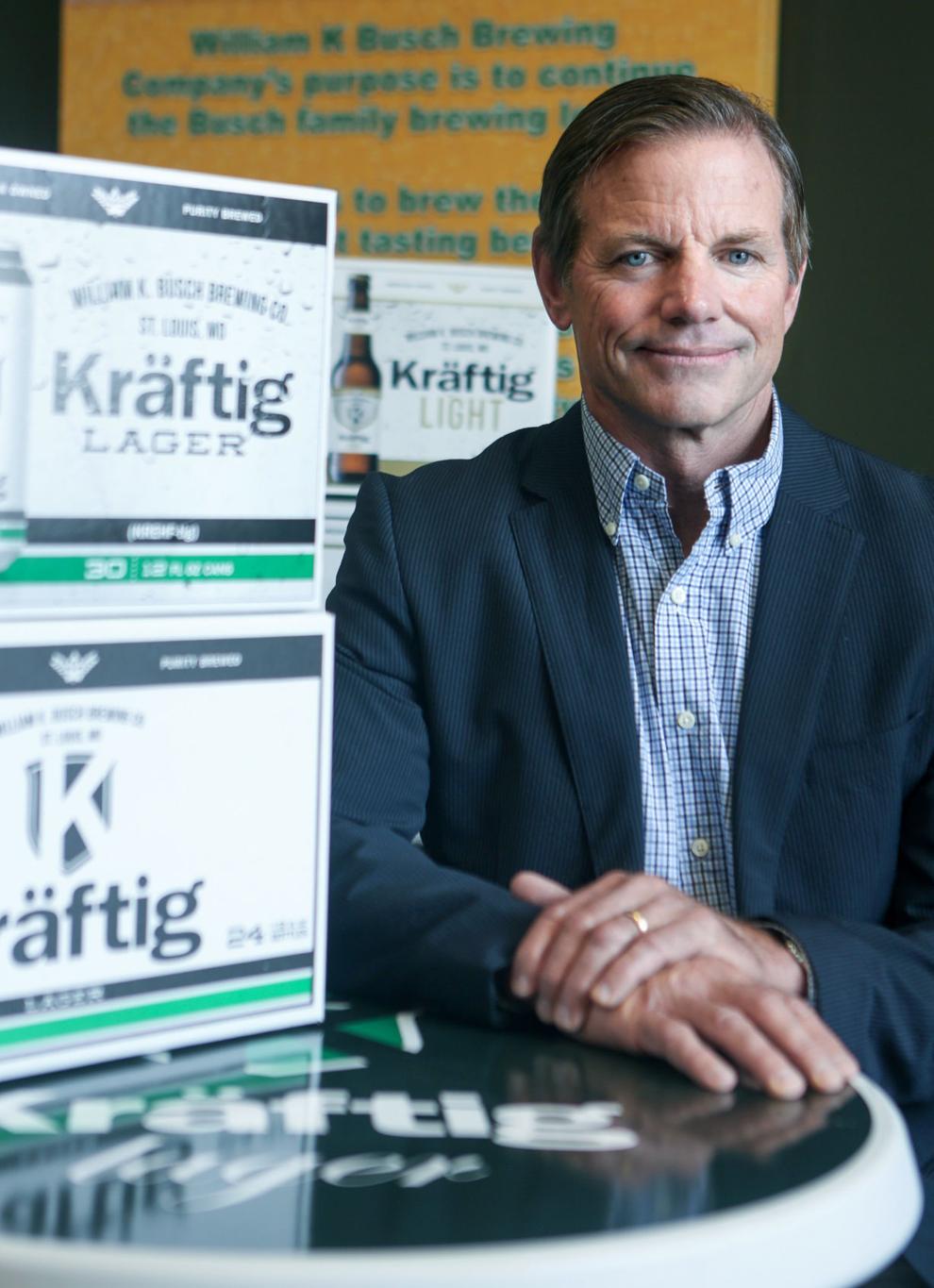 "You know what? Anyone who wants to try a Kräftig Light, give 'em one on me," Billy Busch tells the waitress at Hammerstone's. The Soulard bar is filled with regular diners and professionals taking their lunch breaks on a sunny day, and many eagerly accept the offer of free beer.
The president and chief executive officer of the William K. Busch Brewing Co. smiles. He loves doing this, he says, especially at neighborhood joints like Hammerstone's.
"We're enjoying company, having a good talk, the food's good, I'm enjoying a beer, and I can promote it while sitting here," Busch says. "That's what it's all about – building those relationships."
And he should know. As a great-grandson of Adolphus Busch, the founder of beer powerhouse Anheuser-Busch, and a son of August A. "Gussie" Busch, he grew up learning from generations of family members who knew not only how to brew hops with heart but also how to show that beer could be part of everyday people's lives.
Now Busch is putting those lessons to work for Kräftig, the beer brand he launched through his brewing company in 2011. Kräftig Lager and Kräftig Light are all-natural American premium lagers made with only four ingredients: Hallertau hops, known to be the finest from Germany; two- and six-row barley; a proprietary robust yeast; and pure water. With Kräftig, Busch aims to increase the quality and flavor for a light lager that beer enthusiasts can enjoy while relaxing in their favorite bar as well as at home.
"We don't add grain or cereal adjuncts," Busch says. "We don't do corn syrup, preservatives, food colors, foam enhancers or industrial enzymes – which, believe it or not, there are a lot of beers that put that in there. We beat our competition regularly when it comes to the flavor and quality of our beer."
Indeed, Kräftig has been racking up awards since its launch, especially this year. In recent months, the lager has already earned gold and silver medals at the Denver International Beer Competition, a silver medal at the New York City International Beer Competition and a bronze medal at the Los Angeles International Beer Competition. And in 2016, Kräftig set a major record by taking home gold in its fifth consecutive year at the International U.S. Open Beer Championship – the first brewery ever to hit that mark. Quite appropriately, kräftig is German for "strong."
"These are very prestigious competitions because they're blind-tasted by professional judges," Busch says. "I'm very, very proud that we've won the U.S. Open that many times. There are a lot of international beers that are entered into the U.S. Open, and we're an American beer, an American company. To win that five times in a row makes me very proud."
Busch can easily draw the line between his careful craft of Kräftig and what he's drafted from his ancestors. As a member of one of the most prominent beer baron families in the world, Busch soaked up plenty of business acumen watching his father, Gussie, expand the world-renowned Anheuser-Busch beer empire to theme parks and sports teams and helping his mother welcome guests like Frank Sinatra and John Wayne, plus a host of athletes and U.S. presidents to the family mansion at Grant's Farm in south St. Louis County. Billy Busch later became an A-B distributor and wholesaler before selling that business before the company's buyout by InBev.
"The beer business is such a relationship business, and that's what my dad and mom were so great at doing," Busch says.
Busch gained much more than just business insight at Grant's Farm, though: That's also where he fell in love with his future wife, Christi. Along with a gaggle of brothers and sisters, Busch grew up baling hay, building fences and taking care of the hundreds of animals on the farm's 198-acre wildlife preserve and 22 acres of private property. While training elephants Bud and Mickey for performances during the 1987 season, he noticed a young woman working with the monkeys. Before long, he asked Christi out on a date, and they married several years later. Now Christi and their seven children influence the William K. Busch Brewing Co. and even pitch in (well, the kids who are over 21, anyway).
"It's really a family beer business; I have my family who's all-in with me," Busch says. "They love it, and if we can make a go of this, we can keep that Busch brewing tradition alive. It's been well worth the effort and everything that it's cost."
Kräftig has shown steady yearly growth since its launch in 2011, and now Busch's company sells its lagers throughout Missouri, Illinois, Kansas and Texas, with an eye on future calculated expansion. Busch also is hoping to open his own Kräftig brewery in St. Louis sometime this year (the lager is currently brewed in Wisconsin) and is scouting locations this spring. He admits that being the family's new beer baron is hard work – especially with such a grand legacy to live up to – but he's having the time of his life making it all come together.
"When I see people really enjoying a Kräftig and talking about how good it is, it's one of the best feelings there is – it truly is," Busch says. "I didn't realize it when I was growing up, because I was part of this already-established company. Now that I'm doing it on my own with my family, when I hear people say they really love this beer and are happy that we're continuing the Busch tradition in St. Louis, it's another driving force that helps me keep going."
William K. Busch Brewing Co. and Kräftig, 314-932-7911, kraftig.com