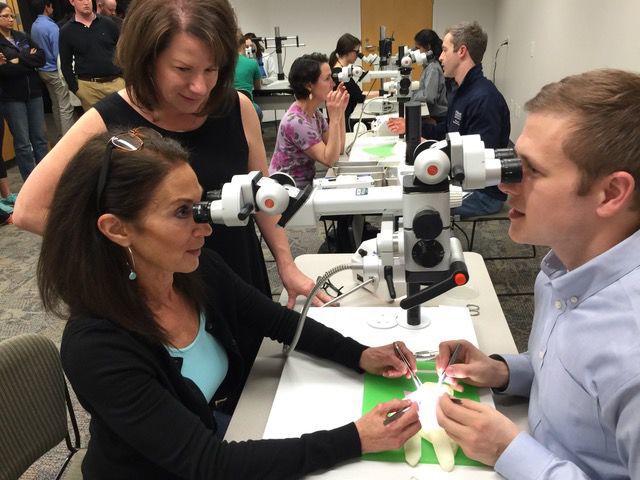 Dr. Cynthia Wichelman is a busy emergency medicine specialist at Washington University in St. Louis. Yet when talking about the passion project she created in 1999, Wichelman's voice bubbles with enthusiasm.
Wichelman directs the Mini-Medical School at Washington University, a program that offers a peek into the world of clinical practice and medical research. Participants attend lectures and Q&A sessions by some of the most renowned medical specialists in the world, learn basic clinical skills and come away with a deeper understanding of health and medicine.
Students run the gamut in terms of age and background. From 16-year-old high school students interested in exploring careers in medicine to stay-at-home parents to retired individuals hungry for lifelong learning, participants enroll for three different courses that meet weekly for seven or eight sessions.
Topics cover current issues and new research in disease diagnosis and treatment, as well as hands-on activities that allow students to learn the basics of physical examination, suturing and CPR certification. Wichelman tweaks the curriculum each year to ensure it stays topical. "This spring, [the plan was to feature] sessions on coronavirus, high-tech minimally invasive surgery and air pollution's effects on health," she says.
"People are very interested in new ways to treat problems like heart disease, and they want to be better health care consumers and advocates for themselves and their loved ones. This is a unique opportunity to ask direct questions of our faculty. There's such a wealth of knowledge and talent here. We've had people come from as far away as Chicago, taking the train each week, to participate."
Washington University's Mini-Medical School is one of the nation's most comprehensive and longest-running programs of its kind. It differs from other mini-medical programs in its heavy focus on clinical skills and information.
"We've been very fortunate to have ongoing support," Wichelman says. "These programs are expensive to run, and many have closed at other institutions because they simply became too costly to continue. But our faculty love this opportunity to teach, are passionate about what they do and are excited about sharing their knowledge with others."
Wichelman is gratified when participants tell her of opportunities they've had to use their Mini-Medical School knowledge. Some have saved lives using CPR or the Heimlich maneuver. Others have quickly recognized potential health threats and sought early diagnosis and treatment.
"Students tell us how this has changed their view of medicine and health care, and at the same time, this program has enhanced my life," Wichelman says. "It's a joy to make a difference." 
The spring session of Mini-Medical School was originally scheduled to begin Tuesday, March 24, but has been cancelled "due to the coronavirus situation," according to the school's website. Fall session dates will be announced online. Each session costs $185, and those interested in enrolling can register online.
Washington University School of Medicine in St. Louis, Mini-Medical School, Campus Box 8063, 660 S. Euclid Ave., St. Louis, 314-362-6585, minimed.wustl.edu
The business news you need
With a weekly newsletter looking back at local history.