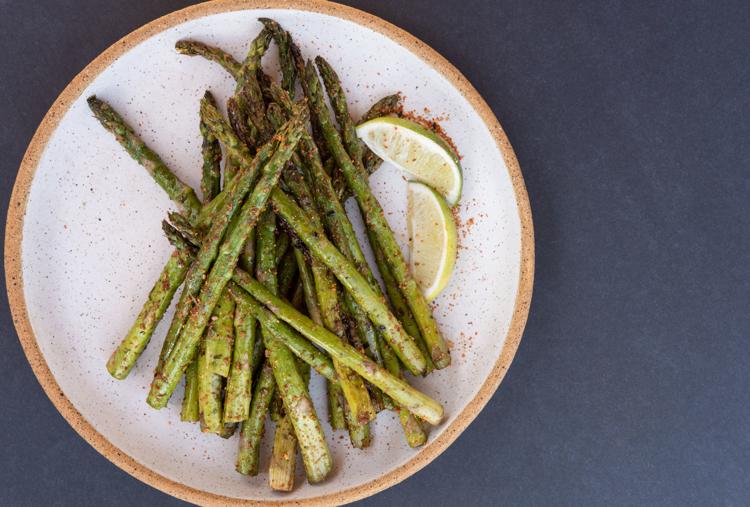 This simple, tasty recipe accomplishes two goals: It provides an excuse to fire up the grill, and it makes the most of fresh, locally grown asparagus while it's still in season. Here, we're upgrading standard grilled asparagus with a pop of lime juice and spicy tōgarashi, a Japanese blend of chili peppers, sesame seeds and seaweed. The bite of acid and heat balance with the mellow sweetness of honey and garlic, which get further depth of flavor and caramelization from the grill.
Find tōgarashi at your favorite local Asian supermarket or specialty grocery store. Trust us, all of your summer dining guests will be impressed with this unique, exotic ingredient!
GRILLED ASPARAGUS WITH TŌGARASHI AND LIME
Serves | 4 |
 1 lb asparagus, peeled
 1 Tbsp olive oil
 3 cloves garlic, grated
 salt and freshly ground black pepper, to taste
 juice of 1 lime
 ½ tsp tōgarashi
 ½ tsp honey
| Preparation | Heat grill or a grill pan on your stovetop to high heat. In a medium bowl, add asparagus, olive oil and garlic, and season with salt and pepper; toss to combine. Add asparagus to grill grates or grill pan, and char 3 to 4 minutes per side. Return to medium bowl, and add remaining ingredients; toss to combine and season with salt and pepper to taste. Serve warm or room temperature.
Amanda Elliott is the chef at Peachtree Catering (peachtreebanquet.com) in Columbia, Missouri, and authors the website Rustic Supper (rusticsupper.com), where she shares recipes centering on the idea of the communal table and embracing the heritage of food through travel. She also hosts a series of pop-up dinners in Columbia called Sunday Suppers.