This March, owner Ericka Frank and her team at The Cakery Bakery marked 15 years of serving up made-to-order cakes, cookies and cupcakes with a little refresh of their location in St. Louis' Dogtown neighborhood.
Outside, area residents passing the corner of Tamm and Wade avenues will notice new signage and charming new blue-and-white awnings. Inside, new cabinetry, fresh paint and a redesigned consultation room brighten every visit to the shop. Most importantly, however, is what has stayed the same: the dedicated staff and sweet treats that have made The Cakery a beloved neighborhood mainstay since Frank opened shop.
Newlyweds have been cutting into The Cakery's custom creations for years, but it's not just tiered beauties that keep devoted clients coming back. Sweet-toothed area residents consistently pop in to grab ready-made cakes, cookie-decorating kits around the holidays, one of the bakery's Cakes-in-a-Cup or even its famous made-from-scratch Cakery Classic buttercream, now sold by the pint.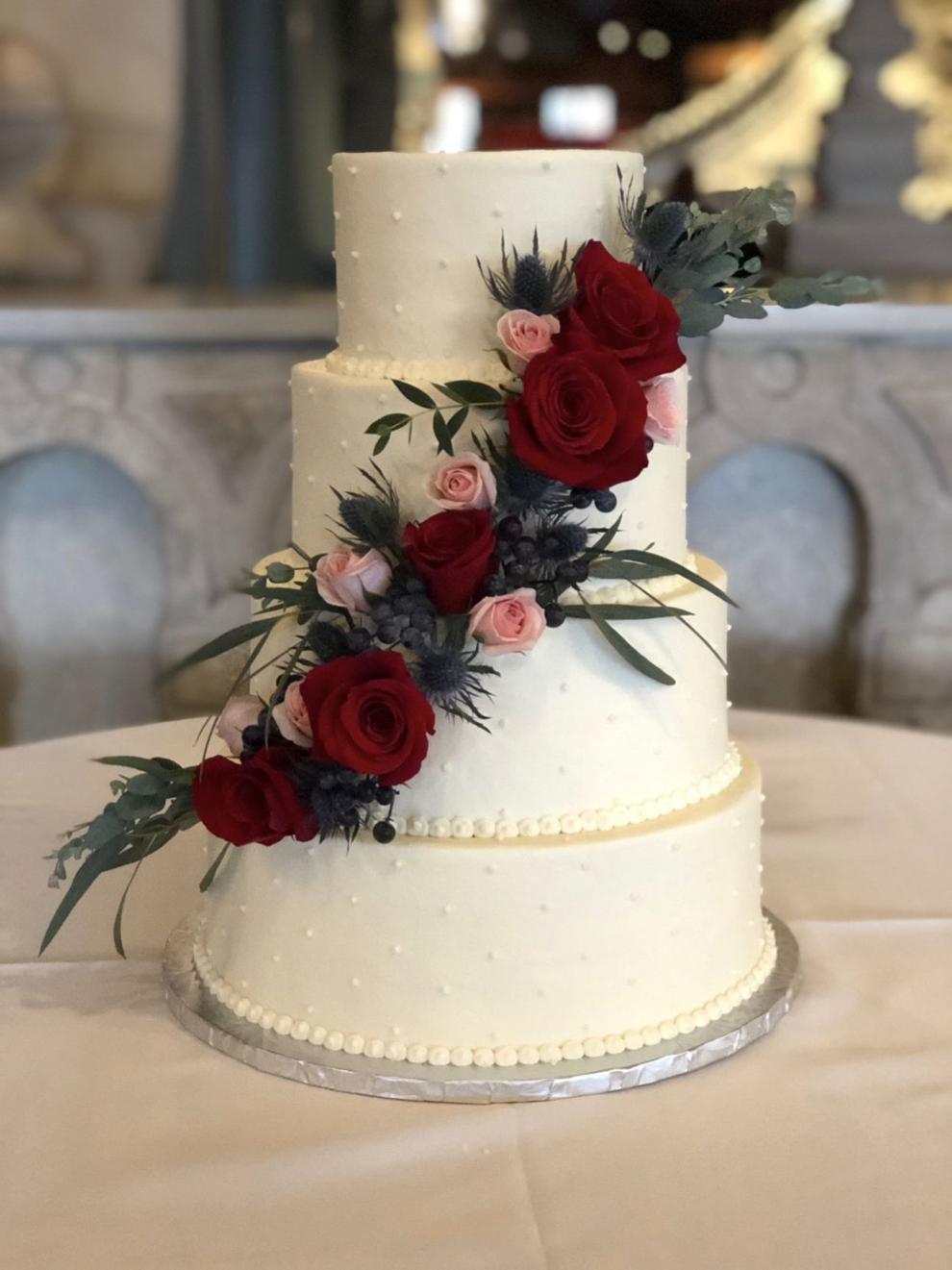 "People have always said, 'Oh, my gosh, I love your cake, but your frosting, I could spread it on cardboard and eat it,' which I thought was hilarious," Frank says. "They kept asking about it in the store, so we'd weigh it out, put it in a pint and sell it that way. We thought because our customers were asking for it, there was probably a market for it."
Frank also recently introduced Dip-A-Roos, dips made from the bakery's buttercream that pair perfectly with pretzels or cookies for parties.
For metro area brides and grooms, Frank and her team put together take-home tasting boxes so happy couples have time to figure out their perfect cake/buttercream flavor combo before coming into the newly redecorated consultation room to talk design.
"We want it to be a fun experience," Frank says. "So many people tell us how easy we make it for them, and that's just kind of been the way we do business. We want it to be fun – it's cake! It shouldn't be a chore."
Outside of the shop, it's not unusual to see The Cakery and The Cup represented at charity events, trivia nights and food festivals throughout the city.
"We absolutely love being a part of the STL community, and an important part of our business has been giving back, because even though I wasn't born here, I absolutely feel like St. Louis is my home," Frank says.
The Cakery team celebrated the bakery's birthday in the shop on March 13 by inviting the community in for free cupcakes all afternoon.
"I cannot believe it's been 15 years," Frank says. "But The Cakery is better than it's ever been. I feel like we really have expanded the options for people, we've added more flavors, we're doing so much more online ordering than we've ever done. I'm just thrilled and hugely blessed to be here 15 years later." 
The Cakery Bakery, 1420 Tamm Ave., St. Louis, 314-647-6000, thecakerybakery.net
Editor's Note: Please refer to The Cakery Bakery's website and social media for updates on business hours or temporary closures due to stay-at-home regulations related to COVID-19.